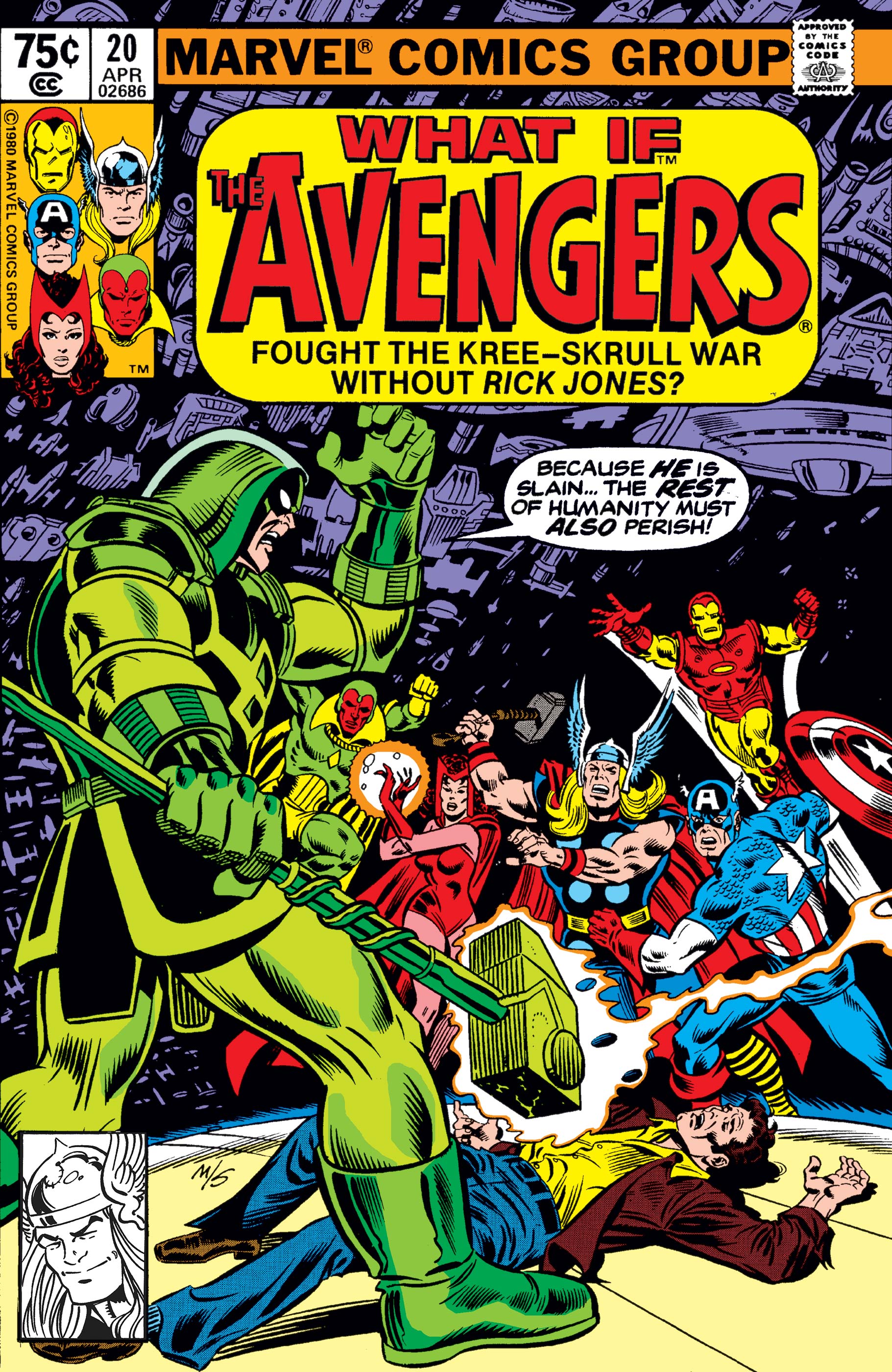 Written by Tom Defalco
Layouts by Alan Kupperberg
Inks by Bruce Patterson
​
Okay, gonna try my best here; this here is...
really
complicated and weird; made even more-so because of my lack of familiarity with the story its spun-off from.
Luckily, that's what Uatu is here for, who does a 6/10 job of summarizing the events of the Kree/Skrull War arc of Avengers; which I *think* might have been the first story to point out that them guys haaaaate each other. In the original story, the centuries long cold-war between the Kree and Skrulls started heating up when both sides learned that Mar-Vell, who had officially abandoned his birth planet in favor of Earth, had access to a super-weapon called the Omni Wave Projector, and both armies descended on the planet in order to get an insurmountable advantage over the other; and in the course of that, Rick Jones sidled his way into the forefront where he was captured and experimented on by the Kree Supreme Intelligence, which accidentally gave HIM super powers in the form of a weird kind of psychokinesis that caused him to spawn superheroes out of his subconscious mind (even among the things Ricks had to put up with in his life, that's unusual), and dealing with constant brain-spawn Avengers distracted the Kree enough to recall their armies, and the rest of the Avengers just busted up the Skrull Throneworld because they made the terrible blunder of trying to kidnap some of the stronger members of the team (Mar-Vell and Scarlet Witch).
And that was what happened canonically; but let's see what happened NON-CANONICALLY.
For one thing, we see the exact panel where history changed, side-by-side with the original, which was a nice visual. In this case, after being kidnapped by Ronan The Accuser (leader of the Krees invasion force), Rick is simply murdered by being slapped extremely hard, and his carcass is flown back to the Kree homeworld of Hala in order to at least be recycled into some nourishing paste for the Kree Supreme Intelligence. Seems like a LOT of effort to go through to make a smoothy for a brain-in-a-jar, but the Kree really seem to like that guy.
Anyway, across the galaxy, Mar-Vell senses Ricks death through the psychic link they share; and he immediately FREAKS THE HELL OUT, immediately breaking free of the restraints he was imprisoned with on Skrullos, and proceeding to lay waste to their capital city; forcing the Skrull Emperor to release K'llrt the Super Skrull from prison to deal with him, where he was under arrest for crimes against the Skrull Throne.
And now the word "skrull" sounds like made-up nonsense.
And back around Earth, and I do not know if this was in the canon storyline or not, the Avengers briefly have their hands full with the vanguard of the Kree and Skrull armadas encircling the Earth, but quickly reprioritize when they realize that Marv and Wanda have been kidnapped by the Skrulls and are being held prisoner on the Throneworld, and head there instead (leading Cap to slowly come to the conclusion that Vision is in love with Wanda, even though he's a robot).
And while most of the Avengers head to Skrullos to save their captive allies, Goliath (who I *think* was Clint Barton/Hawkeye and not Hank Pym at the time) stays behind because one of the armies (and I swear, I have no idea which) just launched a planet-destroying missile at Earth and the least-useful member of the team had to stick around to deal with that issue.
Not joining in the rescuse mission on Throneworld are Thor and Iron Man, who decide that they're enough to single-handedly hold off the Kree/Skrull armada before it can reach Earth, and while Thor might be, Tony is not, and he's critically injured (and possibly killed?) before he can accomplish too much. Though "accomplishing too much" in this case does mean he singled handedly destroyed several war-ships, so my usual dislike of Tony Stark doesn't really hold a lot of water in this case.
Anyhoo, Thor is upset at the (near?) death of his friend and he takes him back to Asgard to use as an illustration of the scope of the threat to Midgard* (*Earth), to wrangle up as many Asgardians as are willing to come to the aide of the planet and to have a right good war against several alien armadas.
And, as it turns out, the answer is "all of them", and now the entire Kree/Skrull armada has to contend with a fleet of OUTERSPACE LONGSHIPS FULL OF IMMORTAL VIKINGS in amongst themselves busting one another up.
AT this point, the Kree armada breaks away from that fight and attacks Earth directly, leaving the Asgardians to the Skrulls, hoping they can easily steal the Omni Wave Projector, and this plan fails because when Goliath stayed behind to save the Earth from that missile earlier, he also recruited *
every single Superhero on the planet
* into one massive fighting force in order to fight them off.
Spider-Man is fully aware that this is him punching WAY above his weight class, and is later seen being carried away on a stretcher, with bandages *over* his costume so... he's right to be concerned.
Anyway, while Skrullos is under attack by a fightin' mad Mar-Vell, Vision, K'llrt and Scarlet Witch (who also got free in the ensuing rampages), and the Skrull armada is being waylaid by Asgardians, and also the Kree armada is being fought off by All the Superheroes, we cut to the Kree homeworld of Hala, where Rick Jones' corpse has finally been delivered to the Supreme Intelligence and, instead of being mushed up into baby-food as intended, the Supreme Intelligence instead used its psionic abilities to shove all of its collective sentience into Ricks still intact, but quite dead brain; which has the side effect of creating a human/Supremor hybrid that... is some kind of weird tentacled space-baby?
Anyway, when Ronan realizes that his attempted invasion of Earth has gone really badly, he decides instead to destroy the Earth on the grounds of "If I can't have it, no one can", but the Supreme Intellirick teleports into his command ship, kills him, and then leaves because the paltry concerns of lesser mortals do not concern him, but also Earth is where Rick used to live and his meat still likes the place. Then he disappears from the story.
On Skrullos, Mar-Vell calms down when he realizes that he can't make any headway fighting K'llrt, and K'llrt also dislikes the emperor so... why not form an alliance to take that jerk down; a plan which is fully approved by the Skrull Emperors daughter, Annelle (and also Vision, Wanda and Captain America, who are also all nearby. And I think Black Panthers around too?). So they do, pretty effortlessly and Annelle is made Skrull Empress on a platofrm of NOT wanting to perpetrate a forever war against Blue Guys, and Mar-Vell is appointed new leader of the Kree, on the grounds that every other Kree above him in rank just died or else left the universe after ascending to Godhood, and he also has no real desire to perpetrate a forever war against Green Guys.
And I guess that's it?
BUT DID IT HAPPEN?!?!
I swear to God, I have no friggin' idea what I just read, so
maybe? T
he climax of Hickmans run of Fantastic Four concluded with a conflict between multiple galactic empires with Earth caught in the middle (and a new Supreme Intelligence being created by several humans being smooshed together), and the Infinity arc of his Avengers run involved the Avengers being split up in order to fight alien invasions home and abroad, and this entire story kind of got recycled in Galactic Storm in the early 90s, and the more recent Empyre story was kicked off by Mar-Vell and Annels son uniting the Kree and Skrull under a "No More Forever Wars Between Blue and Green Guys, Please" banner.
Rick eventually became a vestigial second head, but he never became a tentacle baby, to the best of my knowledge.
NEXT TIME:
"What if Reed Richards Was a Jerk?" doesn't stretch credibility.