Hi, I'm Octo and I just finished reading Stan Lee and Jack Kirbys original run of Fantastic Four. And prior to that, I read all of Jack Kirbys work on The Fourth World for DC. And then I made a poll to see what old comic I should go all in on and recap next. And the winner was
What If...
Just want to be up front about this; this is
NOT
a thread for the MCU animated series of the same name which is currently streaming, and is in the middle of its first season.
Specifically, we're talking about the 7 year first volume run, from 1977 to 1984. There's no single creative voice through that whole line, since the creative team changed drastically from issue to issue (not sure if the same group worked on any two books, honestly), but that fits the intent of the series perfectly. As the title implies; What If... is an anthology book that takes a look at already published Marvel stories and pointing them in a different direction. While some of the stories DID wind up getting their own sequels or spin-offs (in one case, it's own bespoke continuity and spin-offs), most of them are one-and-done stories. And the majority of them also end with everyone dying, or at least resolving in a much worse way than the main 616 Continuity. However some won=und up having stories that the main continuity would ALSO use much later. Not sure how those worked out, because I only ready a handful of books from late in this run. I guess we'll find out together.
I am the Octo, and I will be your guide as we ask the question... What If...!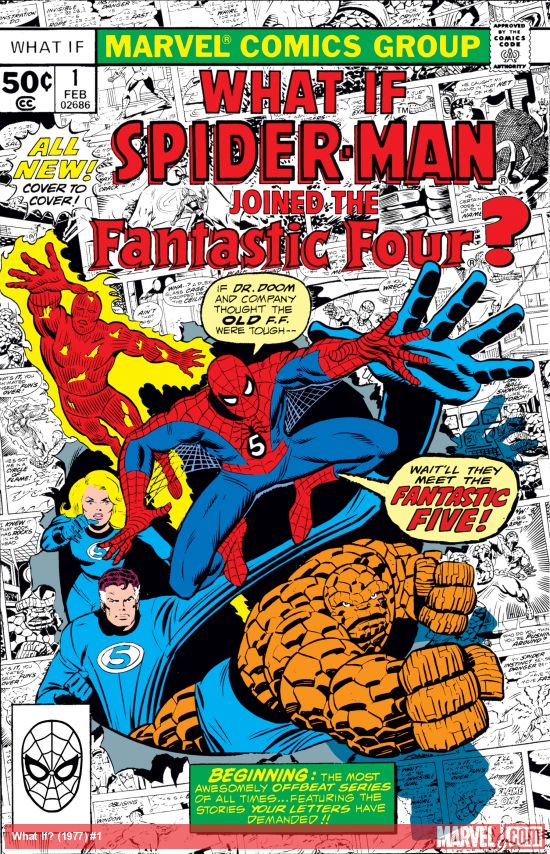 Written by Roy Thomas and Art by Jim Craig
​
And what better way to kick off the series (and what better bridge from my last comic deep dive) than a story focusing on what was still Marvels bread-and-butter, Spider-Man and the Fantastic Four. Also, have to say; going directly from Jack Kirby to Jim Craig is... well... it's jarring, I'll say that.
After kicking off on the moon (excellent way to start any story), we're introduced to Uatu the Watcher; who reveals he hasn't just been Watcher-ing Earth, but literally all of time, including Alternate Histories that did not happen, or bad futures which could as yet possibly happen.
And he was not watching any Marvel/DC crossover stories, so he has no idea if they actually happened or not.
More germane to the plot today, however, is one of those alternate time-lines; in the 616, on one of Spider-Mans first stories (back in issue #1, in fact, which this comic replicates all the dialogue of, and Craig does his damndest to copy Ditkos art), Spidey attempted to join the Fantastic Four, as he needed money really badly, and then decided not join to when he realized the the FF was a non-profit; preferring to sell selfies to a tabloid journalist in order to slander himself as that paid better.
BUT NOW!
Reed and Sue are genuinely impressed at Spider-Mans performance; both for how effective his powers are, and his desire to use them to help people (and also he needed money pretty badly for living expenses, not greed), and decide to allow him to join anyway. And Reed also reveals that he'd been spending some of his time as the worlds greatest scientific genius to try to work out how to improve the FFs budget anyway, so he'd got enough to give Spider-Man a per-diem.
A CPA is a kind of mathematician, so that counts as science.
Anyway, in the short-term, this new arrangement works great. Peter is bringing in enough money to cover Aunt Mays perpetual medical and housing bills. And Reed holds a press conference where he reveals that the FF now stands for the Fantastic
FIVE.
And, in what is easily my favorite moment of this comic; even J. Jonah Jameson very openly endorses Spider-Man (as Reed Richards is a national hero, and is vouching for him, and also because, as Reed points out Jameson himself literally made up every negative news story ever published about him).
And this is where Roy Thomas gets to really stretch his legs as being the guy who puts WAY too much thought into the inner-workings of every dang Marvel comic and probably has an entire room of his house dedicated to no-prizes, as we also see how this affected Spidey and the FFs super-hero careers with some dazzling minutia;
The Chameleon didn't have the opportunity to play off the public mistrust of Spidey so his criminal career never got started
The Vulture, likewise, was a solid match for one super-hero, but is was completely out of his depth when he had to fight 5 (one of which could fly WAY better)
The Red Ghost was beaten much more easily, as he couldn't contend with how Spider-Man changed the team dynamics.
And The Watcher (i.e; Roy Thomas) takes the time to explain a handful of other slight changes this results in, like how Spider-Man didn't ever need to invent the device that disabled the Vultures flight suit, and also that The Watcher looked completely different in his first appearance because he was trying to intimidate everyone into leaving him alone. And Uatu knows how Red Ghost survived the end of the issue, but doesn't want to talk about it)
In fact, the Red Ghost thing is where the comic starts to
really
diverge from the 616; as in the original story, Reed built a rocket to go to the Moon. And as in the original continuity, he only built it with four seats; because he doesn't think about his girlfriend very often; and figured a guy who's built for urban environments would be very helpful on the moon; and tells Sue to stay behind and monitor the Baxter Building while they're gone.
As it would happen, around this time (specifically, during issue #13 of Fantastic Four, as Helpful Roy informs us) was when The Puppet Master recovered from his injuries and hypnotized Namor the Sub-Mariner into kidnapping Sue and goading the rest of the FF into a trap.
THING IS, that only
kind of
worked through subterfuge in the 616, but here, Sues been side-lined in favor of Spider-Man and casually disregarded by her boyfriend, that she's perfectly willing to go along with the hunky fishman who actually seems to care about her. Takes her a long while to work out he's being mind-controlled, granted, but she's working through some stuff; we all overlook things when distracted like that.
What follows is a truncated, but pretty faithful adaptation of FF#14, with the change that Spidey is on the team also fighting Namor in his undersea base, and also with Roy putting more thought than Stan ever did about over-explaining everything. It's.. stunning really.
Did you know that Deep Sea Predator-Clams could exhale chloroform? Roy does!
We also learn that the bombastic narration boxes were never Stan Lees, they were always
Uatus
. Roys own narration box is a different color and is as surprised by this as anyone.
I love Roy Thomas.
Anyhow; once again, Namors mastery and knowledge of all forms of aquatic life makes him a match for the rest of the team, and Ben goes ahead and tries to free Sue from the deadly Octo-peril she's in, and once she's free she quickly calms everyone down by explaining that clearly Namor is being controlled by someone since he traditionally wants to marry her, not kill her with octopuses. And that problem is resolved because then Puppet Master himself catches the business-end of a thrown Octopus and is killed (poetic justice).
Namor, having now come to his senses, apologizes to the FF for his behaviour and also reveals that while he would like to marry Sue, he certainly wouldn't kidnap her to do it, and furthermore, he also had just finished constructing a device that would permanently transform her into a FISHLADY so they could live at the bottom of the sea together. And Sue says "Well... y'know... I'm cool with that, actually. Let's do it!"
She doesn't turn into a mermaid or a female Gillman or anything like that; she looks the exact same; except she can't breathe oxygen anymore.
Namor says "Oh frig, forgot; I'm the only Atlantean who can breathe air" and quickly destroys the Atlantean outpost, letting the sea flood in, forcing the FF to quickly evacuate in an escape pod and completely destroying the Human/Fish transmogrifier so as to make sure Sue will never again be able to live on the land.
Neither Sue nor Reed are *terribly* broken up by this (Reed figures Sue would be able to reign in Namors impulses, making the world safer on the whole, Sue is happy to finally have a man in her life who seems to want to spend any time with her at all) and Spidey blames himself for all this and Johnny informs him that this situation probably would have turned out the exact same way regardless of whether or not he was involved.
One of the rare (relatively) happy endings in this series
NEXT TIME:
HULK THE SMARTEST ONE THERE IS!