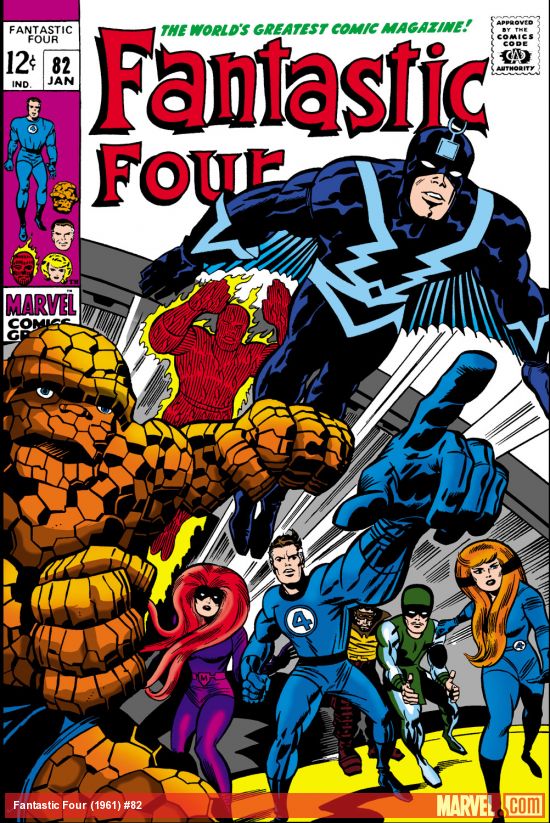 ​
Possibly the single gaudiest costume Jack ever designed makes its first appearance in this...
THE MARK OF THE MADMAN
As we learn on page 1 of this comic; Crystal didn't actually ask *
anybody
* for permission before deciding she was going to join the FF last issue, which extends a little past casual rudeness when you consider the fact that she's the princess of an entire secret civilization of super-humans, and so
probably
has some more pressing obligations than having to thwart the occasional mad scientist. Fortunately, they haven't really needed her once in the last 20-or-so issue; so she feels pretty confident on what Black Bolts answer is going to be on that front.
The actual response she gets comes as a bit more of a surprise; as dozens of
orcs
Alpha Primitives erupt from the teleportation field in the Baxter Building, led by a hypnotized Lockjaw, who all forcefully abduct her and take her back to the rebuilt Attilan.
The rest of the FF are about as non-plussed by this as you might expect; Blackbolt is more of a guy who leads with actions instead of words (since he can't talk and all that), but "forceful abduction of his sister-in-law via mutant-apeman" isn't really his style; and they decide to take a rocket and crash it into the Himilayas to see what's going on.
Crystal doesn't have to wait until they land to find out what's going on, however, since she finds out REAL quick; Maximus The Mad has, apparently been real busy since his last appearance (where he was trying desperately to get ANYBODY to pay even the slightest bit of attention to him) and has once again managed to depose Blackbolt, affix Lockjaw with a mind-control collar, imprison Blackbolt, Karnak and Triton in a miniture version of the Negative Barrier that once sealed off the rest of Attilan, coated Medusas hair with a chemical that rendered her powerless (eh?) and also built himself a new suit!
​
I have absolutely no words to describe this.
Max what is even up with your hat situation?
MAX WHERE ARE YOUR FOREARMS?!?!
The more I look at this the more delighted I become.
Jack Kirby, you are a beautiful madman, and that you never got into high fashion is the TRUE heartbreak of comics.
ANYHOO, around the time that Crystal is being blinded by a fully sequined armored suit with a hat four times the size of the wearers head and armpit capes, the rest of the FF arrive in Attilan (greeted by the same flying guy that greeted them last time, which is how they know they arrived) and they also have a grim reminder of the past when they see the shattered pieces of the negative Barrier that still litter the landscape, which Reed takes credit for breaking.
And hey, Reed, Black Bolt did that himself; you were busing dealing with Dr. Doom. Not everything is your doing,
Reed.
Anyway, once they're in the city itself, they fight some more Alpha Primitives, which they fair much better against now that they don't have to worry about Crystal or Lockjaw getting in the crossfire. So that's good. Unfortunately, they also run afoul of Maximus' SECOND greatestcreation, after that suit;
THE GIANT GORILLA ROBOT ZORR
​
Zorr is a very strong robot with a glue-gun for an arm that likes to brag about how strong he is and how smart Maximus is and BY GOD, I love him. We don't see how the fight is resolved, but since Reeds been glued to the ground, it's overpowered Ben and is entirely flame-proof, it doesn't look great for our heroes.
Instead we cut back to the Throne Room, where Crystal learns that besides being the single boldest fashion choice in the history of Marvel Comics, Maximus' suit is also completely weather proof, as her elemental powers have no effect on him whatsoever (elemental powers being represented by vague wavy lines here), and besides that AND THE GIANT MECHA GORILLA NAMED ZORR (in a normal issue, that would definitely be the thing I am most excited about), Maximus has also built a giant Hypno Ray Beam that will force everyone on the Earth to acknowledge him as the undisputed lord and master of the World!
The last time he had a gun like this it was to
KILL
every human on the planet so... kind of a step down in terms of menace, honestly.
Next Time:
Fashion is the End Game