Do you require aid.
(whatevs)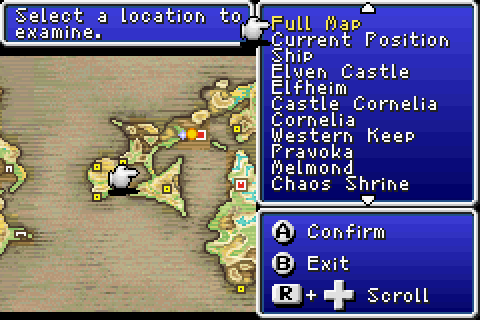 Okay, so here's the plan for today. We're at Melmond now, but we need to head to the Cavern of Earth on the Devil's Tail peninsula, so we can restore the Earth Crystal and give that vampire what-for.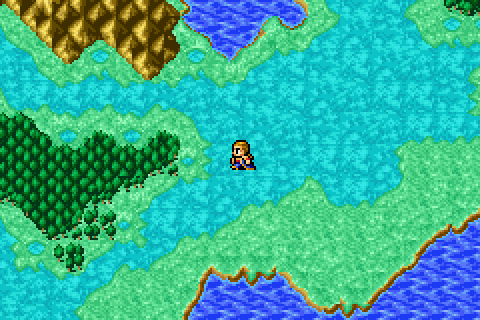 So off we go. More marshlands!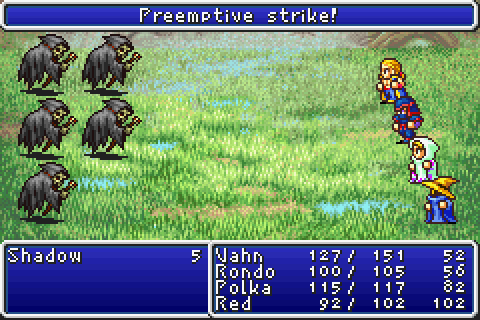 The overworld encounters are now drawing from the Marsh Cave enemy lists, fittingly.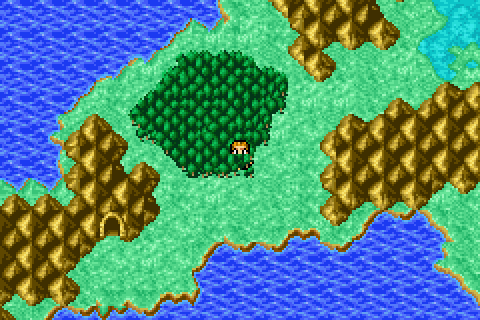 There's another cave over here, let's check it out!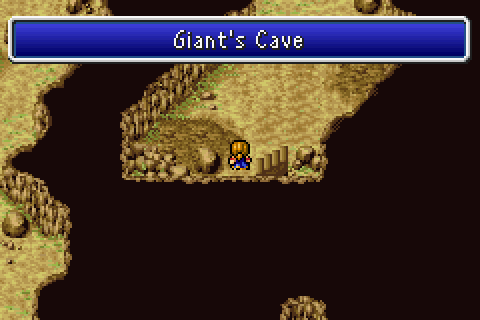 Giant's Cave, eh?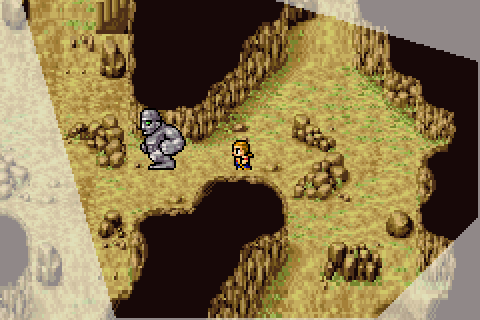 Hey bud can you turn around and help us out?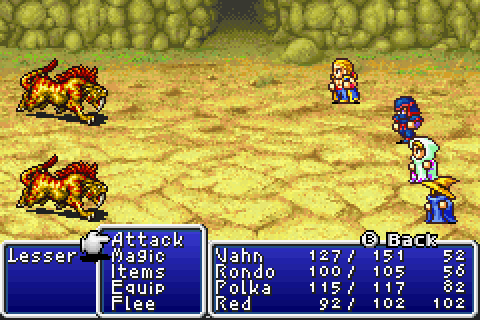 Guess not.
Lesser Tiger
HP: 140
Damage: 21
Accuracy: 74
Defense: 3
Agility: 24
Intelligence: 13
Evasion: 89
Magic Defense: 21
Rewards: 48 gil, 438 EXP, Hi-Potion
Weaknesses: Poison, Sleep

If this is a Lesser Tiger, I'd hate to see the Greater one. These bad boys are fast and mean, and they take a beating. Fortunately, one good Scourge spell can put them down before you get into any real danger. If you don't have the spell available, uhhhh maybe run? Or hope your physical fighters are accurate.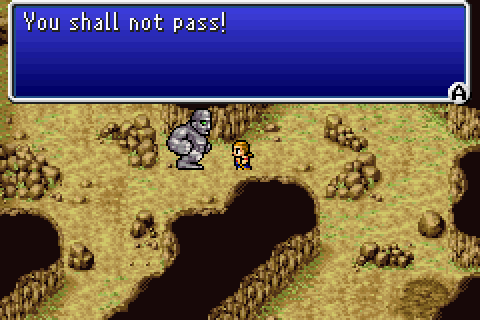 Fine, be that way, jerk. At least the giant doesn't fight us.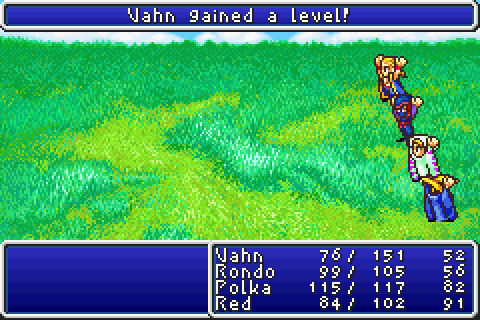 Back on the overworld, we get a level from a fight so inconsequential I won't even show it.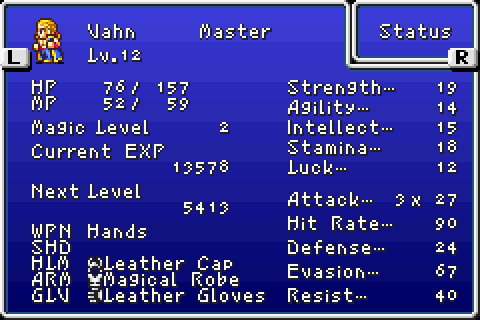 The most exciting thing here is that level 12 is where Vahn gets their third punch.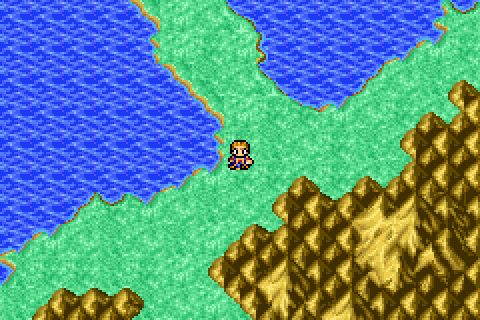 Anyway, here's the Devil's Tail peninsula.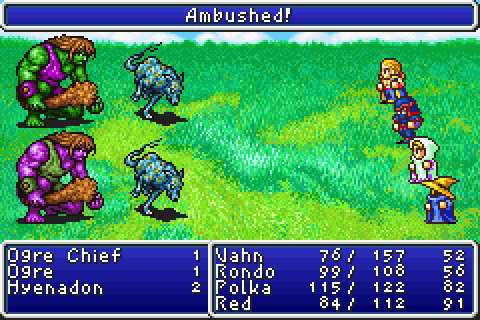 One last ambush before we go in, I see.
Hyenadon
HP: 153
Damage: 24
Accuracy: 45
Defense: 4
Agility: 24
Intelligence: 8
Evasion: 53
Magic Defense: 31
Rewards: 20 gil, 288 EXP, Power Plus
Weaknesses: Confusion, Mind

Hyenadons are extremely similar to Lesser Tigers, save that they gain a bit of bulk and lose a significant amount of speed. They can also drop Power Plus, capable of permanently boosting a character's Strength score! I dunno who I'd give that one to, but it's probably either Vahn or Rondo.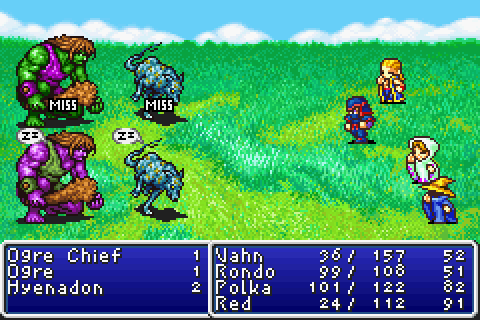 I'm so glad I'm going to use a Tent after this.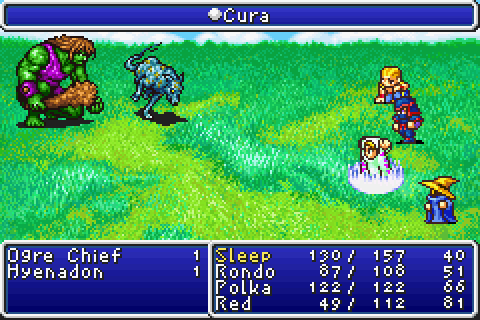 Well, let's see what Polka's Cura can do.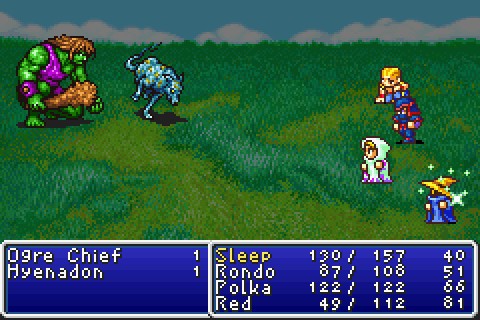 The sparkles are brighter, does that count?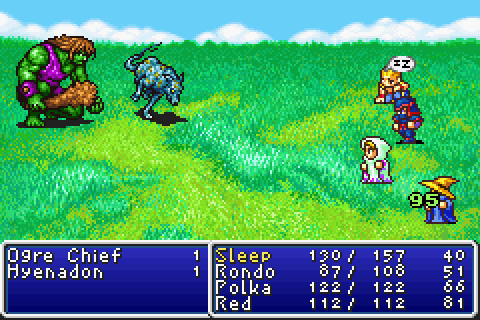 Oh that's actually pretty good. Shame that Polka's MP can't support that kind of healing on the regular, but it's at least better than a standard Potion.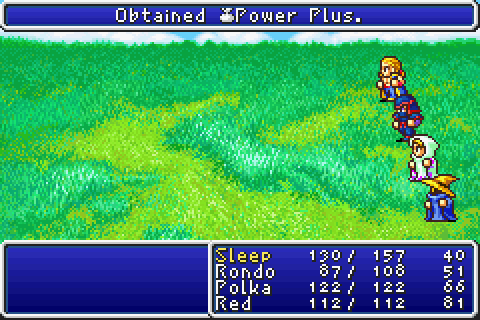 EARNED THAT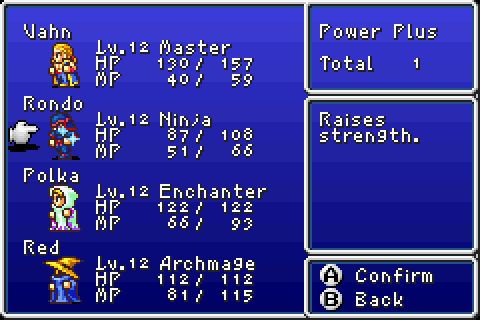 I decide to give it to Rondo.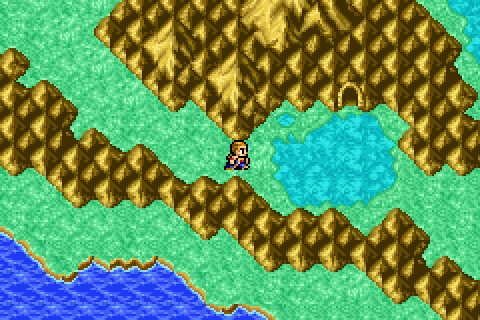 There's our destination. We're going to get uncomfortably familiar with this place this update.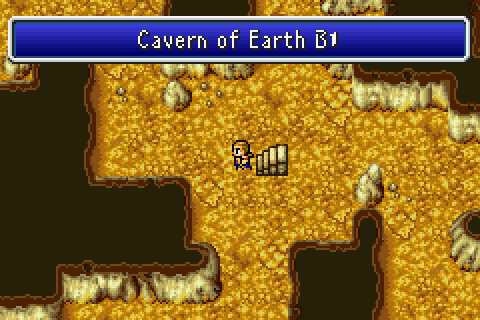 Right off the bat, the Cavern of Earth dumps us in an open area with a bunch of possible places we can go.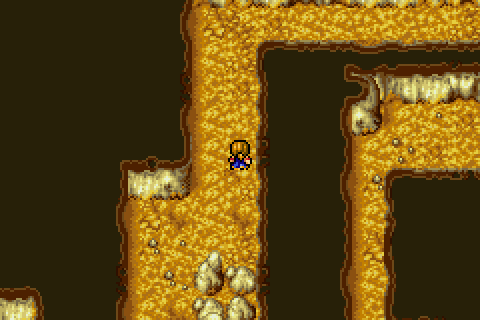 I remember this place well enough to know that we go north first.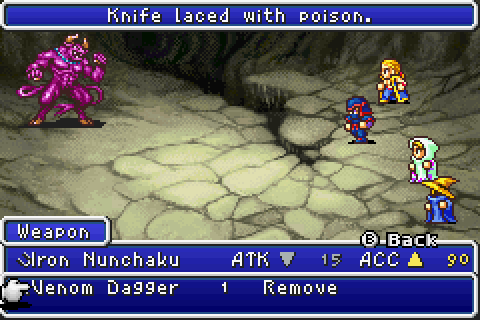 Goes without saying that the encounters here are spicier than anything we've seen yet.
Minotaur
HP: 280
Damage: 36
Accuracy: 64
Defense: 12
Agility: 24
Intelligence: 8
Evasion: 40
Magic Defense: 55
Rewards: 160 gil, 489 EXP, Great Axe
Weaknesses: Paralysis, Confusion, Mind

I could've sworn Minotaurs were weak to poison, hence my equipment change for Rondo in this fight. Anyway, Minotaurs are absolute beefcakes that can even survive a magical assault from Red. If you can't kill them fast, your best alternative is a Confuse spell, to turn their powerful attack away from you and towards their team. Or running, that's fine too.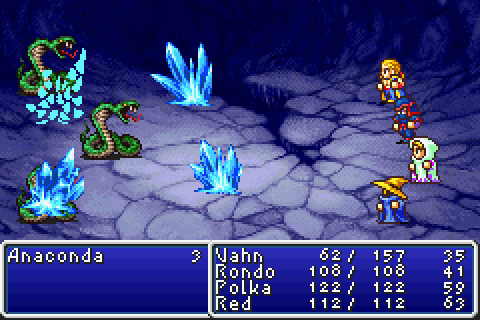 Blizzara is kind of overkill on Anacondas, but I get the brain endorphins when I hit elemental weaknesses.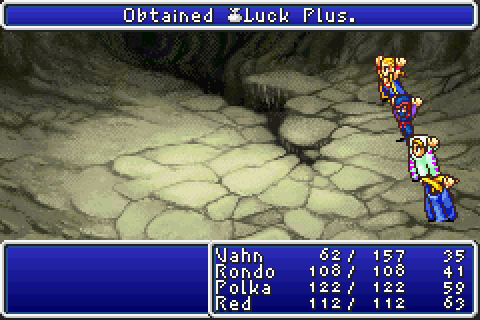 Dang, everything's coming up statbooster.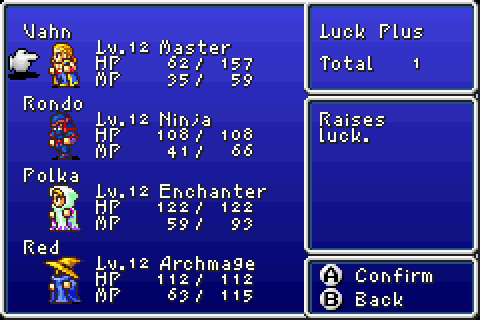 Rondo has like twice the Luck of everyone else here, and Luck is notably important for your magic resistance, so I'd say either Vahn or Polka should get it on this team.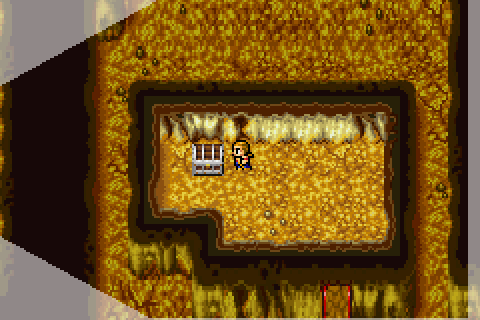 JUST LET ME HAVE THE BOX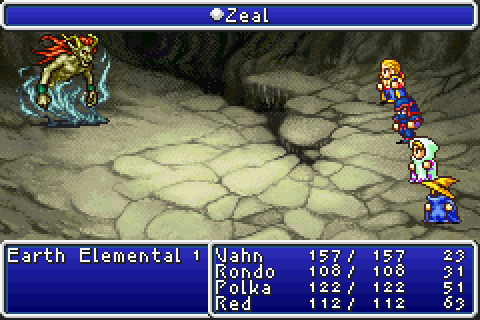 Oh dear.
Earth Elemental
HP: 468
Damage: 60
Accuracy: 170
Defense: 24
Agility: 9
Intelligence: 6
Evasion: 10
Magic Defense: 160
Rewards: 244 gil, 1536 EXP, Knight's Armor
Weaknesses: Fire, Poison, Dia
Resistances: Quake, Lightning, Ice, Stone, Paralysis, Darkness, Sleep, Silence, Confusion, Mind, Death

Commonly appearing as hardy fixed encounters guarding chests here in the Cavern of Earth, Earth Elementals are serious foes. They're slow as hell and can barely dodge, but they're extremely durable, deal mega-huge damage on physical attacks while inflicting Poison, they can cast Zeal to boost their team's attack, and worst of all: they have a special Stone Gas move that can turn everyone in your party to Stone at once. Stone is hands-down the meanest status effect in the game, so any encounter with an Earth Elemental should be cause to bust out the Holy Water and Venom Daggers if ever there was one.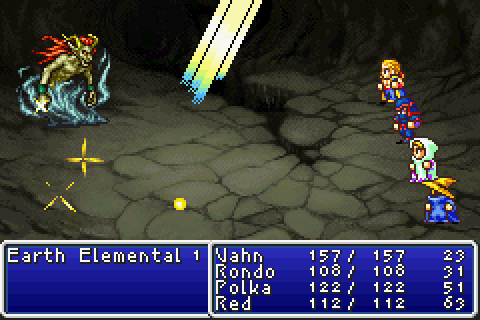 We haven't seen Zeal yet, and I'll save the details for when we see it in a shop, but suffice it to say that it boosts the damage of the team. So now the Earth Elemental hits even harder! It also reuses the old Dia animation.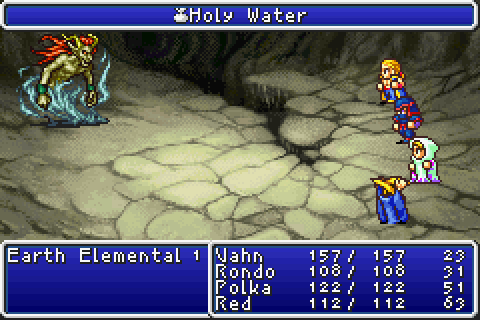 Taking no chances here.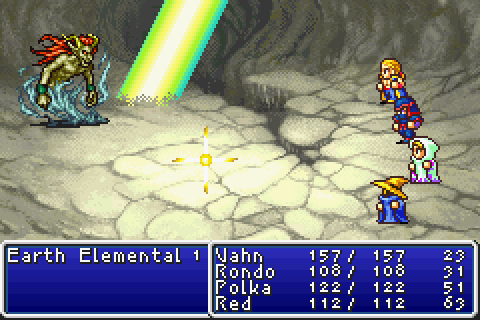 Holy Water effectively casts Diara on enemies, and this is coming from Red's stats. Which means: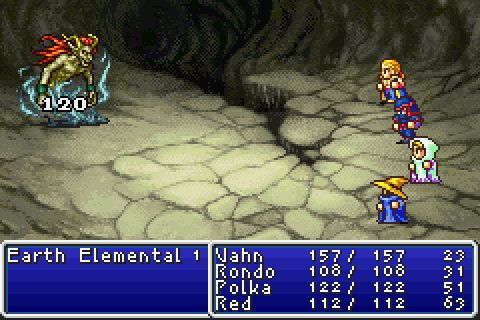 Bah! They must've made their magic resistance roll.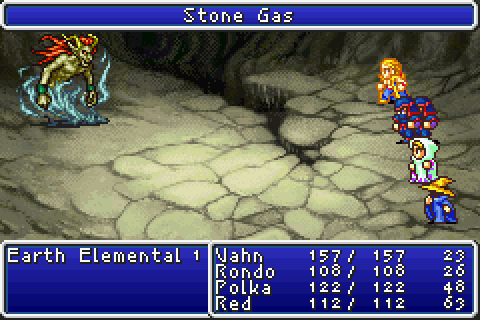 NOW IT'S OUR TURN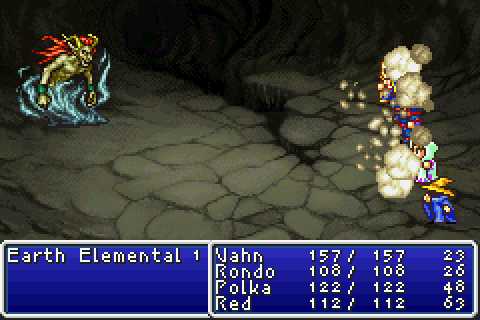 Stone Gas can potentially petrify every single member of your party! Every time anyone uses it is a time you get to feel what it's like to have a heart attack!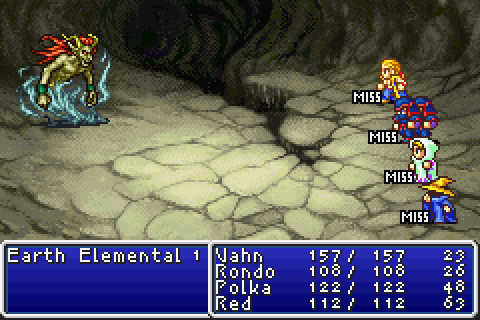 The infliction rate is super low but THAT DOESN'T MAKE IT FEEL ANY LESS SCARY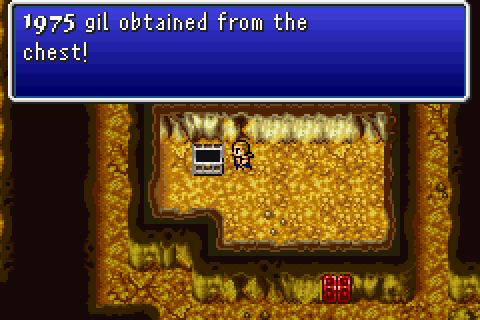 Well I earned that.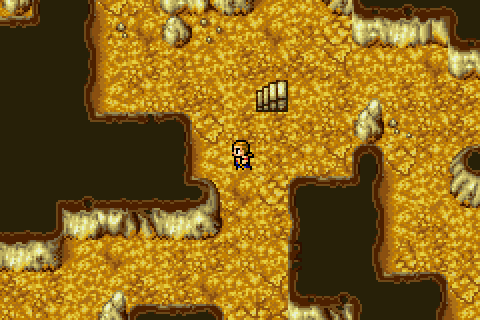 Anyway, I know the path to the next floor is to the right, so we're ignoring it for now.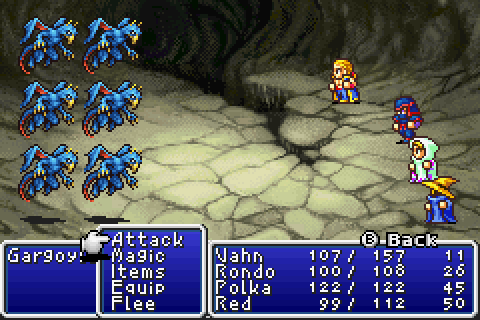 We still have Gargoyles and Cobras to deal with, now in even greater numbers. They're less scary now, but still annoying.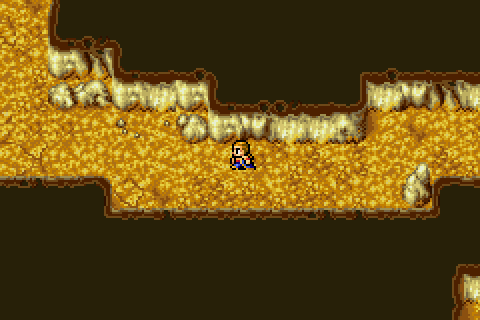 If you look to your left, you can see one of the most well-known tourist sites in the Cavern of Earth!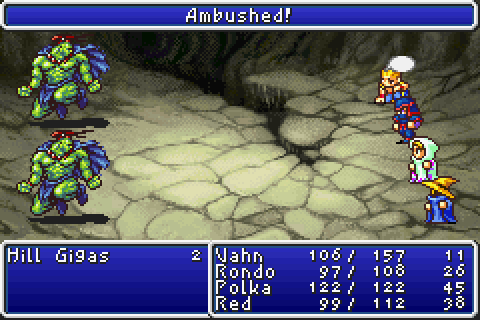 This is the Hall of Giants, which is literally packed to the gills with spiked squares, each with an encounter with some of these guys! Pioneers of FF1 would traverse this cavern up and down for hours on end, picking fights with the Hill Gigas.
Hill Gigas
HP: 480
Damage: 40
Accuracy: 119
Defense: 12
Agility: 24
Intelligence: 5
Evasion: 33
Magic Defense: 60
Rewards: 225 gil, 879 EXP, Giant's Tonic
Weaknesses: Quake, Time, Poison, Confusion, Mind

Not as scary as the Earth Elemental, but still pretty intimidating. The Hill Gigas, in addition to being one of the rare enemies actually weak to Quake, is just a straightforward brawler of an enemy, with loads of health and a solid amount of attack power. They award some solid gil and XP and can be triggered pretty consistently in the Hall of Giants, without having much in the way of surprise spells or status effects to end your fun early.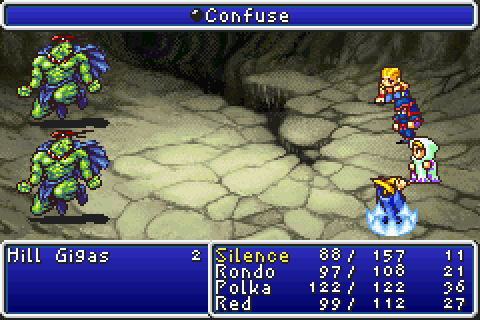 Anyway I'm gonna need these guys to stop trying to kill Vahn.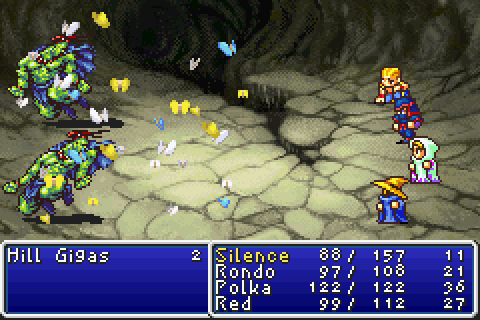 Butterflies are very confusing.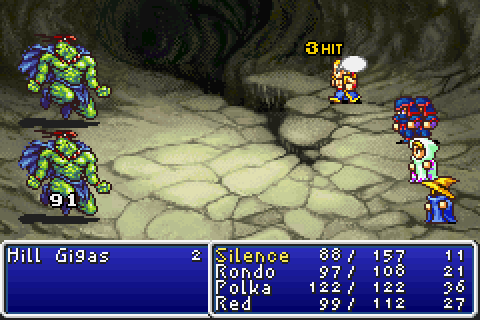 Enemy confusion is very easy to see, just look for the horizontally-flipped sprites. Fitting, no? They do, however, have a chance to break out of Confusion whenever they're hit.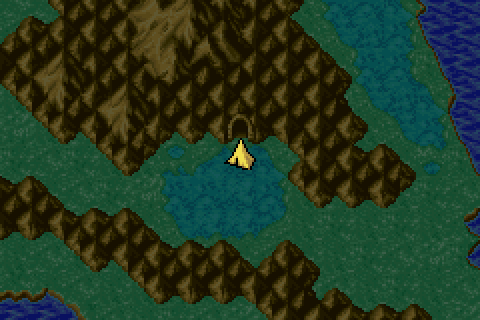 Right, let's actually Tent up this time.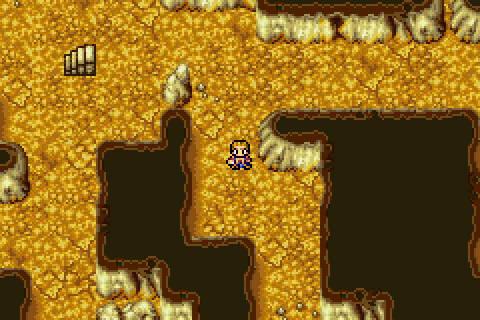 This is the way to the other B1 treasure. The path straight down is a quick dead end.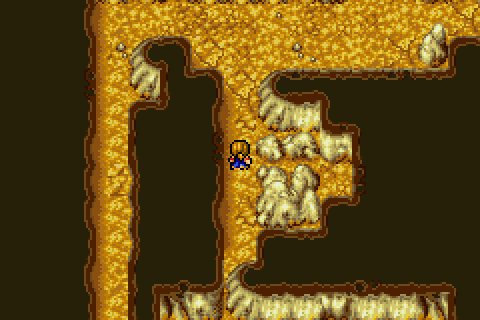 Solve the maze, loser!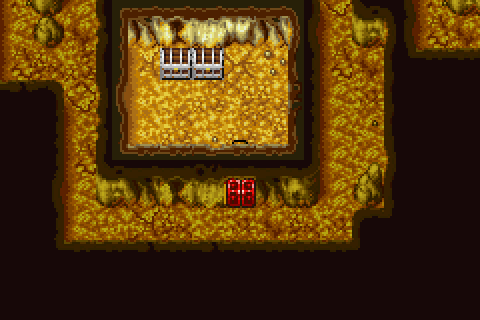 You solve it by going left, by the way.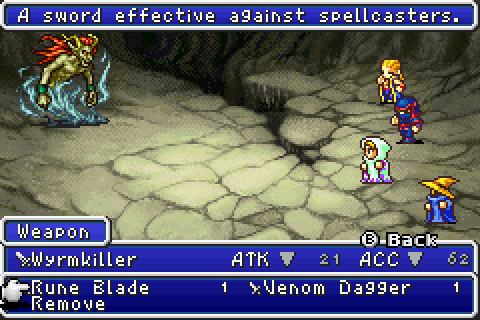 One of these jerks again, huh?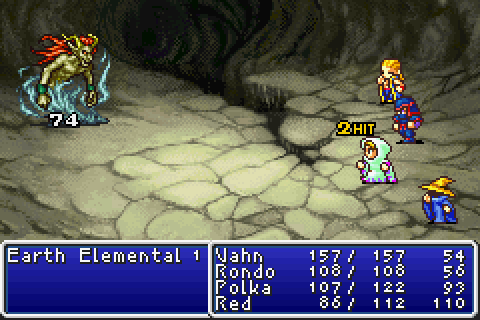 Taste Rune Blade!
That's actually pretty decent damage for a physical attack on an Earth Elemental for where we are.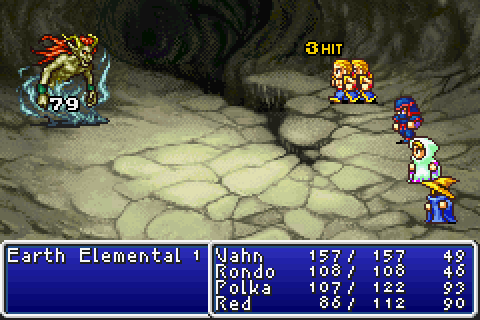 Citation: Vahn has usually been our best physical damage dealer. Don't sleep on slaying weapons!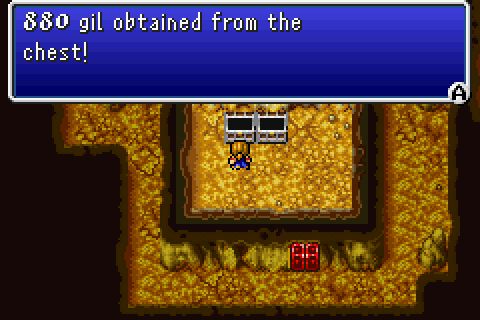 Potion, money. Cool!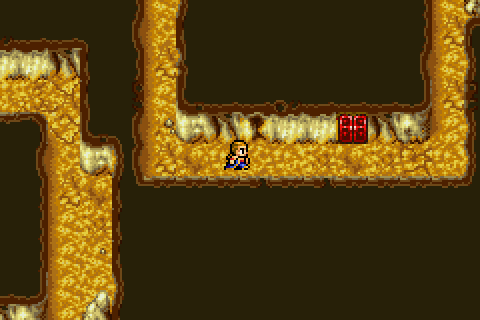 The right side of the maze has more treasure! Calling it a maze is a bit much, honestly. It's really just branching pathways that make an intimidating first impression.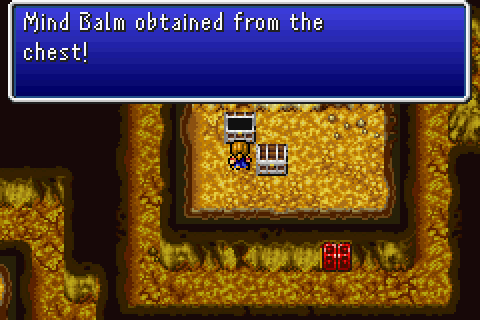 A very important tip for not dying in the Cavern of Earth: not all of the squares around the chests are enemies. Try approaching them from an angle that isn't literally the shortest distance there to avoid foes. I like that a lot, feels like an early digital way of emulating sneaking past a dangerous monster for its horde, classic D&D style.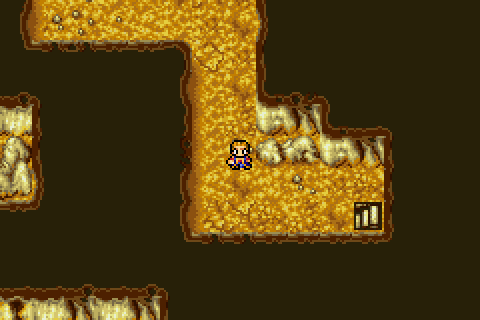 Anyway, like I said, go right at the start to get right to B2.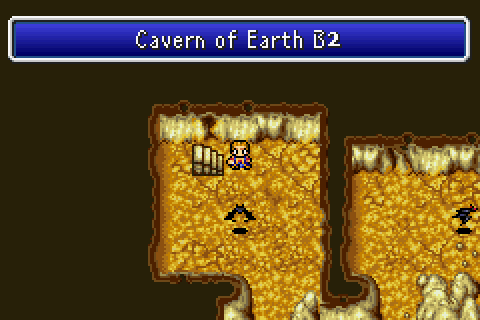 B2 is a little more open and freeform, but stick to the walls if you want the treasure here.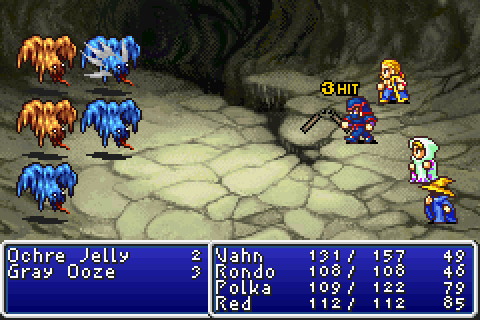 New slime time.
Ochre Jelly
HP: 136
Damage: 32
Accuracy: 39
Defense: 21
Agility: 3
Intelligence: 3
Evasion: 9
Magic Defense: 71
Rewards: 23 gil, 252 EXP, Speed Drink
Weaknesses: Fire, Ice
Resistances: Quake, Lightning, Stone, Paralysis, Poison, Darkness, Sleep, Silence, Confusion, Mind, Death

Ochre Jellies have high defense, lots of resistances, and no other attributes of merit. They're trivial, really.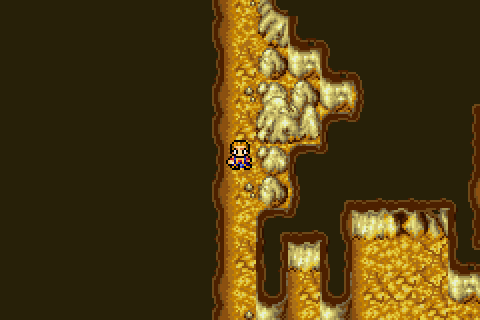 Let's go down first, why not.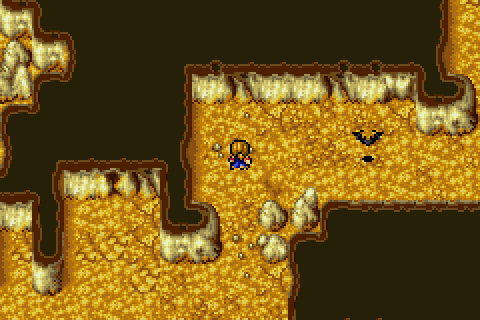 Not STRAIGHT down, though. Dead end if you do that too much.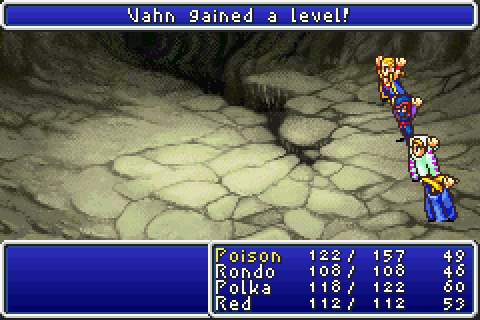 Actually, just don't go that way. The second floor is another open maze, full of lots of spare room full of too many encounters with small fries.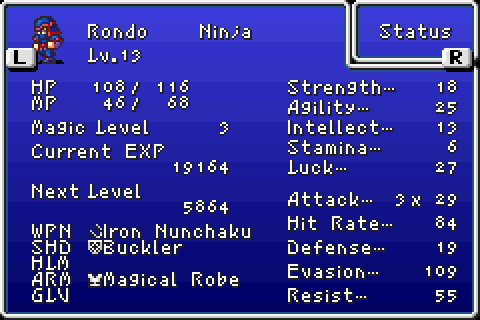 Hey, spell level 3 for Rondo!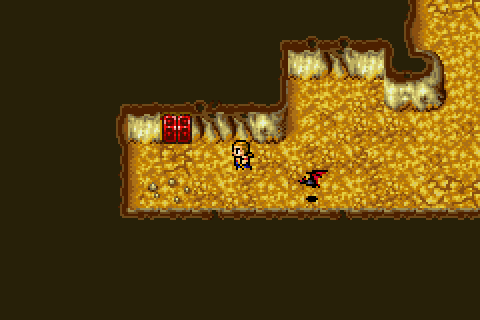 Okay, here we go. Right as far as you can, then go straight down.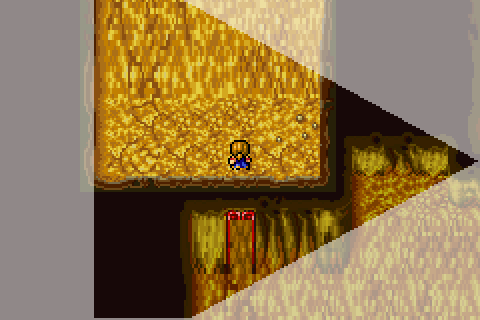 Damn, they're learning.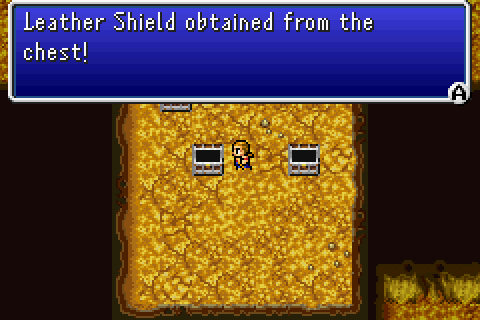 Most of the treasure has been updated to a point of at least usefulness by now in this mod. This Leather Shield has not.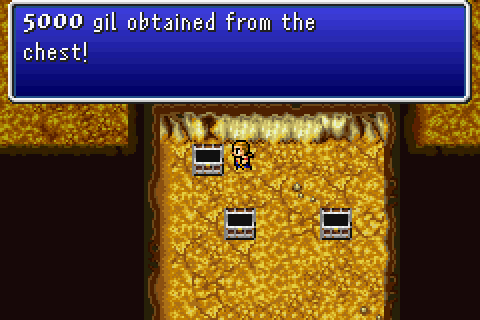 At least we're rich as hell.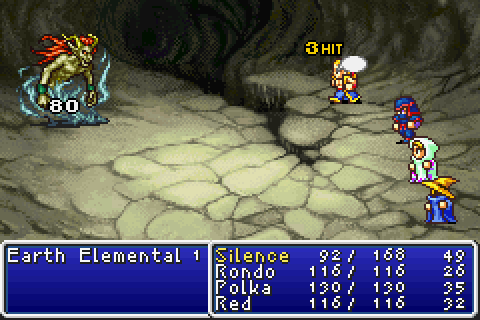 Lucky us, we get to fight the Earth Elemental on the way out, too.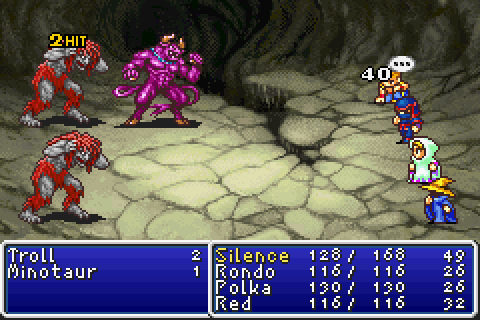 More big friends.
Troll
HP: 320
Damage: 24
Accuracy: 59
Defense: 14
Agility: 24
Intelligence: 6
Evasion: 48
Magic Defense: 81
Rewards: 180 gil, 621 EXP, Mythril Sword
Weaknesses: Fire

Trolls set themselves apart from everyone else in the Cavern of Earth by having some mild regen. I'm not gonna have a lot to say in these blurbs from here on out for a lot of enemy types, since player power tends to drastically eclipse random encounter power as you go on.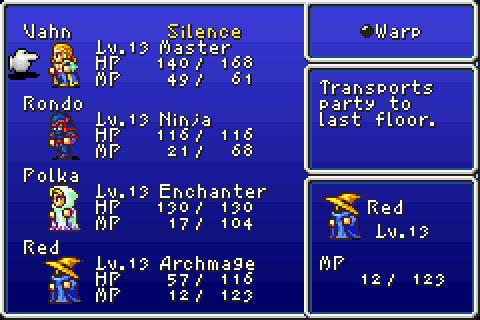 Anyway, we're low on MP. Back to the surface with us.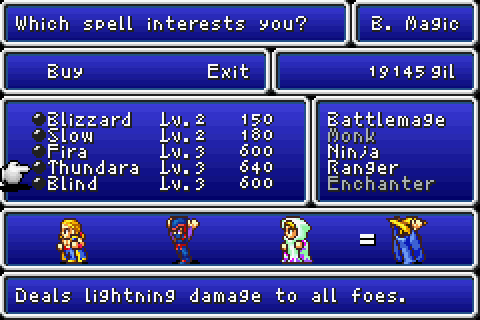 This is officially the last time we'll ever visit Pravoka in this LP. Wow! I get Blind and Thundara for Rondo, because I want to get them Warp for the third spell so we can have more freedom to unleash with Red.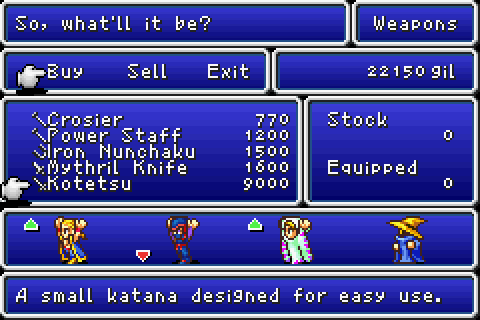 And since I'm sitting on this much money and there's a nice enticing Kotetsu for sale, why not?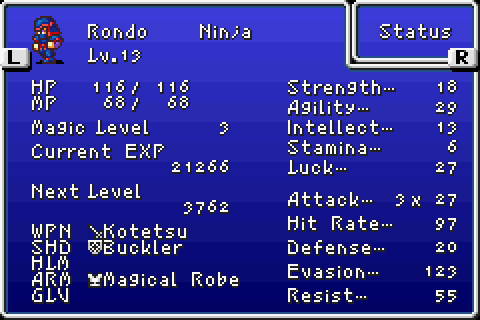 Unfortunately, the Kotetsu isn't quite what Rondo needs right now, as much as they were looking forward to it. The non-damage stats are improvements, yeah, but we're notably just shy of being able to score four hits in sequence with it, which is what I was really hoping for. And while Vahn can equip it, their number of attacks actually decreases, so that's not happening.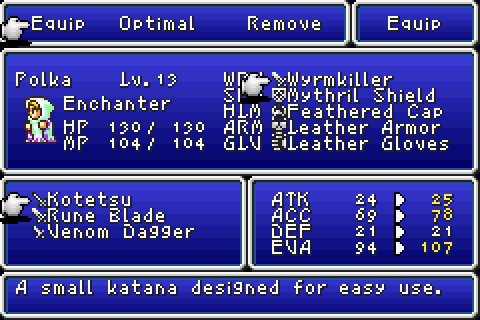 That said, the Kotetsu does help Polka remain competitive as an off-fighter. Especially once they get that third hit, they'll honestly be about as good at fighting as the other two.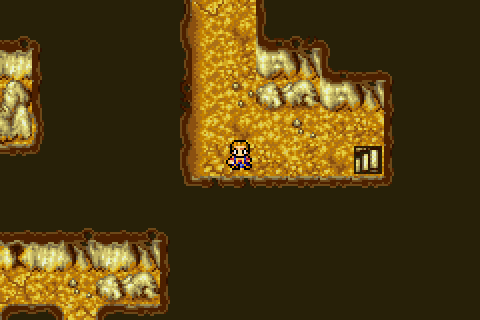 Anyway, back in we go.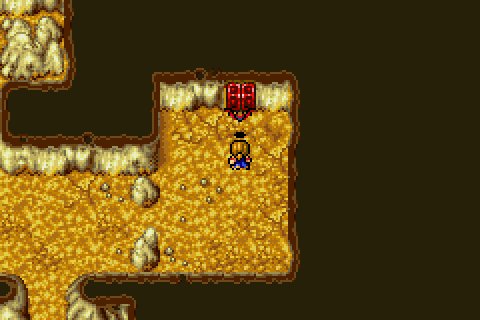 B2 has another treasure room on the far right side.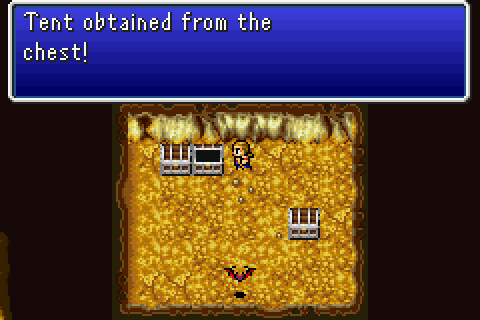 This time, I think to approach from the sides of the chests, so as to avoid getting punked by Earth Elementals.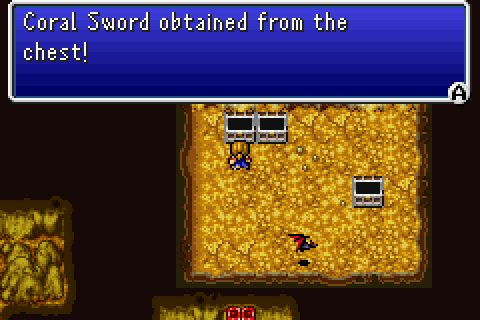 Not that it matters, these ones don't seem to be trapped, but hey, the pay's good.
Coral Sword
A sword effective against aquatic foes.
Damage: 18
Accuracy: 14
Critical Rate: 12
Slaying: Aquatic
Availability: Knight, Rogue, Enchanter, Paladin, Ranger, Battlemage

Another slaying sword for Polka's stash. Will probably see quite a bit of use honestly; not only are aquatic enemies common, but we'll be encountering a fair amount of them in the area after Cavern of Earth. Still gonna use the Kotetsu for general-purpose combat, of course.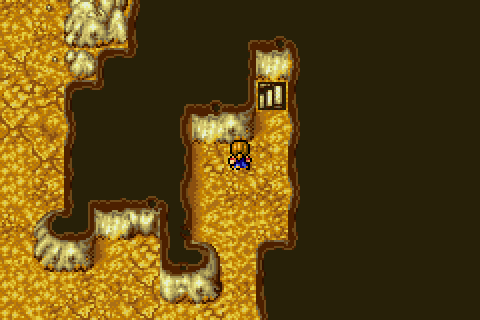 Exit's just below that treasure room.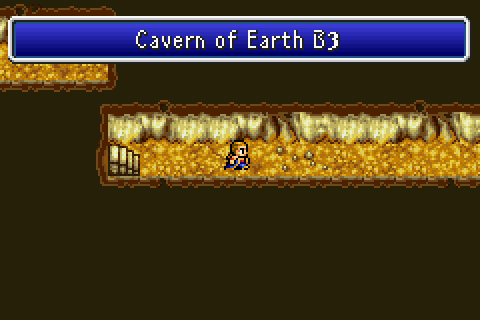 B3 is a lot more straightforward, thankfully. We're basically in a large loop around the vampire's lair, with a branch for treasure stuff on the right side. That passage you can see above us is the entrance to the lair.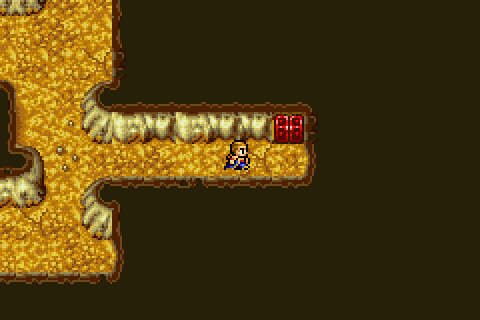 We have our priorities straight.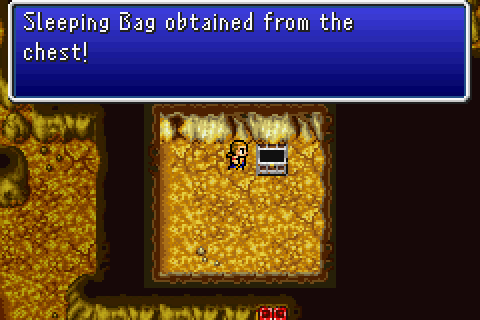 Still trying to avoid traps, of course.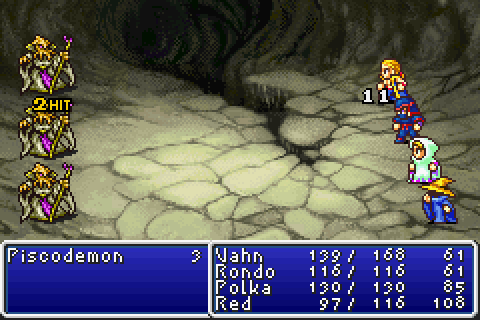 Piscodemons are officially random encounters now.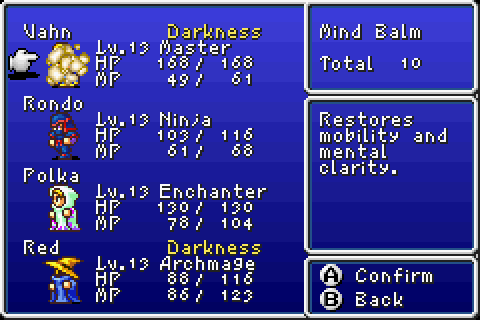 Nothing new in the encounters yet, but a pack of Mummies makes me consider saving some Polka MP.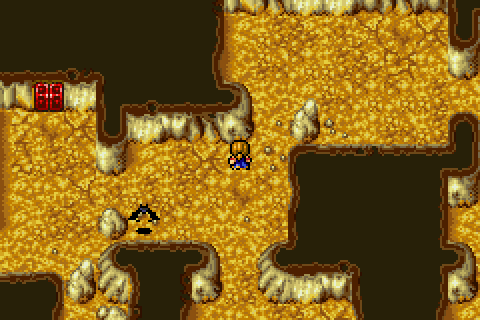 Yeah here's the branch. Left to Vampire, right to loot.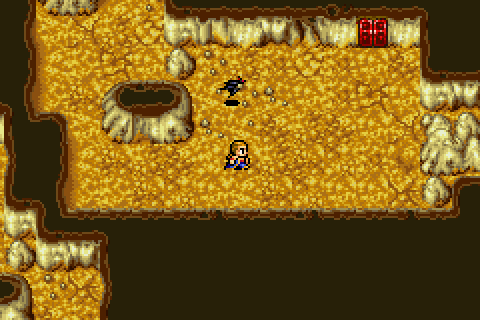 Down first!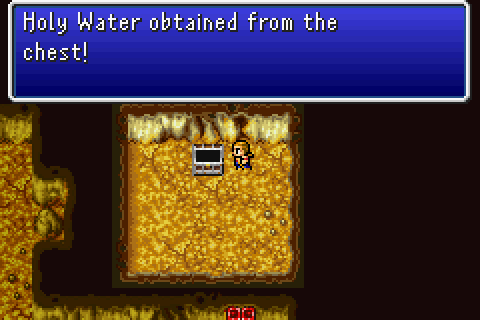 Holy Water, also known as Red's anti-undead grenades.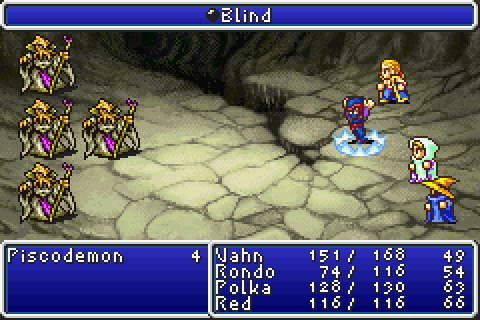 Okay four Zoidbergs is kind of a lot.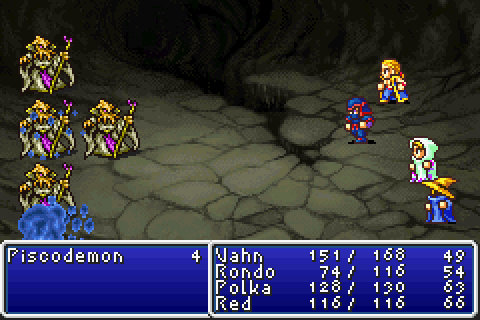 NINJA VANISH!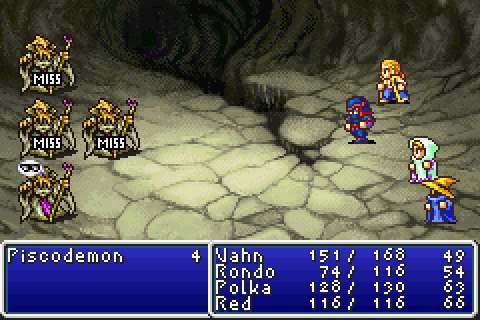 Underwhelming. Still, Blind is a pretty nice status effect for physical opponents to get hit by, sharply lowering their accuracy AND making them more vulnerable to damage.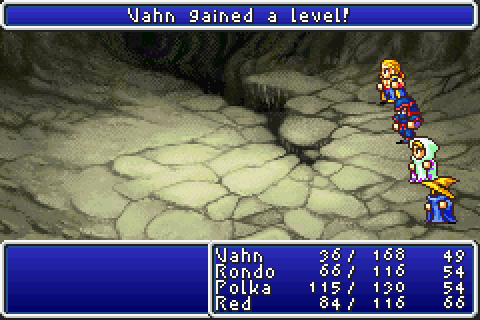 After a close call with a Wraith ambush, we hit our next level. How good might this one be?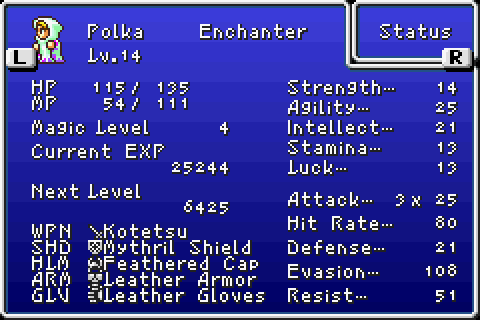 Pretty good, turns out. Polka jumps up to 3 hits while wielding the Kotetsu, as well as spell level 4 (which will bring Clarity, Healara, and NulFrost). Red also gets spell level 5 (earning them Firaga, Scourge, and Stun). But we're so close to the Vampire, I don't want to back out juuuust yet.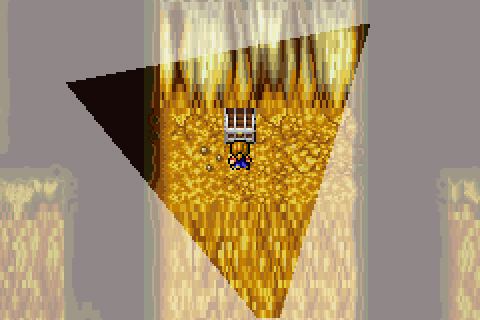 WHY DON'T I LEARN
(The chest has lots of gil)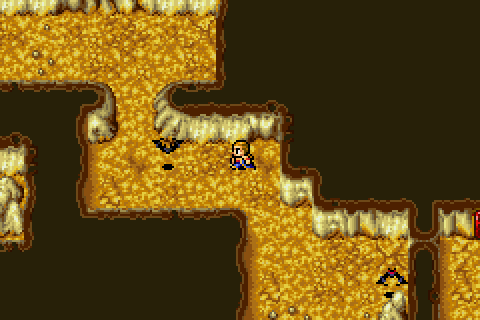 Oh no, did I seriously not check the entire right side when I was playing? I'll have to go back later to make sure I didn't miss anything vital.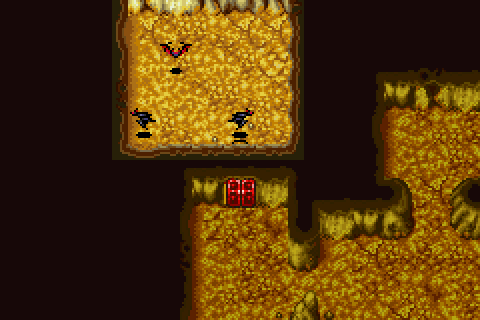 The treasure in this room is BAAAAAATS!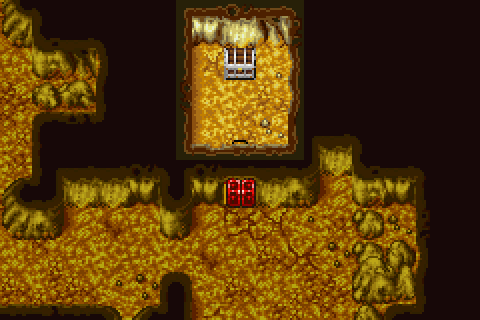 Will I run facefirst into a trap this time? Place your bets!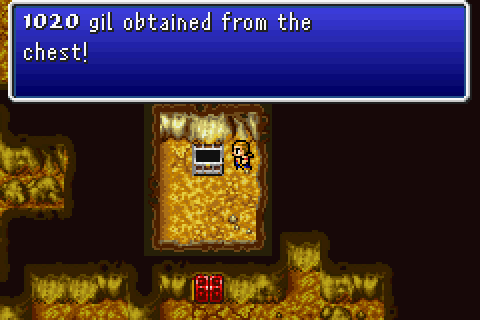 Yay, I can learn!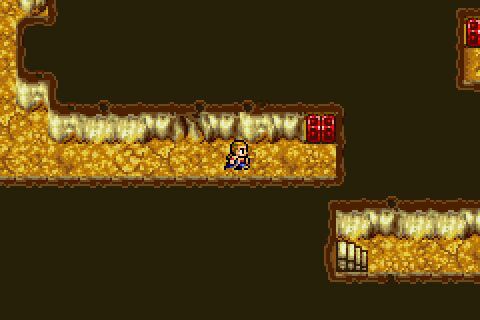 Well, I gotta go back for the rest of the treasure here, but we made it to the Vampire! Go us!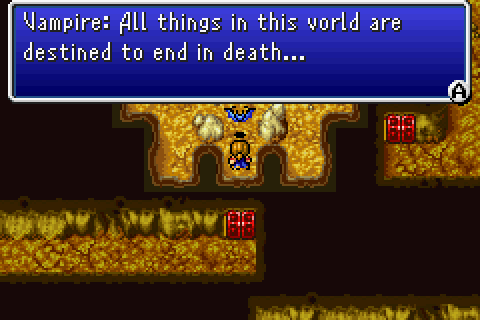 Continued adventures of bats.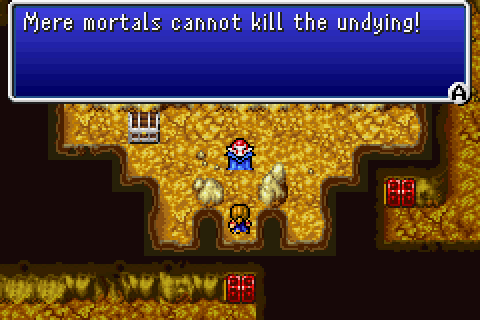 You make that sound like a challenge.
Vampire
Lord of the Undead
HP: 606
Damage: 76
Accuracy: 95
Defense: 30
Agility: 65
Intelligence: 26
Evasion: 72
Magic Defense: 155
Rewards: 500 gil, 1200 EXP, Vampire Fang
Weaknesses: Fire, Dia
Resistances: Quake, Ice, Stone, Paralysis, Poison, Darkness, Sleep, Silence, Confusion, Mind, Death

Look at that damage stat! The Vampire, like Bikke's Pirates and the Piscodemons guarding the crown, is actually just a normal random encounter enemy, encountered earlier than you normally would. The problem is that the Vampire is WAY further ahead than any of the above, and hits like a freight train. No spells or techniques save for a paralytic Gaze and some minor regen, but the Vampire doesn't need spells to dissect us. And since the Vampire regenerates and shrugs off status effects, what you need here more than anything is evasion and healing, especially revival.
All it takes for me to take this fight seriously is the one hit they land on Vahn, dealing over half their health in damage. And with Red being low on MP and me still needing to Warp out after the fight, I can't quite afford to cut loose with Fira on them. If you CAN afford to sling magic at the Vampire, especially fire or Dia spells, do so. This fight needs to end before they crater your team, one by one.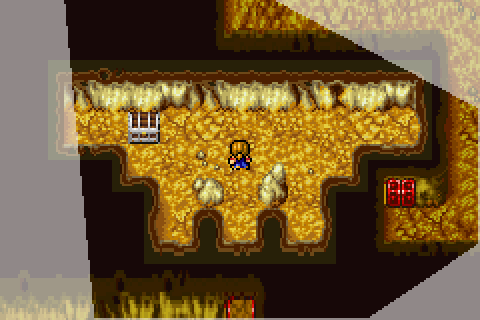 DO YOU
MIND?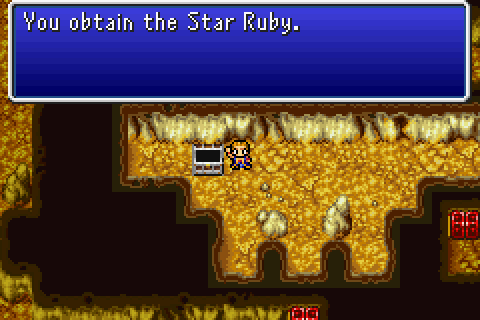 Okay, NOW we can leave.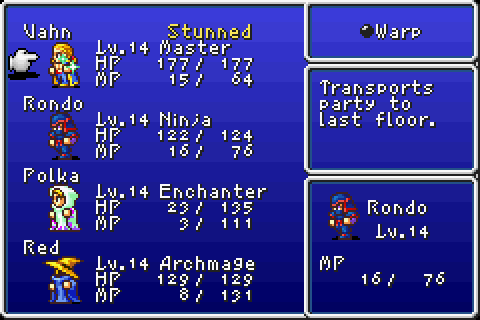 I am now very, very glad I got Warp on Rondo.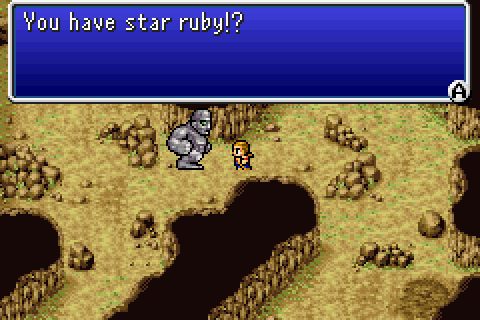 Armed with a snack for the Giant in their cave, hopefully we can pass.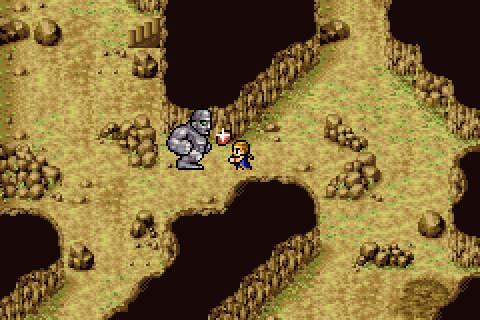 Here ya go, big guy.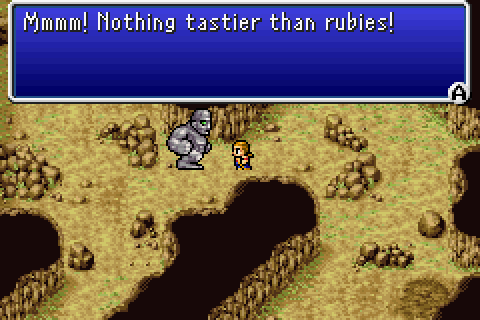 Might be an acquired taste.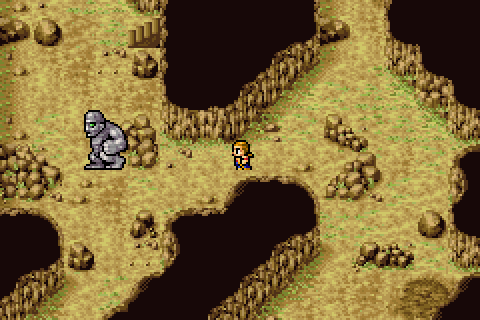 The giant trudges off to merge with the wall, leaving us free to pass.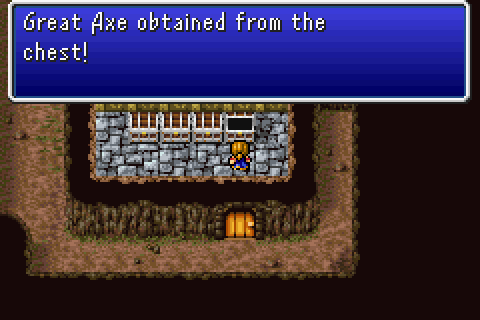 After looting, of course. Nothing usable here, but lots of money.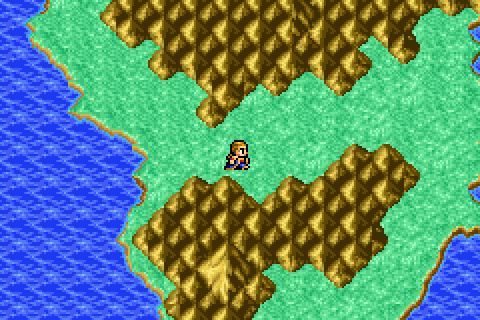 Outside of the Giant's Cave is the path to Sadda's cave. Everyone either lives in towns or caves.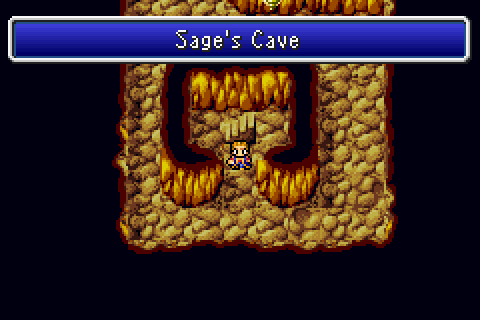 No relation to the player class, I assume.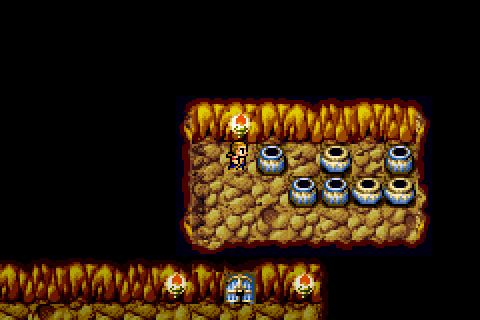 No treasure here, and we're not about to ransack his collection of pottery to look for some. We have STANDARDS.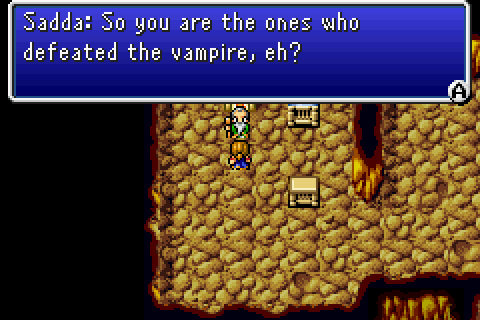 That's us. Seen an Earth Crystal anywhere?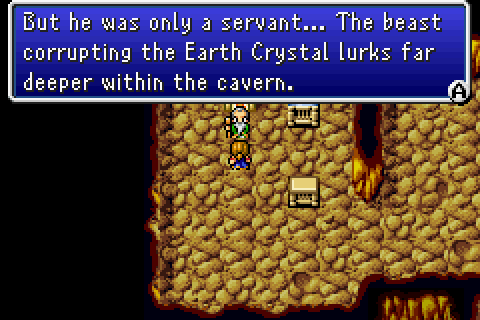 Seriously? That place took forever already, and you're telling me there's more?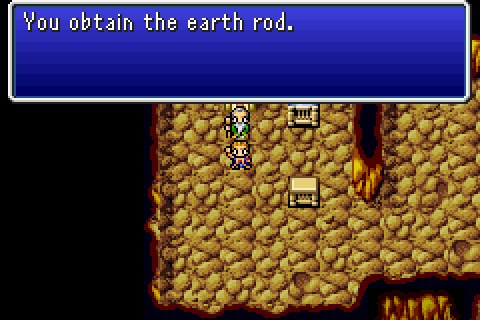 Well, whatever, we have an earth rod and can open the SECOND HALF of the Cavern of Earth now. Thanks for existing solely to prolong a dungeon, Sadda.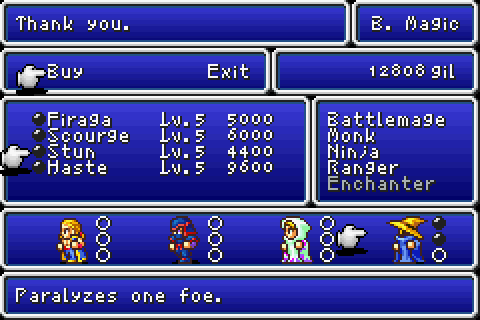 We go back to Melmond to fill out Red's new spell level, and I plan to trek down to Elfheim for Polka, too.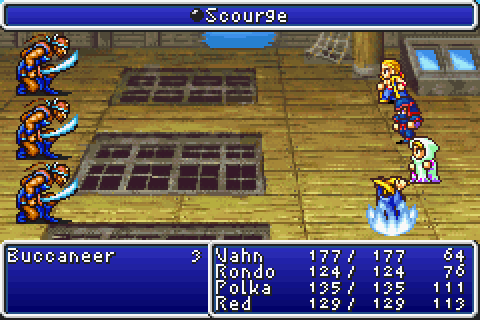 FIELD TEST!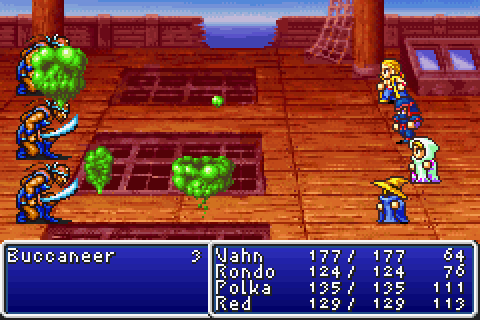 Do you appreciate how the poison clouds kinda look like skulls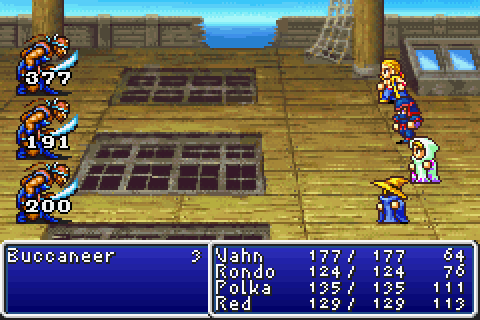 Scourge is really, really good.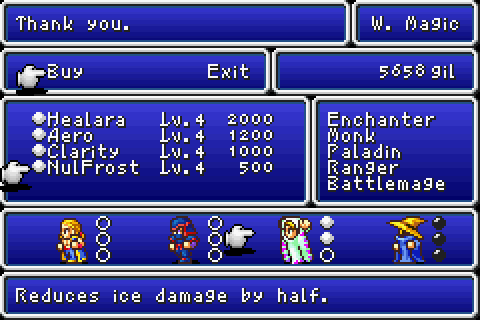 And there we go. Sorry I can't show off Aero on this playthrough.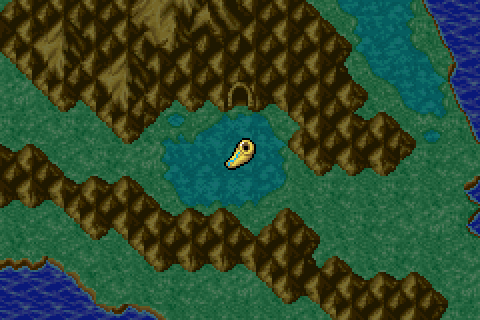 Just using a Sleeping Bag to heal up before the triumphant return. No sense wasting a Tent before I've spent MP, y'know?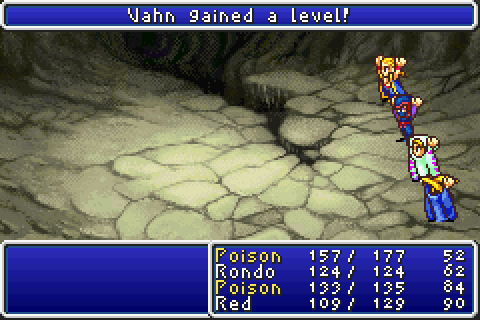 We hit lucky number 15 on the way down, after passing the treasure I now know I missed on B3.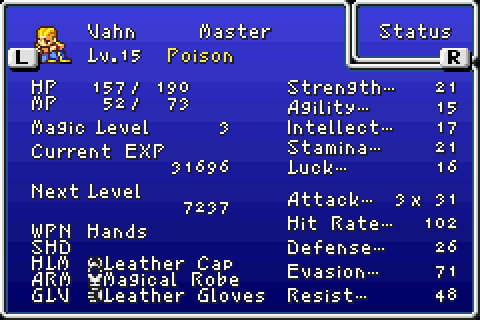 Vahn is now able to learn the Meditate spell, which will be nice to have in general. Could see them taking prolonged boss fights by just saucing up with Blink and Meditate until they're a peerless physical fighter.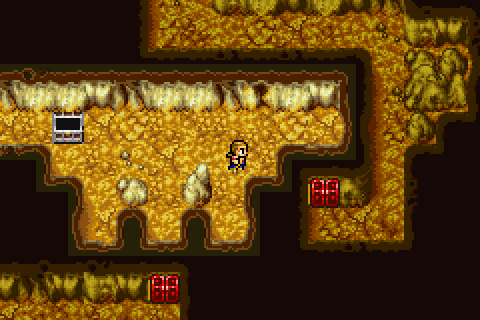 Anyway, we can go through the door behind where we fought the Vampire.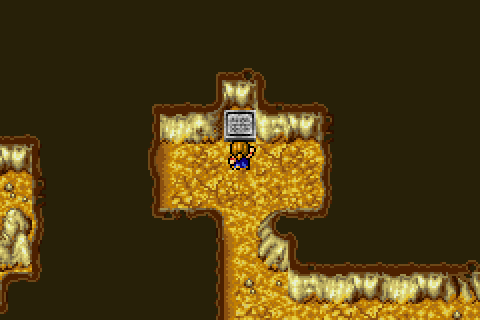 There's a strange stone slab behind it, which we wave the earth rod at.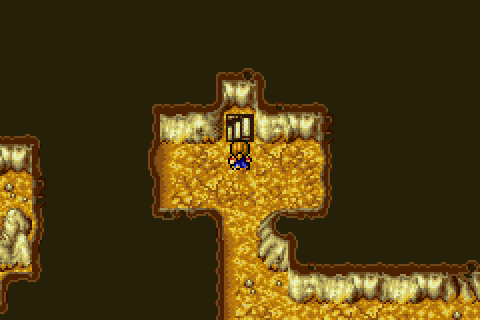 The Cavern of Earth ride never ends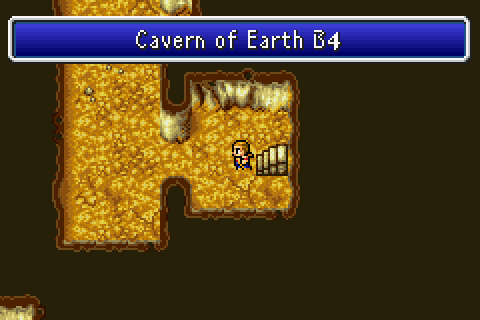 How many more floors you GOT down here?!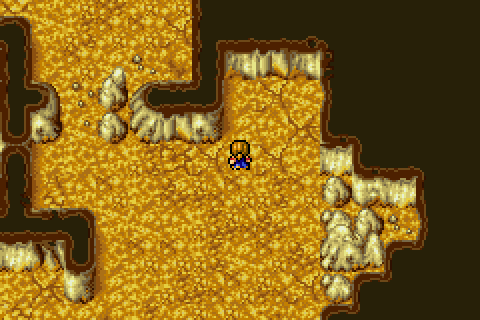 To absolutely nobody's surprise, B4 is another wide open maze.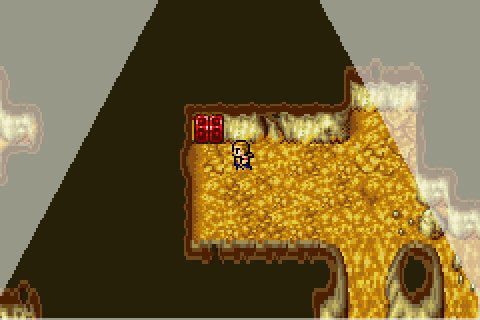 First treasure room's not too hard to find, just head upwise.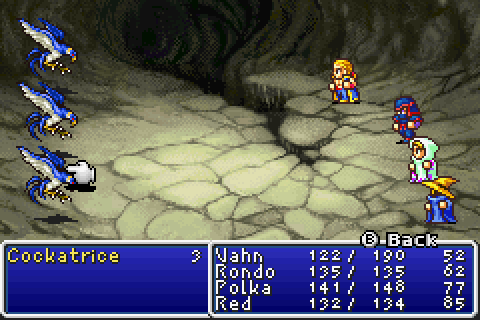 Just be ready for the encounters.
Cockatrice
HP: 40
Damage: 13
Accuracy: 27
Defense: 5
Agility: 36
Intelligence: 8
Evasion: 93
Magic Defense: 17
Rewards: 40 gil, 186 EXP, Cockatrice Claw
Resistances: Quake

Cockatrices are notorious enemies in all iterations of FF1 despite their paper-thin defenses. You can kill an entire flock with a Pain spell even on someone like Rondo, but they go really fast and can turn you to Stone if they hit. Fortunately, we've got one of the best teams around for these guys, with plenty of evasion, magic resistance, and area damage. Any party with a Knight starts sweating bullets once the Cockatrices come out.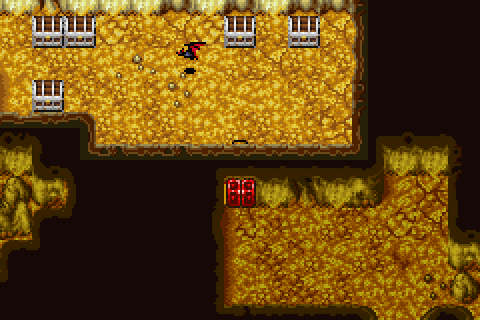 Jackpot~
YOU FOOL!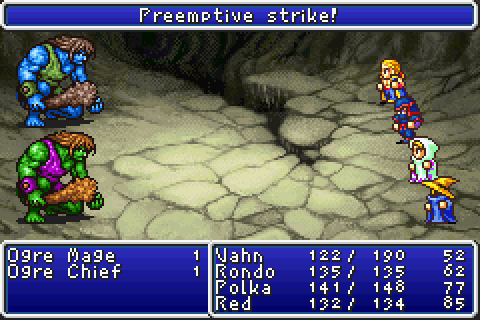 Oh, that works. Sometimes they also come with Hyenadons in these encounters, fair warning.
Ogre Mage
HP: 450
Damage: 33
Accuracy: 92
Defense: 25
Agility: 27
Intelligence: 20
Evasion: 33
Magic Defense: 109
Rewards: 325 gil, 723 EXP, Power Staff
Weaknesses: Poison
Resistances: Quake, Confusion, Mind

Take your standard Ogre, jack the stats up even further than the Ogre Chief, delete almost all of their weaknesses, and give 'em a few status effect spells and some regen for good measure, and you've got the Ogre Mage. Fortunately, between Scourge, the Venom Dagger if you're still using one, and the Rune Blade, your teams really shouldn't lack for ways to exploit the few weaknesses that do remain before the Ogre Mage disables your team, and they're still pretty slow.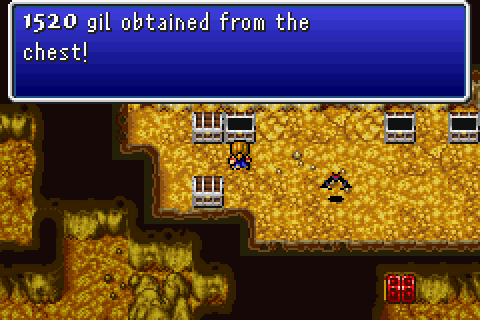 Got some cash and a Feathered Cap, but there's no way that last square isn't trapped with a mean encounter, so let's get that over with.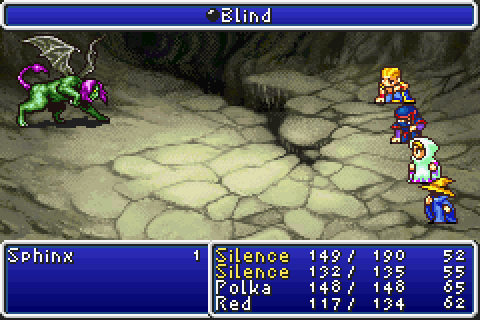 Well would you look at that.
Sphinx
HP: 270
Damage: 26
Accuracy: 123
Defense: 10
Agility: 60
Intelligence: 36
Evasion: 155
Magic Defense: 175
Rewards: 266 gil, 1160 EXP, Wizard's Hat
Resistances: Quake

Although it doesn't do much damage, the Sphinx is hands-down the fastest thing we've faced yet. Like the Ogre Mage, it comes packing a bunch of mean status spells, and with its Intelligence, it stands a good chance of landing their effects, too. Hope you brought Clarity and Mind Balms!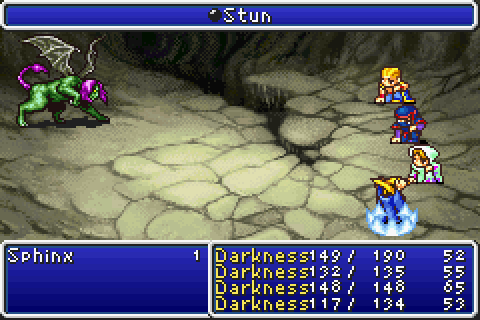 Blind seemed to work for you, but how about THIS for a status effect?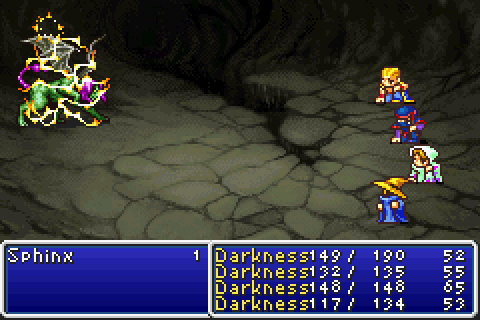 Yeah, Scourge and Firaga are the big ticket names everyone likes, sure.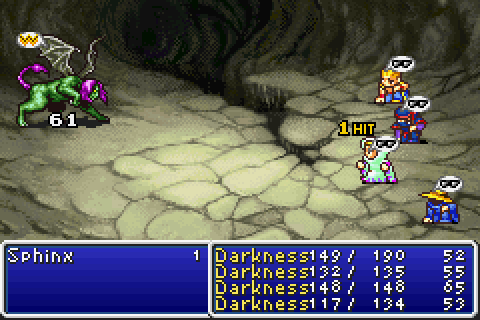 Stun just single-handedly won us this fight for half the cost of either of those spells. Respect the Stun spell.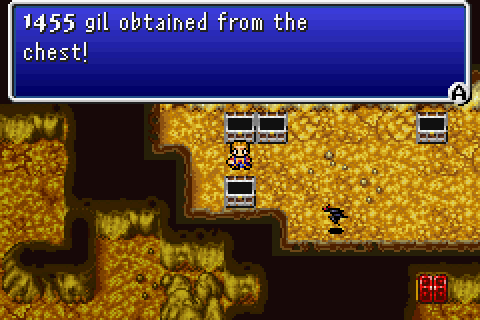 Sure, we only got money out of this, but we've got a LOT of money now, and some very nice things we can potentially buy with it.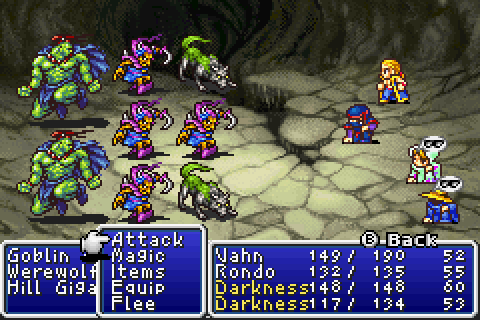 What even is this encounter group.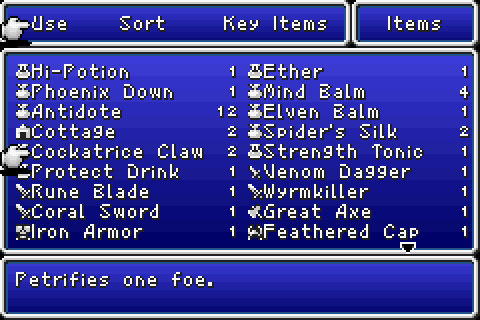 I've been grabbing some Cockatrice Claws from encounters here, and they're not bad. I doubt we'll need them that often, but they're nice.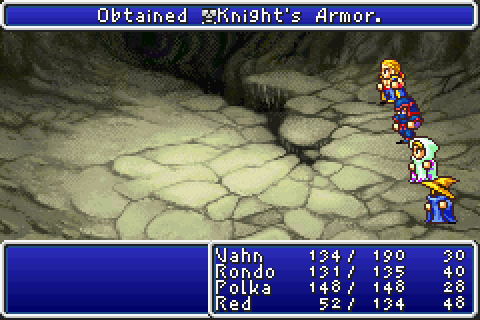 A little while later, and we get our first major gear drop from an Earth Elemental! Not that we can use it, but this kind of gear wouldn't ordinarily be available until the next town, and even then!
Knight's Armor
Armor crafted from steel plate.
Slot: Body
Defense: 35
Weight: 40
Availability: Knight, Paladin, Battlemage

Very heavy, very expensive, and it has no innate resistances. That's okay, because the Knight's Armor affords the wearer the kind of defense you'd normally only expect from some lategame armor choices, and no class that's capable of wearing it will care about dodging anyway, especially not with this sucker on. To our team, the pricetag is a feature, because this thing will sell for a LOT back at the home base.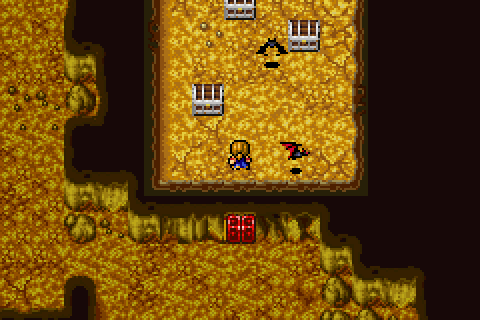 What else you got for us?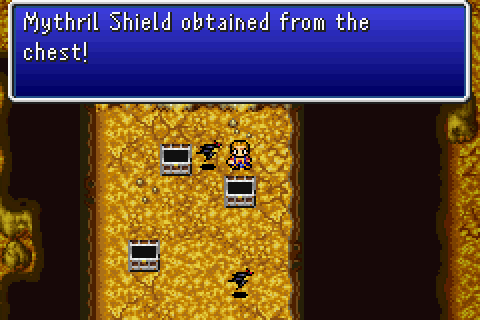 I was careful to open all the chests here from behind, getting some more cash and a Tent!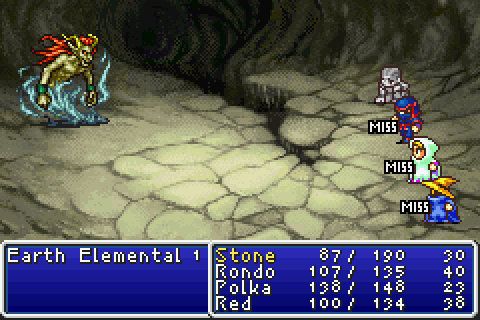 Unfortunately, Vahn gets a faceful of Stone Gas, putting this run to an early end since I didn't stock Remedies.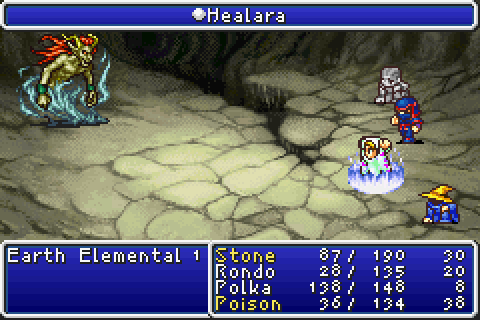 To make matters worse, Earth Elementals are apparently super hard, if not impossible, to flee from! Which means MY XP WILL BE DESYNCED!!!!!!!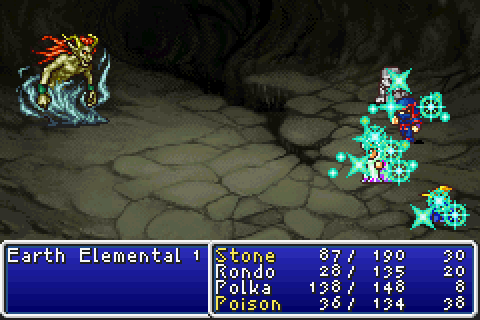 Oh, and Stone characters can't be healed normally.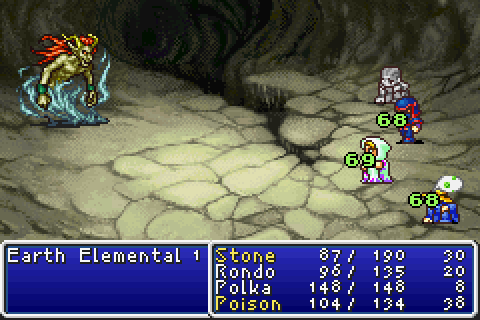 Hm... Healara on Polka isn't BAD, but again, mostly that's a feature from how low this team's total HP is. Still gotta see how I feel about their level 5 spell selection, far off though it may be.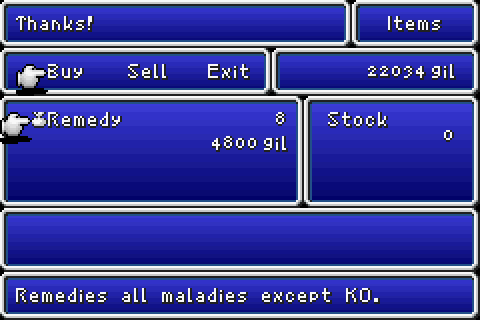 And because I didn't pack Remedies (a mistake I won't repeat) I get to sail all the damn way back to Elfheim to get Vahn back in working order.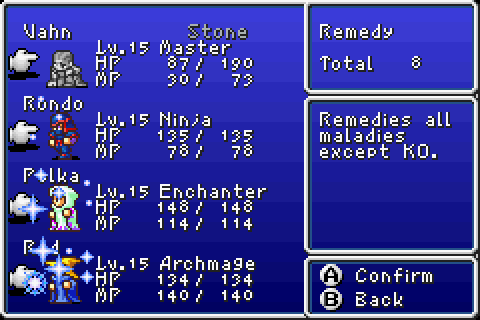 At least they target the party.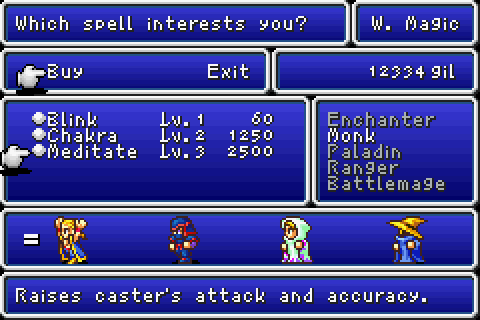 Plus I'm sitting on a frankly unreasonable amount of cash. Let's get that Meditate spell!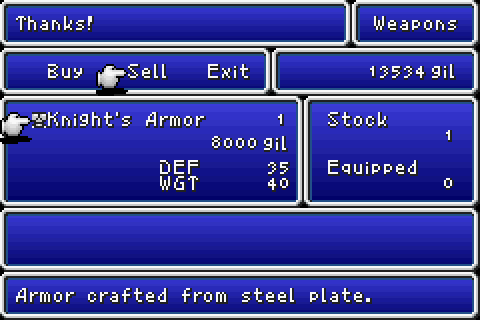 And that's BEFORE we sold extra gear.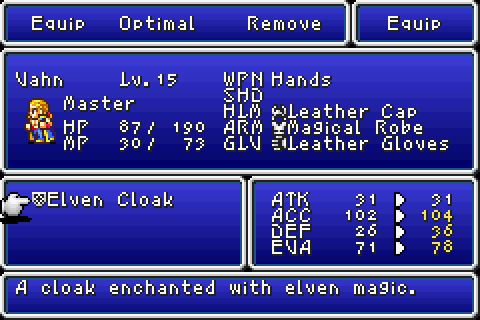 Here, Vahn, to make up for all the extra backtracking I'm making you do.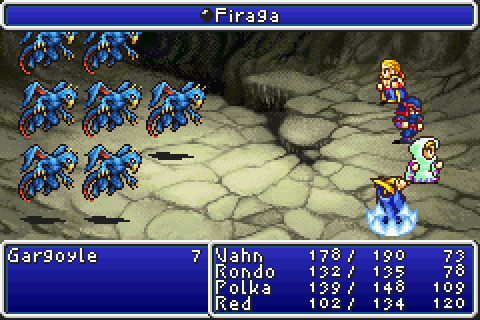 OUTTA MY WAY, IM IMPATIENT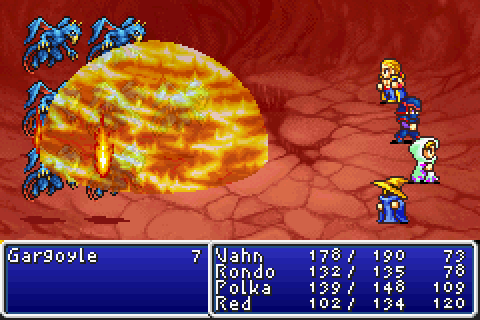 I DONT KNOW WHAT THE MELTING POINT OF A GARGOYLE IS BUT WERE ABOUT TO FIND OUT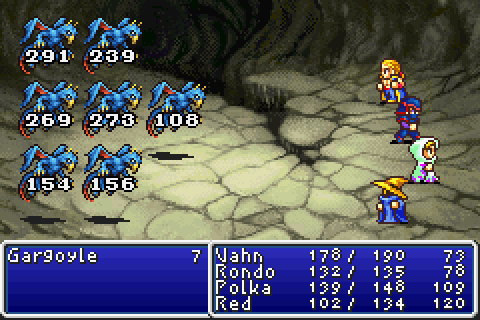 And there's your big number quotient for today!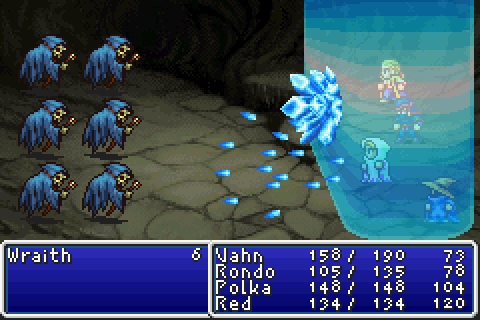 Oh and here's NulFrost because Wraiths happened again.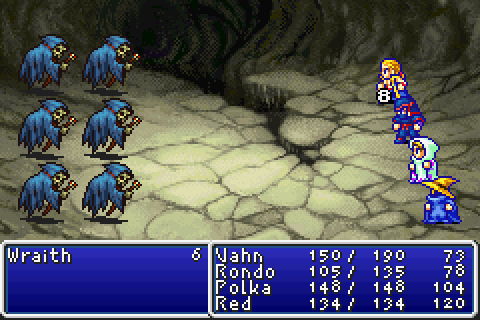 Barely felt that!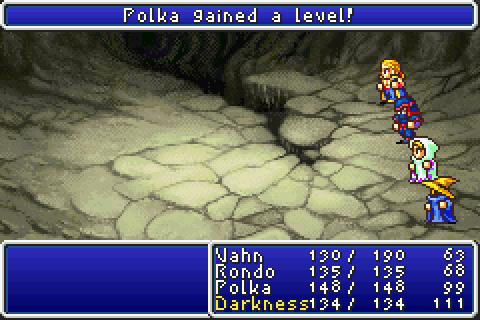 We get a level for everyone except Vahn from another Earth Elemental at the tail end of B3.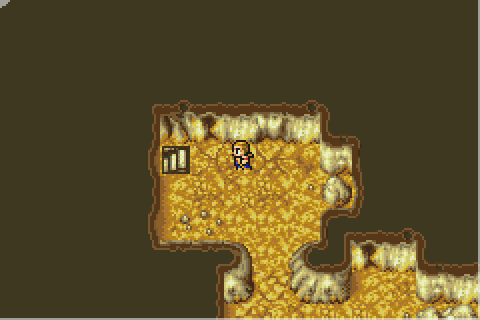 B4's stairs are in the top left area.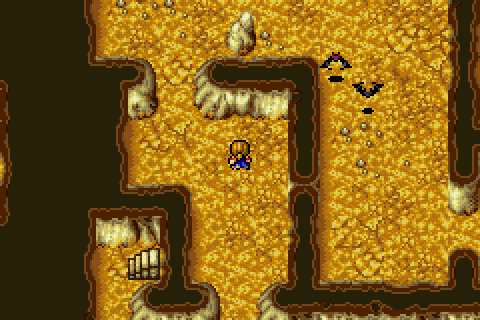 Please let us go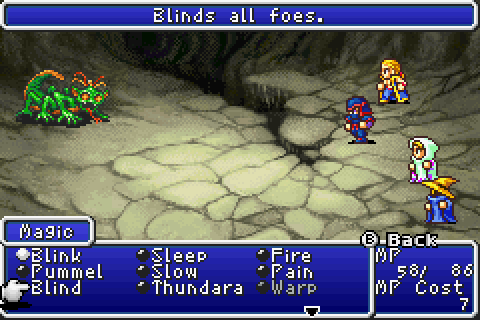 Even more new and deadly enemies down this far!
Basilisk
HP: 310
Damage: 30
Accuracy: 81
Defense: 24
Agility: 12
Intelligence: 14
Evasion: 17
Magic Defense: 91
Rewards: 164 gil, 1977 EXP, Remedy
Weaknesses: Ice

Yeah, the Cockatrices and Earth Elementals aren't enough, let's have Basilisks too. Assuming you don't get a very silly and abstract brain virus from looking on it, it can try to turn you to Stone by looking at you. It's also a fairly chunky foe, but that's just the Cavern of Earth for you.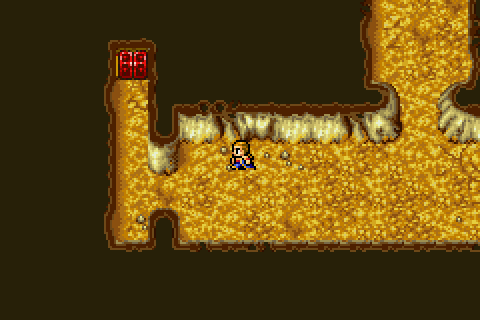 Anyway, go left for the actual Fiend of Earth. There might be treasure on the right, I didn't check, CAN YOU BLAME ME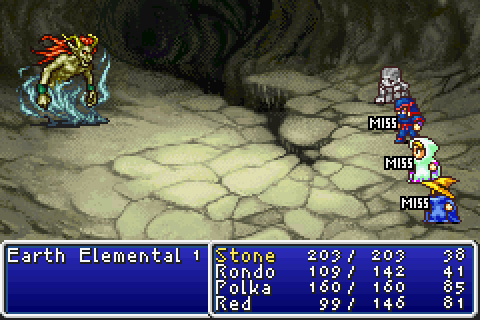 STOP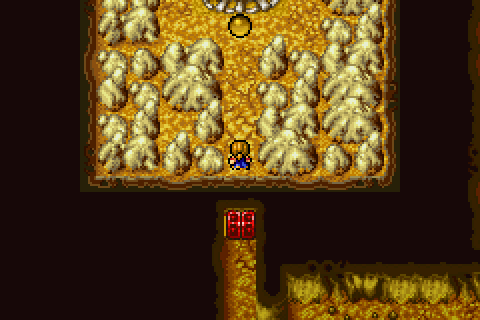 Okay let's do this.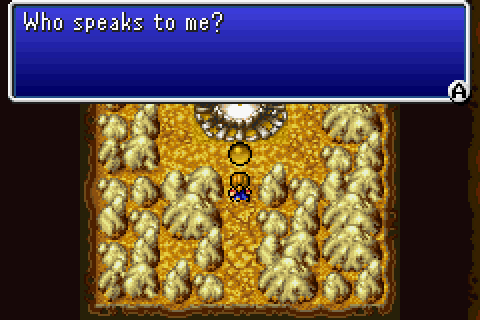 A very annoyed and gritty Vahn.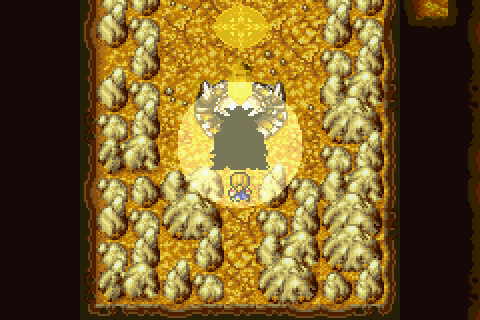 The fiend takes their true form...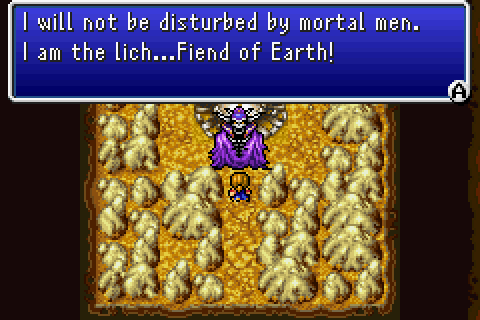 And we do BATTLE, HEROICALLY!
Lich
Devourer of Life, Eternal Sorcerer, Fiend of Earth
HP: 1440
Damage: 50
Accuracy: 60
Defense: 35
Agility: 12
Intelligence: 25
Evasion: 24
Magic Defense: 166
Rewards: 2000 gil, 2200 EXP, Dry Ether
Weaknesses: Fire, Dia
Resistances: Ice, Stone, Paralysis, Poison, Darkness, Sleep, Silence, Confusion, Mind, Death

Lich is an absolute beast of a foe. Not only are they nearly as physically capable as the Vampire with paralytic strikes on deck, not only do they have a command of black magic that makes Astos weep, they also sport far more HP than any foe we've seen yet. You need to be ready for the long haul in this fight, which is tough when you've got spells as strong as Blizzara being thrown at you. And unlike Astos, you can't effortlessly neuter Lich's magical offense with Mute, not with their resistances. While you can try to fight physically, you're better off holding the line so your strongest casters can hit them with Firaga, Diara, or the next best thing they can wield. If you lack that, stack buffs on your hardest hitter and keep them alive at all costs.
Red is the main reason we won this fight. Sure, Polka can heal, and the other two can deal physical damage and dodge like champs, but having Red able to sling Firaga for as much damage as they can PLUS using Elven Balm for area healing was what really kept us going. I also played it safe and assumed that Lich wouldn't try to repeat elements in their offense spells, leaving the NulShock up to absorb a predicted Thundara, and it worked! That said, I could've played smarter, by ignoring status effects. I've seen them work to great effect in a lot of boss fights in this game, but Lich is not the one you can use them on.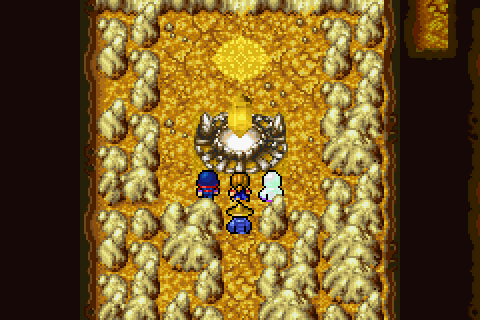 With Lich vanquished, we're free to break the seal on the Earth Crystal!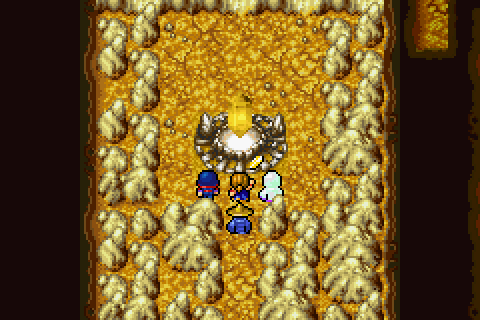 Open up!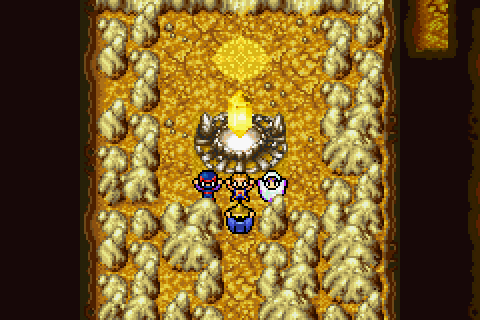 Woooooooo we did it!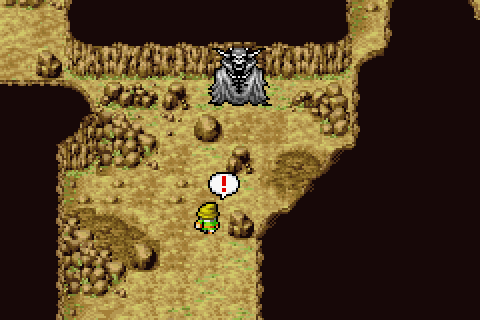 Meanwhilst, at Earthgift Shrine...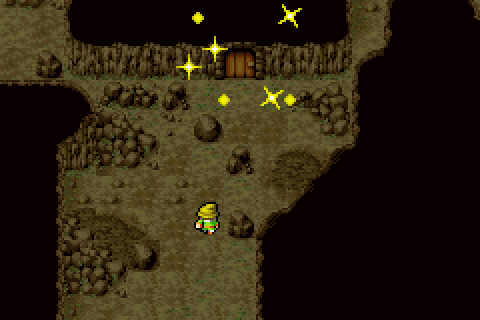 The statue blocking the entry is gone, opening up our first Soul of Chaos dungeon!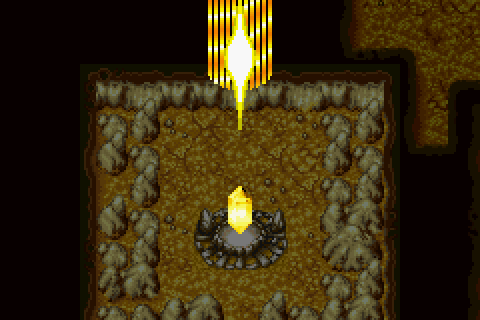 I'll deal with that later, though. Right now, our heroes need a break.
Next Time:
Twelve sages are we, guided to this land by the stars and prophecy.
Last edited: