Do you require aid.
(whatevs)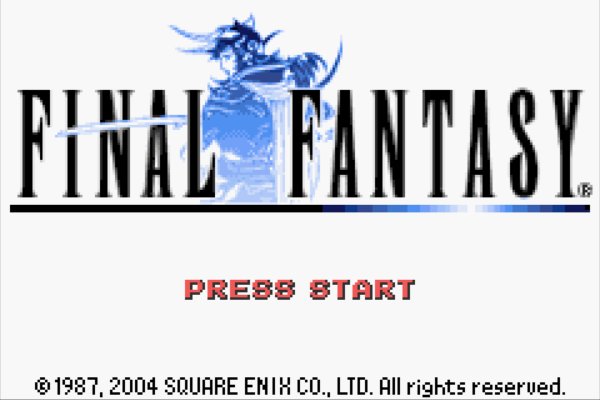 Hey everyone!
Let's play Final Fantasy: Dawn of Souls... with a twist!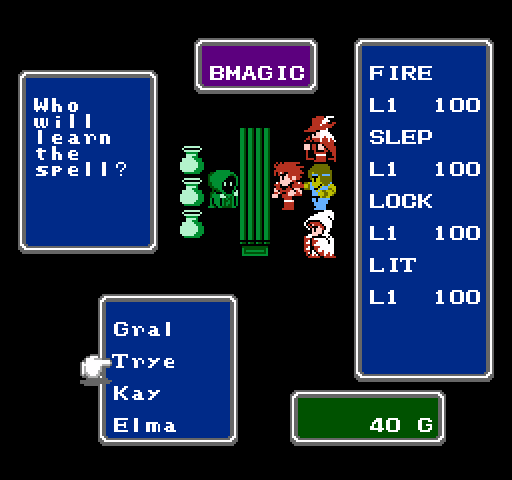 Back when Final Fantasy first released, it was basically Square's last hurrah as a game developer, as all of their previous titles before that point had been unmemorable flops. To everyone's surprise, their literal Final Fantasy turned out to be a runaway smash hit, giving them enough of a wind in their sails to not just claw their way back to relevancy, but to use as a building block towards the massive media property it is now. What was originally a kind of sadly sardonic title turned out to be ridiculously ironic, as Square-Enix has now put out more Final Fantasy titles than almost any other game series on the market, with each one beyond the first three enjoying pretty large amounts of popularity. It's kind of like Pokémon in that way.
It's also like Pokémon in that FF1 was an amazingly popular game despite its many, many bugs, glitches, and just plain awful design choices. Multiple spells and weapons simply do not function as intended, the treasure distribution is slapdash to the extreme, and the class balances ranges from "can solo the game without trying" to "literally worse than every other class with no redeeming factors". A game released with FF1's design quality in today's day and age would be a laughingstock, lambasted by games journalists before most of their audience even knew about it.
To answer this issue, Square released some remakes of the game, most notably a GBA remake (which included the previously Japan-only FF2 in a parcel). Polishing up the stat imbalances and eliminating most of the bugs, the Dawn of Souls version of FF1 is the version most people would go for when expecting that game, even if it ended up being significantly easier than its predecessor. It also added some new content in the form of the Soul of Chaos dungeons, adding four randomized postgame-ish dungeons to the map. It's the version I experienced the game on, and it's still got that classic appeal for sure. The story might be a little dated, but damn it all, it's charming and doesn't have any really gross elements, and that counts for a lot in older games!
Even with the bugfixes and new content, though, the game still has some flaws. The spells that didn't work before do now, but you still won't have cause to cast a lot of them (particularly the back half of the black magic spellset and its plethora of virtually-useless instakill spells). The treasures are STILL as slapdash as they ever were, with a handful of them somehow becoming even more useless (notably the Nunchaku style weapons due to the greatly buffed unarmed attack formula for Monks). Casters getting the benefit of Intellect meant they could actually do solid area damage, but they faded off to uselessness compared to the literally-oneshotting-bosses power you could get from a dedicated physical fighter. In short: a good game, but one that could stand to be improved on further.
Enter Jeff "ludmeister" Ludwig, who decided to create a romhack mod for Dawn of Souls that attempted to smooth out the balance issues and revamp a lot of the underlying mechanics. This
Mod of Balance
is what I will be playing here, which should be enough that even people who've played Dawn of Souls FF1 before should see some new changes. I'll hit the basics in this brief list:
Number of hits has been decoupled from accuracy, and is now a factor of both class choice and Agility. This allows for characters with lots of inaccurate attacks, or lethally-accurate slowpokes.
The spell lists have been reworked and rebalanced, notably with many instakill spells modified into damage spells of more curious natures.
The accuracy formula has been reworked, so everyone is more likely to miss attacks. On my endgame file, I even outright dodged the attacks of Chaos on one occasion.
Many enemies have additional spells or techniques they can do, including more frequent instances of status infliction on normal attacks.
All enemies have a chance to drop an item.
Status effects are much more persistent after battle, with Sleep being the only one that heals after every fight. They also are never something you can become immune to: I have succeeded in casting Death on a Skeleton despite their resistance.
The equipment list has been expanded and rebalanced. Notably, spellcasting items have had their selections nerfed, but there are a lot more weapons with slaying properties, and a lot more armor pieces with resistances.
The unique gear in the Soul of Chaos dungeons can be obtained in somewhat-less RNG ways.
The class change event has been removed and replaced with a max HP boost, but that's okay, because...
There are now 12 classes to choose from, rather than 6.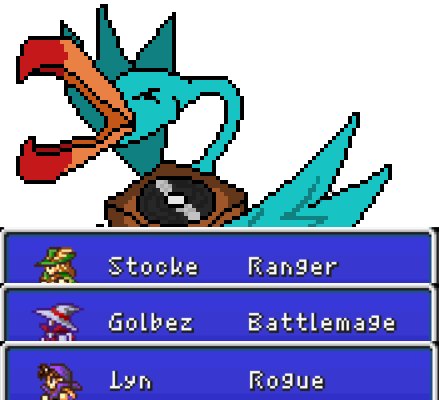 Yeah! What?
By far the biggest and neatest change of this romhack is the complete overhaul of the class system, allowing for multiple unique ways to play the game. They've all been very carefully balanced against each other as well, such that virtually any team composition is viable to complete the game. I can't speak to the efficacy of various solo runs, unfortunately. However, what I CAN do is offer you fine readers to vote on the classes you like, which I can build my team with! While I recommend getting a team with at least one class from each category, as well as some amount of both white and black magic, the sky's the limit, really. Here's your choices (with some gear from the Cornelia shops to reflect their gear options), from the following four groups:
Primary Physical Fighters
Generally magicless characters, setting themselves ahead of the pack with superior physical offense and defense.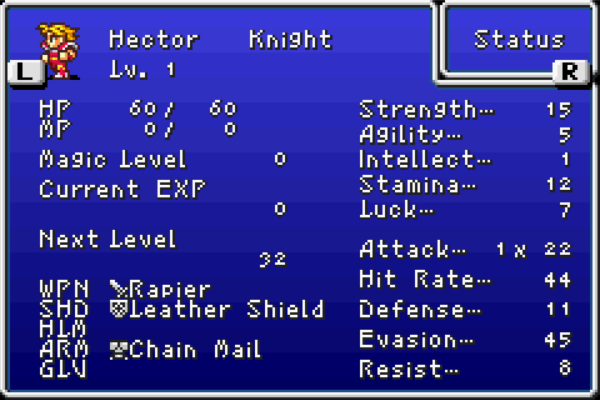 Knight
As you might expect, these guys are very much like the classic FIGHTERs of old, with plenty of Strength and Stamina, and an impressively wide selection of equipment throughout the game to work with. At no point do they obtain spells, nor is their Intellect anywhere near high enough to leverage the spellcasting items, but that's okay. When you can withstand any physical attack and hit back just as hard as they do, you don't need magic. That said, their resistance is the lowest in the game: any kind of magical effect will have their way with a Knight, even with resistant gear on.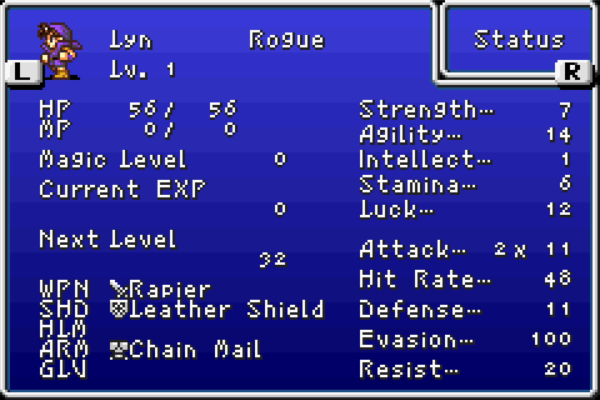 Rogue
Where Knights have power, Rogues have speed. Although their physical stats and equipment selection are underwhelming for a dedicated physical fighter, their sheer speed (and by extension, number of attacks) handily makes up for it. Not to call them squishy, mind you, they're still roughly middleweight as far as defenses go (and their excellent evasion and magic resistance helps). But the fact remains that while they throw out lots of attacks with decent accuracy, they suffer significantly against high-defense enemies, and the hits that do get through against them will add up quick.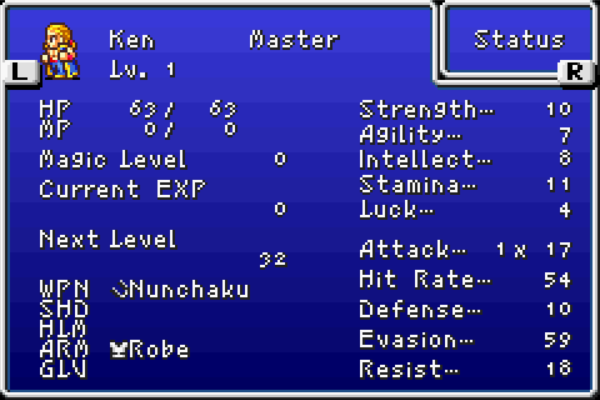 Master
Yeah, we still got the unarmed characters. On paper, the Master appears to strike a balance between the heavyweight Knight and the speedy Rogue. The nuance here comes from their equipment list, or lack thereof. Masters have very few pieces of gear they can equip, instead largely preferring passive stat bonuses from leaving equipment slots empty, and the doubled attack count from fighting unarmed. Also note their high Intellect for this group. That's not for show: there is a small-yet-significant list of spells the Master can cast, largely built around martial arts flavoring. The biggest advantage of the Master is the money you can save from their low equipment upkeep, selling extra weapons more easily and buying them for your other teammates.
Primary Spellcasters
Characters that lack in physical power, but have unparalleled command of their spheres of magic.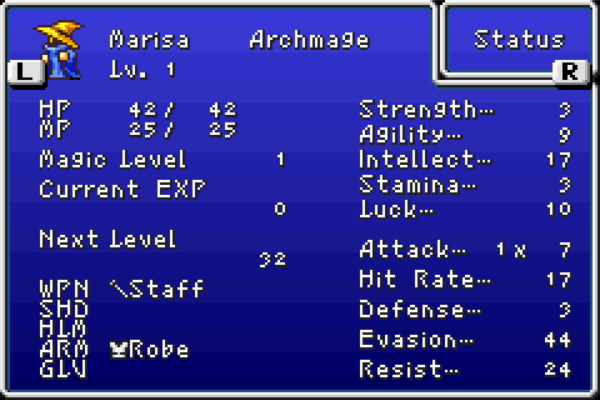 Archmage
These are your classic Black Mages, armed with the highest base Intellect and MP in the game, and with nearly full access to the entire black magic spell list. As such, you should expect these guys to pack incredible magical power, especially when hitting elemental weaknesses or fighting massive crowds with wide-range spells. The drawback here is obvious, with their best physical stat being their middling Agility. Do not expect an Archmage to deal any kind of physical damage with their weapon, nor to survive more than a single head-on attack, if that. It goes without saying their equipment set is seriously lacking, too.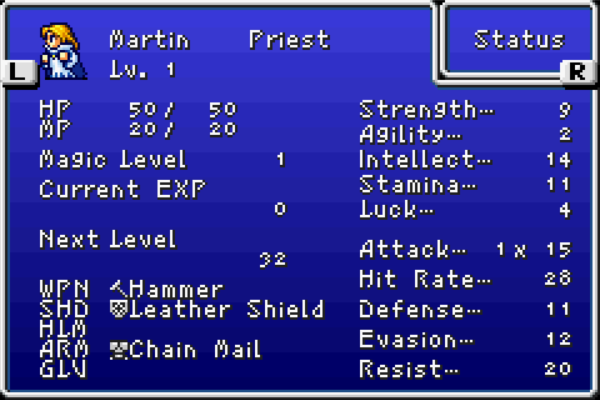 Priest
Similarly, Priests serve as the game's White Mages, with the best healing capability in the game. Don't necessarily discount them as magic attackers, with their high Intellect and the reworked spell lists, but their primary job on the team is healing. In an emergency, they CAN do some physical damage, and their equipment list is halfway decent as far as armor goes, but I wouldn't call them physical fighters by any stretch. One major flaw for Priests is that they're VERY slow, so you'll need to be proactive with their healing to keep up with the demands of the team, rather than patching them up after the fact.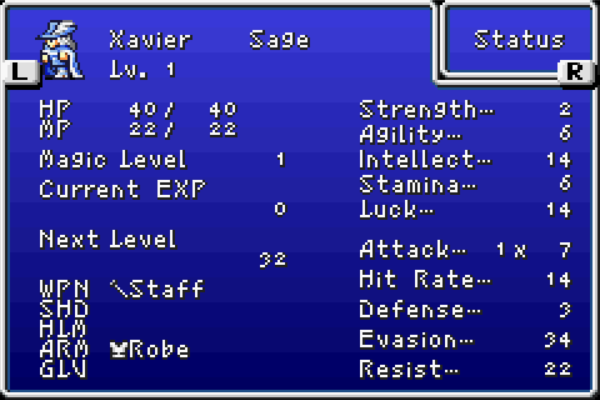 Sage
If you've played FF1 before, you might expect Sages to be akin to Red Mages: generalists that can cast spells of either school or wield most kinds of weapon or armor without much problem, but who lack the raw stats to excel at any given role. That is very much not the case here. Sages have the worst physical stats in the game and it's not even close. Their low HP is especially jarring, as even a single area spell can be terrifying for them despite their resistance. In exchange for this, the spell list for Sages contains damn near every single spell in the game, and like the other two primary spellcasters, they definitely have the Intellect and MP to back that power up. Protect them well, and you'll have a powerful and versatile character to work with.
Auxiliary Physical Fighters
Characters that primarily focus on physical combat, but have some spellcasting ability.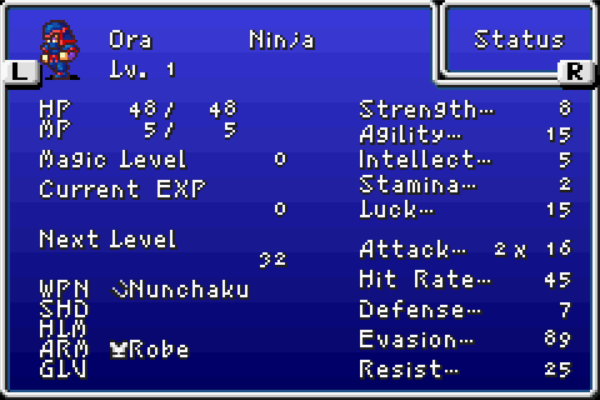 Ninja
Ninjas are faster than Rogues, stronger than Rogues, have better equipment selection than Rogues, and can cast some small amount of black magic, unlike Rogues. If this is sounding like a retread of some familiar FF1 ground, let's interrupt that real quick: Ninjas are extremely fragile and die to any physical attack that actually connects. Their Stamina tends to be beaten by primary spellcasters, and while their resistance is okay, it doesn't come anywhere close to that of the Rogue. And that black magic sounds attractive right up until you look at your MP and Intellect. About the only spellcasting a Ninja will be doing is during boss fights, to apply buffs to either themselves or their team.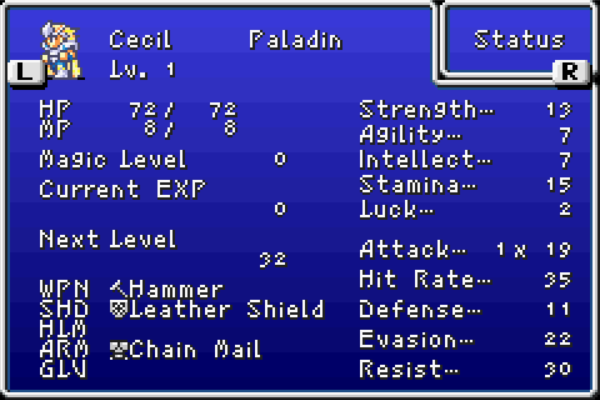 Paladin
While Knights enjoy solid amounts of both physical offense and defense, Paladins instead prefer to focus almost entirely on defense. Not that they can't fight, but with the best armor selection in the game and just enough white magic capability to serve as a healer in a pinch, your primary goal is to keep your team alive by taking as many hits as you can. And unlike Knights, Paladins have excellent resistance, so they don't have to be paranoid about every enemy with a status effect on deck. It does bear repeating, however, that between your stats and equipment selection, your Paladin will never hit as hard as a Knight.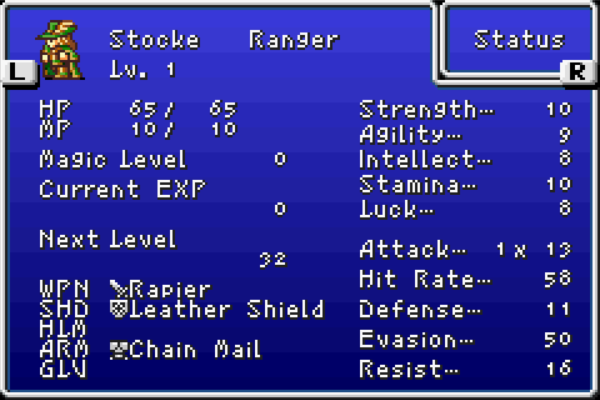 Ranger
Rangers are probably as close as it gets to traditional Red Mages. They have decent equipment selection, but not amazing. They can cast a good amount of both black and white magic, but nothing super fancy, and nowhere near as well as the experts. They have no real bad stats, but no real good ones, either. The one thing that is noteworthy about Rangers is that they have the highest accuracy out of all the classes. This makes them uniquely well-suited to wielding axes, since they can weather the low accuracy and Agility penalty they impart and still get lots of powerful swings in.
Auxiliary Spellcasters
Characters with a solid grasp of magic, but with some other benefit in terms of physical combat.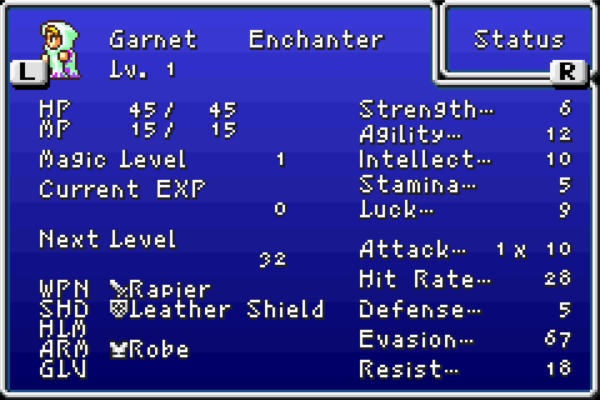 Enchanter
If you want a healer that's actually fast, the Enchanter is for you. Although they're on the fragile side, Enchanters have access not only to white magic and an Intellect score to fuel it, but to a small set of black magic spells, specifically those centered around buffing teammates. They also have some very solid Agility and can deal out lots of hits, albeit without much power or accuracy behind each blow. Their gear selection is comparable to that of Rogues: lightweight, but gets the job done. In short: this is what you'd get if you used a speedster as a basis for the Paladin rather than a heavyweight.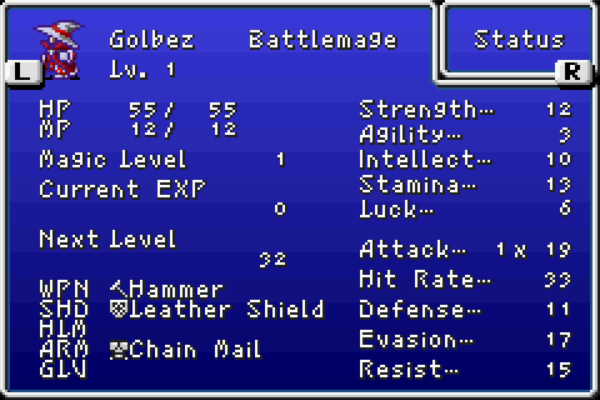 Battlemage
Meanwhile, the Battlemage is black magic's answer to the Paladin. With an equipment list sitting comfortably between Knights and Ninjas and some solid Stamina, Battlemages can take a beating much more easily than any other caster, and they're not too bad at physical combat either. Their spell list, like the Enchanter, is mostly black magic, but it borrows some of the defensive spells from the white magic set. That said, Battlemages are SLOW, and their MP supply is notoriously weak for their role. And with all the equipment and spells you'll be getting for them, that doesn't leave much room for buying Ethers...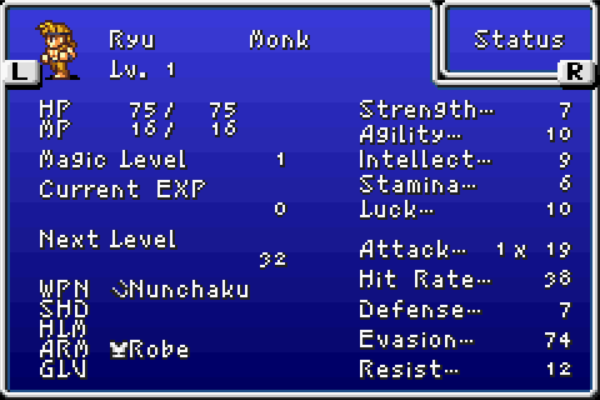 Monk
Yeah Monks are a spellcasting class now! Like Masters, they enjoy significant bonuses to their defenses while unarmored, but don't get the same kind of power they do from unarmed combat (although they can fight unarmed). However, their physical stats, aside from the best HP in the game, are nothing to write home about, and their Intellect isn't especially outstanding either. Their advantage comes from their versatile spell list: with the exception of direct damage spells, Monks enjoy a selection of spells across both black and white magic, as well as some exclusive spells themed around martial arts. Their biggest weakness is their equipment selection, but when you can get by without armor, that's honestly fine.
I'll need y'all to vote for which classes you want to see in the game, either vouching for individual classes or submitting full teams (with names that fit a 6 character limited included, if you like). I'll run with whichever one
I like the look of most
is the most popular, although I might have someone else do a parallel run with a different team, who knows...