Recently, Serephine asked when I was gonna make a thread about all the weird Digimon stuff I find in pursuit of Digimon stuff I want. That's this thread! Mostly, it's going to be about Digimon V-Pets (which I think count as video games), but I'll also touch on other stuff and the console games.
I think the best thing I can do for a first post about this stuff is breaking down some common terminology and mechanics for the electronic toys as I understand it and/or use it. Afterwards, I'll touch on the absolute most basic V-Pet I have.
Digimon V-Pet: You must clean up MetalGreymon's poop or it will die. A Digimon electronic toy in which you raise a Digimon. V-Pet Digimon grow over time, have branching Digivolutions based on how well they are raised, and will eventually die from old age, neglect, sickness, or consecutive wounds in battle. These are my favorite.

Digivice / quest toy: You do not need to clean up anyone's poop. A Digimon electronic toy in which you collect Digimon and add them to your squad. Generally, you'll pick one to lead your team, and go from place to place fighting bosses, where you may need to spend a resource to Digivolve for the duration of an individual fight. I have owned one of these. If you had a Digimon electronic when you were a kid in the United States, it was probably one of these, since we didn't get most of them for a while, but only got the first V-Pet. Most of, but not all of, these are directly modeled on the Digivice from a season of the Digimon anime, and feature the Digimon from that season.

Version: Lots of V-Pets have multiple releases of the same device but with different ~~graphics~~ Digimon, it's very different, I promise. It's basically like Pokemon was doing. Versions are often differentiated into families of similar Digimon or an ecosystem in which all these Digimon exist. Consequently, some versions are named things like Version 1.5 and others are named things like Nightmare Soldiers or Impulse City.
Hunger Meter: Usually a chart of four hearts. A single Meat will fill one of these hearts. Sometimes more than four "hearts" are available on older Digimon so they need to be fed less frequently, but only the final four are displayed.

Training Meter: Usually a chart of four hearts. A single instance of successful training or one protein will fill one of these hearts. Sometimes multiple hearts can be filled in one go if training goes particularly well.

DP: In V-Pets, it's usually a measurement of a Digimon's stamina. Once it runs out, they can't fight anymore until they get some sleep. In Digivices, it's usually the fuel spent to Digivolve for a battle.

Care Mistakes: When the player fails to respond to a Digimon V-Pet's needs in time. What counts is inconsistent, but things that have counted in the past include leaving too much poop uncleaned, not feeding the Digimon, feeding the Digimon way too much, not training the Digimon, not tucking the Digimon into their cute little bedtime blanket when they're sleepy, not turning off the lights while the Digimon sleeps on the floor, and not curing a Digimon's sickness when they get sick. Care Mistakes are the single biggest determinant as to a Digimon's Digivolution results.
Digivolution: When a Digimon evolves into a higher form. Unlike with Pokemon, Digimon often have a wide variety of things they can Digivolve into, some of which can be unexpected. For me, a big part of the appeal is not knowing which Digimon I'm going to get when my Digimon Digivolves. Each stage of a Digimon's life has a name, and I'll be using (mostly) the western names. The chain is Fresh, In-Training, Rookie, Champion, Ultimate, Mega.

DNA Digivolution / Jogress: When two Digimon combine to make one Digimon that is way stronger than usual. In V-Pets, sometimes both participants in the DNA Digivolution get a copy of the new Digimon, sometimes one kid gets screwed over. Some of the modern V-Pets have mechanics that let you DNA Digivolve with one device, often via a Digimon saved into memory.

Super Ultimate: If for some reason a Mega level Digimon manages to Digivolve again, they're a Super Ultimate. Usually this only happens because of DNA Digivolution. For a long time this didn't have a name. I don't know the western equivalent of this term.

Egg: Digimon hatch out of these. Different eggs lead to different Digimon. Often eggs are used as a meta progression mechanic, unlocking as the player meets certain criteria. Really fancy unlockable eggs tend to not have any branches in their Digivolution tree, and result in extra strong Digimon.
A long time ago, I decided that as a huge fan of Digimon, I should own a virtual pet, you know, just to have one. I spent a
long
time deciding which virtual pet to get, because at the time I was a fool who did not know I was opening the gates of an inescapable hell of cute pixel dinosaur friends and consequently thought I would only ever own one.
It came down to two devices, the Digimon Mini and the Digimon Twin, which at the time, nearly a decade ago, were the newest virtual pets available. Since the Digimon Twin requires you to have a friend or raise two different Digimon on two different devices (who could possibly raise
two
Digimon at the
same time???
((I'm raising three Digimon right now.))), I bought the Digimon Mini.
Digimon Mini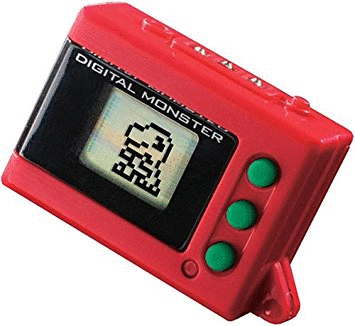 ​
One of my Minis, the one I started with, is a bit of a weird customer. It has a blue body, yellow buttons, black screen, and is a Version 1. That's not a combination of colors and version that you'll find much about. That's because it's exclusive to the Hong Kong region, and was the cheapest one to acquire at the time. It's also the best color combination for the Mini, so doesn't bother me at all. My other Mini has a yellow body, white buttons, a blue screen, and is a Version 2.
The Mini doesn't have the common menu of options flanking the top and bottom of the screen that most V-Pets have, and that's because the Mini is, as you may have guessed,
really small
. It also features
no text
, making it a great choice for an import. Without the menu, the device uses a lot of context-sensitive stuff with its buttons. Starting from the top of the device, the buttons are A, B, and C. When nothing else is going on, the A button brings up the feeding menu; when there is poop on the floor, it flushes the poop; when the Digimon is sick or hurt, it brings up the medicine menu; and when the Digimon is sleepy it brings up the light switch menu. Pressing B is for training, and holding it queues up a connection battle with another compatible V-Pet.
Version 1 features Botamon and Koromon as the Fresh and In-Training Digimon, branching into the Rookies; Agumon, Gabumon, and Betamon. Version 2 features Bubbmon and Mochimon as Fresh and In-Training, branching into the Rookies; Tentomon, Elecmon, and Kunemon.
As usual, all Digimon up to Champion are guaranteed, though poor care may result in worse Digimon. Other Digivolutions have criteria, and since Digimon's lives are extended by Digivolution, a Digimon that doesn't meet them will also have a shorter lifespan. Ultimate Digimon and Mega Digimon require the Master Condition to be fulfilled by the time the Digimon is supposed to Digivolve. The Master Condition requires at least 30 battles, and higher win percentages result in higher chances of Digivolution.
Good Stuff
Simple and easy to use!​

Very small, useful for concealing your Digimon at work.​

Lack of menu options means care can be provided rapidly or even without looking at the device.​
Bad Stuff
Tiny buttons...​

Two sound settings: very loud beeps and off.​

No solo battle mechanic! Sacrifice the blood of one of your friends for the sake of the other.​

Not only is there no pause function, there's no early bed time, either.
Stuff
No DNA Digivolution in this one, though there are Super Ultimates available via battling 100 times as a Mega.​

Don't confuse it with the Digimon XROS Wars Mini, which uses the same body, but says DIGIMON XROS WARS instead of DIGITAL MONSTER on the screen's border. That one's not a virtual pet, it's one of the quest-type devices.​
Image credit goes to
Wikimon
, and mechanics were double-checked using
File Island
.
Hey! I want a Digimon Virtual Pet right now! Which one should I get?
Go pre-order the English version of Digimon X. It's pretty much the ideal Digimon v-pet, imo. The Digimon 20th Anniversary also has an English release and a ton more Digimon, but the Digimon on that one poop at a regular frequency and that's a problem I will explain when I get to it.
Last edited: