Smack me if I already made a thread for this, but recently-ish I randomly noticed that Sailor Moon was on Hulu. And furthermore, all of it, and further still, there is a new modern dub which doesn't make efforts to scrub away all the queerness and doesn't switch people's pronouns up. So I've been blazing through that, and am currently uh... most of the way through S. Which is a whole dang season I'm just seeing for the first time (for whatever reason, in my neck of the woods the DiC dub was everywhere but we never got the Cloverway).
I honestly decidedly prefer the DiC dub for the first 20-something episodes, with its very overly emotive main character, British Nanny Luna, and of course
but new dub seems like an improvement for everyone else from Jupiter on.
Anyway, stuff that's been surprising for me:
- As far as I can tell, there are actually multiple instances in the first season where the old dub just straight up threw in original songs that just don't exist in the original/new dub? Like, we all remember this right?
- General monster horniness levels are a lot more... a lot, than I recall or would have thought. I mean...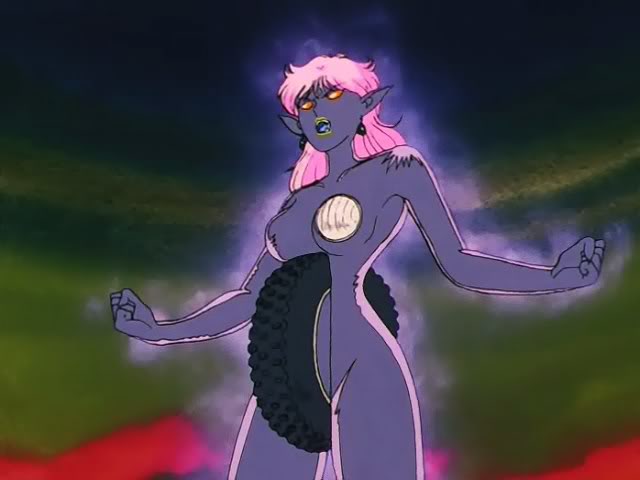 With like, maybe 2 exceptions, there's only two kinds of monsters. 1- The artists were just in a shockingly horny mood and basically just drew some women in bikinis. 2- The artists were in an even hornier mood and got weirdly creative about it.
- Hey the end credits theme kinda sucks and a lot of the general recycled sequence music/attack noises do too.
- I remember Mercury being way more of an actual character who had, like, lines, and did things, but after losing her little laptop in the first big fight she kinda becomes a total non-entity.
- I was expecting this to be less overtly super queer all over.
Like, I feel I need to back up and explain that one.
So, when Uranus and Neptune show up, there's this episode where Moon and Venus are kinda clueless/have never met anyone going with a stone butch aesthetic and get it into their heads that Uranus is this hot new guy in town and fighting over who gets to date her/worrying about whether she's already dating Neptune (and to be clear, she absolutely IS, but they have an open thing where Neptune just kind of accepts that Uranus is gonna go out and bang every freaking girl in the world).
Then a bit after that, like, maybe one episode even, Jupiter just... straight up goes out on a date with them. And everyone else has a little meeting about it, and at first they're shocked because Jupiter has this whole thing about pining after her old boyfriend, and someone straight up says "did her orientation change?" and then it's cleared up that she went out with Uranus and Neptune and everyone's like "oh well I mean yeah, I would too" and basically everyone admits to actually being bi (except Mercury but again she just like, stops being a character after the first season) and they bust out Mars' secret Takarazuka Revue porn stash and my jaw is just on the floor. And then they keep doubling down on this and seriously like the whole third season here is just everyone being super horny for Uranus and oh yeah I guess fighting monsters.
Anyway now that I've basically broken that format I was going for, the villains' various deals are... interesting?
Season 1 we've got Queen Beryl and her 4 generals who all have slightly different MOs but stick to a general plan of starting new businesses around town, handing out coupons, and draining all their customers' life energy to give to Beryl who... doesn't really have a particularly well established use for it? Like near the end of the season there's this quick vague hinting that she's the underling of this other villain who needs reviving or something but, I dunno, she might just really like collecting the stuff.
Then there's the weird filler arc at the start of season 2 (R) with the alien twins who worship a big tree and are kinda vampires and have this tarot deck of pokemon cards they use, and... it's honestly kind of amazing how this plays out for as long as it does before the tree they work for just literally starts talking and basically goes "look you freaking idiots I was trying to be subtle with this whole wilting and growing hot/cold schtick but I don't need freaking 'life energy' to live I survive off you two being nice to each other where the hell did you even get this stupid idea?" and then they're just like "oh, whoops" and the tree just asks Sailor Moon to put a freaking pink heart beam through its head so it can reincarnate and try this whole raising hippie elves thing again from scratch.
Then there's the Black Moon Tribe who come from some kind of secret counter earth and also the future and they want to prevent Sailor Moon from becoming some sort of like, immortal God Empress of the whole world in whatever unspecified year it is that she has a 6 year old daughter and... I mean I get not wanting to live under the rule of this random idiot but the rest of it is pretty vague and the monsters of the week are all pretty boring and themeless and the whole thing exists under the dark cloud of freaking Chibi Moon who is just the worst and even if she wasn't just the worst is a living reminder that no, our 14 year old protagonist actually does eventually hook up with the awful jerk who negs her constantly and is in freaking college (and I swear there's an episode where they full on point out that them dading straight up illegal in most countries). On the upside though most of the evil generals just kinda defect and hang out and chill and that's nice to see.
Then there's season 3 (S) and season 3 freaking rules. We've got prophetic future visions of this Terminator 2 playground scene life-ending apocalypse that needs preventing, which apparently requires... the holy grail. Which has been broken into 3 triforce pieces that are hidden in people's hearts. And the villains also want these for reasons I don't think they ever even bother explaining (unless it's RIGHT at the end of the season). But the villains are freaking awesome, because we've just got this weird mad scientist who has a bunch of daemon eggs he's growing in test tubes, and this... semi-independent research think tank/coven called Witches 5 who all hang out in lab coats with apparently nothing under them doing internet research trying to figure out who's sufficiently pure of heart that they can throw a daemon egg at the nearest random object to get a monster to rip their heart out and check it for McGuffins. And they literally never once guess right so every episode is pick a target, create a ridiculous monster by turning a vacuum/tire/doorknob/whatever into a sleazy monster woman, monster woman rips heart out, U&N swipe it, check it, see it doesn't have a McGuffin, and give it back to the owner, whichever science witch is on deck today kinda goes "oh, well, this is awkward, bye... and oh, hey, monster, I guess kill these people while we're all here?" and just kinda leaves. And the monsters are consistently extra ridiculous and extra quirky. And by the end of her tenure one of the science witches just kinda gives up on the whole monster thing and just builds a flamethrower and a heart-removing gun which actually do work out a whole lot better, and then when it's time to do the whole kill her for failing too many times thing,
rather than some big supernatural thing the incoming science witch just freaking cuts the brake line in her station wagon so she drives off a cliff, and oh yeah did I mention she's just driving around in a station wagon with a big pentagram on the side? Just... best villain group ever here. Top notch.
Anyway I'm almost done with this season and the big pressing question of the moment seems to be "Wait so like, Sailor Moon is Jesus?" and I think I might have missed a bit of villain exposition but I think at this point they're just making more monsters because they cannot handle that premise and hope that if they have enough monsters attack people this will somehow prove not to be the case.
Seems like it'll be pretty hard for the next two seasons to top science witches with flamethrowers making monsters out of doorknobs that proceed to freak out because all their skills just have door opening utility and they don't actually have any sort of combat skills whatsoever though.