A Hunka Hunka Burns in Love
I've never been in a romantic relationship and as I near my 40s, I'm afraid I never will be. I still try online dating but I don't get replies very often. But even if I did, I guess I have anxieties about my lack of romantic experience. Not only intimately but in proper emotional maturity and yet also being able to be a fun person to be with. And I also have an anxiety about growing older and the fact that I may have missed out on some great, romantic life experiences. I've never even had the opportunity to love and lose, which I'm told is better than never having loved at all.
In this episode, Burns fortune cookie tells him he'll find true love on flag day. Taking it seriously, Burns tries to find women and eventually meets a police officer Gloria. Burns convinces her to come on a date but while she has a fun time, she admits the age difference is a bit much for her. In trying to convince her age ain't nothin' but a number, he tries to prove his youthfulness with the help of a passing Homer. Its a success and Gloria decides to date Burns more with the help of Homer, playing the part of romantic assistant. The relationship goes great and Burns even proposes to Gloria, who says yes. Burns goes off to get some celebratory wine when Snake appears. It seems Gloria and Snake used to go out and in an attempt to get back together, Snake kidnaps her and Homer. In an effort to escape, Homer causes a fire leaving Gloria trapped in Snake's burning house. Burns manages to muster the strength to save her (and vice versa) but Gloria returns to Snake.
Another Swartzwelder episode and while this one relies on some of his less desirable writing conventions, mostly some unfortunate Asian jokes, this is a pretty good one. Mostly, its that it has a lot of room for Swartzwelder's particular brand of humour and most of it is actually pretty good and covers up or puts a hat on some of the smaller plot holes in a way that makes it work much better than the episode preceding it. It also has a pretty great guest star in Julia Louise-Dreyfus, who doesn't get all the big laugh lines (a case I feel like a lot of the one-off girlfriend guest stars have) but her charm completely shines through (which also is something that tends to be the case with one-off girlfriend guest stars, at least). I think I've only recently come to appreciate exactly HOW talented she is, and I haven't even seen Veep, which is probably her biggest showcase.
I do find it weird that in recent Swartzwelder episodes, he seems to sort of downplay the evil inherent in Burns and in this episode while there are lots of references to it, the script mostly treats him as a good guy. I feel like it is about the anxiety of aging and romance and "never too old to feel young". It does feel weird to put the lesson on one of the show's most evil characters as opposed to say, Grandpa, that he should not want to let age hold him back but lets face it, Burns is more fun to write since his riches can excuse impossible things (like that apparently Scrooge McDuck exists in the Simpsons world? How does that work? I like to think it's
Stewart
in disguise). I also wish the ending parting had something more to it than "girls love bad boys".
But overall, the episode is about something, even if it isn't terribly deep, and it keeps the topic in mind and it weaves the jokes in rather than derailing its themes in the name of jokes. Rewatching these episodes, that's become a thing, even when the episode is weaker or if I don't agree with the conclusion a little. Consistency and cohesiveness count for a lot in not making things feel thrown together and the episode flows very nicely. It feels more or less like a companion episode to the "Moe gets a girlfriend" from a few seasons back in that one of the series most repellant men gets a girlfriend and proves they can be charming. And I think divorced from his evil, Burns can definitely come across as that and even sweet. While I'm not over the moon for it, the quality of it means so far this is one of the strongest episodes of season 13, clearing a low bar with great ease.
Other great jokes:
"'Geese can be troublesome'... What the Hell does that mean?"
"It means... geese cause trouble."
"Well, I knew that before I came in here. A guy outside told me that."
I love Homer repeating "These fortunes are terrible" with the exact same intonation.
I must agree a frown is a much better umbrella than a smile.
"This cookie feels heavy as if there was some paper inside."
"Great heavens, its one of those nude female fire stations! Well, I'll always be second place to some kitten stuck in a tree..."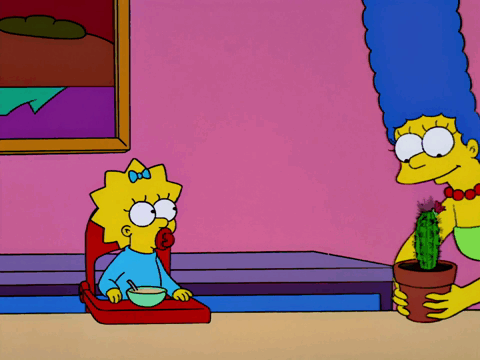 "It wasn't meant to be."
"It's like going out with my brother."
"YES! It's going GREAT!"
"Oh, I enjoy all the popular youth trends like piloting motorcoaches or collecting dog waste."
"Oh, I have some wonderful stereooptical images of the Crimean war."
"It's not how old you are on parchment, its how old you feel in the humours."
"Put my hand on her knee."
"I said her. And I said knee."
"My biological clock is ticking. I could be dead again soon."
"We're in luck! They had a magnum at the shoe counter!"
"Well according to our audience insta-poll 47% said you're too old and 37% say 'She's a skank.'"
This feels very twitter, but not as ugly, somehow.
"Don't worry Mr. Burns, we'll track down Mr. Burns with your vehicle's anti-theft system."
"Car gone! Car gone!"
"We know that. Where has it gone to?"
"CAR GONE! CAR GONE!"
"That's a sweet shot, he's tied to a chair!"
Upsettingly, Wiggum's abuses of power jokes feel even more potent each year.
"Well, we have an officer sneaking around the house, Kent, so unless they have a television or can hear my loud talking..."
I like the devil beard conversation that ends the show.
Other notes:
I like how Homer only needs to tell the truth of Mr. Burns life to make him sound interesting. Also that Gloria spaced on Mr. Burns being the one who blotted out the sun then getting shot by a baby.
I would definitely try the shark butt in butt sauce.