Let the Mystery Be
(He/Him)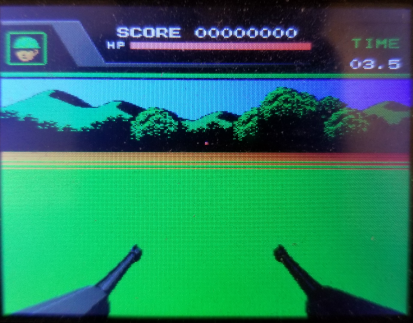 224. FINAL BLOOD
I first thought this was a tank sim, but it seems to be more of a stationary, rotating turret. You turn until you find a tank or truck, and you shoot it to get points. Some things seem to be shooting back, causing your life bar to decrease. There's also a timer that doesn't seem to correspond to any real-world measure of time.
According to TCRF
, this is a Nice Code knockoff of
Battlezone
which didn't include being able to move.
225. FIRE DRAGON
This appears to be a palette-swap of Dragon (#208).
Research reveals this was likely the original
, made by a Chinese publisher called Gamtec, and Dragon was the hack.
226. BURROW EXPLORER
The graphics are surprisingly crisp for a game that takes one of the most annoying features on many jrpgs and makes it the whole game: You need to navigate through a dark maze with only a small circle of light. There are moving guard-creatures you need to avoid and occasional treasure down dead ends. It's Nice Code, and also known as Angler Fish, Burrow, and Labyrinth.
227. FISH STORY
You're a big orange fish. You need to catch and eat smaller fish and avoid big ones. The small swordfish give you some kid of timed bonus if you catch three of them; but I'm not really clear on what. This is also Nice Code, and seen elsewhere as Aether Captor and Eating.