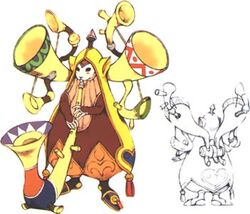 Look, I need to let you know something; I know this is a niche topic that might only have a limited appeal to Talking Time members but I thought I'd take a chance and see if we could, if prompted, come up with some music from Japanese Role Playing Games or JaRPlaG for short. This genre, truly under the radar on this forum, presents fantastical scenarios such as guy with sword fight monsters, truly a far cry from the games of our own culture. Still, these games tend to have very good soundtracks and if you do some digging, you just might find some gold.
So let's do it, to it, you Spoony Bards. This is a reference. To game.
The Rules
Show your four tracks in this thread by linking to a youtube/bandcamp/etc. Deadline is Wednesday May 18th. Remember to post your nominations as a list of links, and not a list of embeds!
Q
: Is this just limited to video game music?
A
: Yes, this one is only games
Q
: So any JRPG game?
A
: Yeah. And if you are wondering "Does ______ count?", sure, I'm not picky.
Q
: Can I include covers?
A
: Sure
Q
: What if the game is technically not Japanese but is clearly a non-Japanese game influenced by Japanese games?
A
: Go for it.
Q
: I know there are some songs that we can't use (see below) because they already won. But can we include COVERS or REMIXES of that song?
A:
Look, things are pretty loosey goosey around here, go for it.
The only thing that you can't do that fits within this category are these previous winners.
Chrono Trigger - Secret of the Forest
Chrono Trigger - Undersea Palace
Undertale - Core (I know it's not Japanese but it's kind of in the spirit of the thing)
Wild Arms - Migrant Bird of the Wilderness
Final Fantasy VI - Terra's Theme
Dark World - The Legend of Zelda: A Link to the Past [Mariachi Entertainment System cover]
Let's all have fun.
Here are some ideas if you need them
.
EDIT: Oh, I forgot to say how many to submit. Upwards of 4. Thanks.
Last edited: