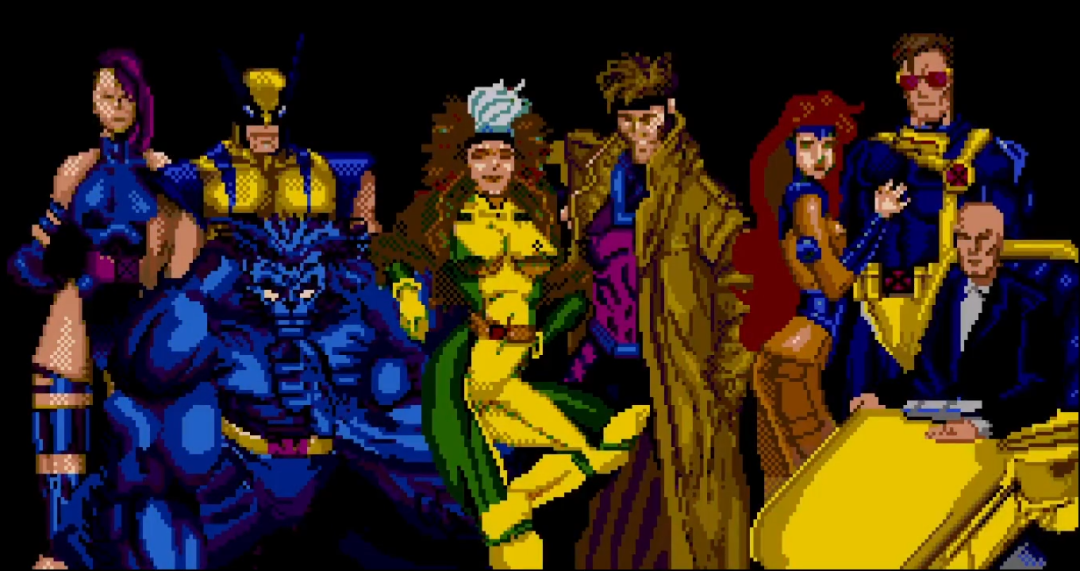 Welcome to Let's Play X-Men: the Genesis/Sega Mega Drive platformer from 1993!
X-Men games have a storied history, and the 1993 Genesis entry feels like an inflection point where they really became something cool. By 1993, home consoles had two less impressive X-Men outings: "The Uncanny X-Men" (NES, 1989) which is mainly remembered out of frustration and "Spider-Man/X-Men: Arcade's Revenge" (SNES+Genesis, 1992) which has the look and feel of a very early gen 16 bit title.
X-Men 1993 is a step up -- more visual detail, larger characters, the mutant powers feel fun and powerful, and you can even swap heroes on the fly during stages (with a fixed swap limit per level, however). Like you'd probably expect from X-Men games, your mutant abilities are limited by a recharging mutant power meter.
Here's who the player gets to control:

Wolverine:
his mutant power extends his claws for increased damage and range. He also has an always-active healing factor, which once in a blue moon you might notice restoring a tick of health. Wolverine is the shortest character and a short jumper, which is a significant factor in some stages.
~~

Cyclops:
his mutant power shoots an optical blast. Aimable in all 8 directions and each shot has a dirt cheap mutant power cost, You can basically play Cyke as a ranged character. Minor abilities include 1) charging up his beam for a ricocheting optic blast and 2) a super spin jump blast that fires in all directions at increased cost, giving it questionable utility. Cyclops is tall and the best jumper.
~~

Gambit:
his mutant power shoots an explosive, homing playing card. Charging up your card will increase the homing slightly, but you generally you have to pray that your cards will connect sooner rather than later and hope for the best. Gambit also fights with his staff instead of kicks and punches, giving him probably the best basic attacks. Gambit is tall, has a very tall crouching pose, and is nearly as good at jumping as Cyclops.
~~

Nightcrawler:
Every X-Men video game has to have a "B-cast member" elevated to the playable roster, and in this game it is Nightcrawler. Nightcrawler's teleportation is a unique homing attack and shortcut tool rolled into one.
If you've played this game, you remember Nightcrawler
, I'm absolutely positive.
Teleportation is tricky. You can influence the teleport by which direction you hold, with VERY brief taps being the best way to teleport past walls. Hold it too long and you'll use more power, plus the teleport may even U-turn on you and bring you back to where you started. Mastering Nightcrawler can feel like mastering the cape in Super Mario World, although if we're honest it usually feels like his mutant power has a mind of its own.
The interesting "expert" way to use Nightcrawler is to not tilt the d-pad at all. This makes you an invincible, stationary hazard to enemies. The secret is that this consumes very little mutant power, making it almost too good. Nightcrawler is short, a bad jumper, and his jumping attack sends him into a fast dive.
TELL ME SOMETHING WEIRD ABOUT THIS GAME
You don't get lives, continues, or checkpoints. When you die the mutant you were controlling is now dead (semi-permanently) and you start the level over. Essentially your 4 lifebars become 4 lives that you'll manage by swapping out each mutant before they die.
Surprisingly for such a system, your health isn't topped off after levels either. You have to allocate inter-mission refills to each mutant individually. Yeesh!
You can feel how this affects the design of the game. Finding all the health refills during stages (minor secrets, usually) is suddenly quite important for longevity. The lack of real continues means that the process of "learning" a stage involves multiple attempts with different mutants, instead of multiple attempts with the same mutant. Since the mutants all have jumps, punches, and kicks that are so different from one another you can't always rely on your previous knowledge and muscle memory to make it through next time.
IS THE GAME ACTUALLY AS GOOD AS I REMEMBER? OR IS IT ACTUALLY AS FRUSTRATING AS I REMEMBER?
Describing X-Men 1993 an "inflection point" feels apt. It's going to be a cool game for some, but not quite there for others. Weird hit detection? Weird jumps? Yep, it's got that. There is a fun absolute level of challenge to conquer, but often there is a wall of knowledge on how a boss works or how a section is supposed to be tackled before you can give it a real shot. The partner swapping system plays into this as well, with picking the right mutant lending a degree of "Mega Man"-style thinking... that is, deploying the right mutant can help solve levels effortlessly.
ALL RIGHT WHAT AM I IN FOR?
This is a 6 episode video LP (recorded in advance) split into two playthroughs so that every mutant gets a chance to shine.​
A new episode will be uploaded every other day.​
First episode will be posted tomorrow.​