Do you require aid.
(whatevs)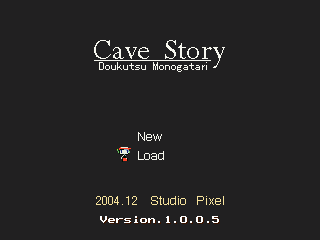 Hey everyone!
Let's play Cave Story!
It's hard to think of a more iconic indie game than Cave Story, developed by one Daisuke "Pixel" Amaya over five years and eventually released in 2004. This curious little platformer may have been one of THE titles that really helped people get into indie games as their own thing, rather than just one of a handful of Computer Programming 101 homework pieces thrown into a 500,000 in 1 collection. The popularity of the game was such that it eventually got the attention of a localization/publishing company by the name of Nicalis, who proceeded to rerelease it to a number of other platforms, giving it even more fame.
Unfortunately, it quickly became apparent that Nicalis was, to put it simply, complete evil jackasses. I'll leave the full breakdown to Wildcat, as shown
here
, but as far as Cave Story goes, Nicalis more or less wrangled the Cave Story IP from Pixel and have since claimed it as their sole property. Pixel hasn't touched the IP since his first time dealing with Nicalis on the Wiiware release, and has moved on to other things (mostly Kero Blaster). It's a really sad story, and Pixel and Cave Story both deserve better. And as such, I'll be using the original freeware version, which has remained free for anyone to play even with Nicalis' IP seizure.
Now, this being as classic and influential a game as it has been, Cave Story has also seen a lot of LPs, including one by one of the earliest big LPers, Deceased Crab. And while I absolutely want to LP it, I don't just want to retread the same ground as everyone else with it. So for this LP, I'll be bringing on a guest commentator as I play through!
jenkitchen
will be joining me for every episode, as someone who has never seen this game before, and really, if you're playing Cave Story, you should be flying blind for your first playthrough.
PART 01
FROM SOMEWHERE, A TRANSMISSION
THE FIRST CAVE, MIMIGA VILLAGE
​
NOTES
KAZUMA IS LOOKING FOR SUE. You're dropped into the game with a seemingly-unrelated guy on a laptop trying to reach someone, while the actual player character starts out in the First Cave and just goes exploring. It's got a kind of "harmless whiplash" to it that makes for a strong first impression.
THE FIRST CAVE IS REALLY SHORT. The only actual gameplay to it is stealing the Hermit Gunsmith's Polar Star gun, and not getting punked by The Door. For those who don't know the game: the orange triangles are weapon energy, which you use to level up your weapon. Taking damage lowers your weapon level. Each weapon goes from 1 to 3, with a little buffer of energy you can get to put a weapon at MAX.
SUE ANSWER YOUR DMS ALREADY WILL YA. Don't leave Kazuma to eat cockroaches in a shed or whatever.
WE VERY GRACEFULLY AND POLITELY ENTER THE MIMIGA VILLAGE. The main thing we're trying to do is find Sue, but the villagers have differing opinions on Sue. King, the head honcho, wants to turn Sue over to the Doctor, whoever that is, but Toroko is adamant that Sue be protected. Since Toroko has the key to Arthur's house, where Sue's hiding out, we need to track her down.
FIRST WE CHECK THE RESERVOIR. Only thing we learn is that Sue is a Mimiga like all the other bunnypeople, but we do get a cool Silver Locket out of it. Toroko is too busy bodychecking King to appreciate it.
THE PRIMARY DIET OF THE MIMIGAS IS FLOWERS. Don't eat the red ones.
TOROKO GOES HARD. She's no snitch, and she's not afraid to crack some skulls. She only calms down if you shoot her with a gun.
THEN THINGS GO WRONG. The Doctor's minions, Balrog and Misery, show up on the scene and abduct Toroko, mistaking her for Sue. Balrog stays behind to "clean up", but they're a bit of a slacker, and it's not like we have any beef with them, so we just leave them be. You can absolutely fight Balrog if you're so inclined, and it's worth a decent amount of weapon energy to do it, but by no means required.
WELP, GUESS WE GO GRAVEROBBING. Toroko still had the key to Arthur's house on her, so we're forced to go through the Graveyard to get the key Arthur was buried with for some reason. The mushrooms Jack was so worried about aren't too bad, but they don't give weapon energy. The knife-armed Gravekeeper is a lot tougher, but they're vulnerable when swinging the knife or from behind.
AND THEN ARTHUR'S HOUSE. Still more mysteries here. A bed with red flowers is in the basement, the messages from Kazuma are on the computer, and the teleporter is linked to the Egg Corridor, whatever that might be. It's our only lead on Sue, so off we go!