Son of The Answer Man
(He/Him)
Arcana is a 1992 role-playing video game for the SNES by HAL Laboratory. (Yes, the folks who brought us Kirby.)
"Seal of Rimsala" is a recent hack
that modernizes it a bit, including a FastROM patch, an edited translation (which removes some of the standard Nintendo censorship), and a bunch of tweaks to various systems.
I haven't actually played this through in twenty years, since the last time I played my actual cart. So this is not going to be a full catalogue of differences or changes, and it can't be a super in-depth exploration because I don't know all of the tiny hidden secrets. This is a play through for the sake of playing and experiencing the hack as if it were the original game.
Which is not to say I'm playing blind. The automap in this is not great, and only accessible by diving through menus. And Nintendo Power had some excellent coverage of this back in the day, including a fold-out poster of maps. So, basically, you're going to get to see how a Beowulf play-through of this game goes in all its realistic glory.
Without further ado, let's boot this bad boy up: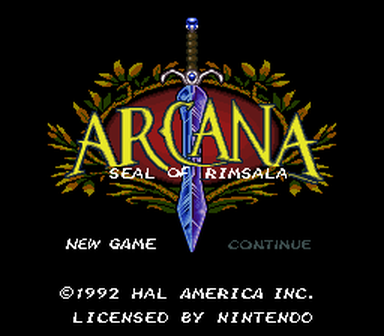 I start a new game. The addition of a subtitle to the title screen is clearly part of the hack. The original Japanese name of the game was "Card Master: Rimsalia no Fuuin", so the subtitle isn't coming from nowhere. (For that matter, using "Arcana" as the title of a game about magic cards is actually pretty sensible, given that it refers
https://en.wikipedia.org/wiki/Major_Arcana
directly to Tarot decks and the magic cards in those.)
I don't have a good explanation why it isn't "Seal of Elemen" right at this moment, though.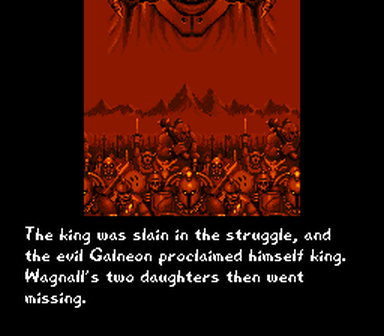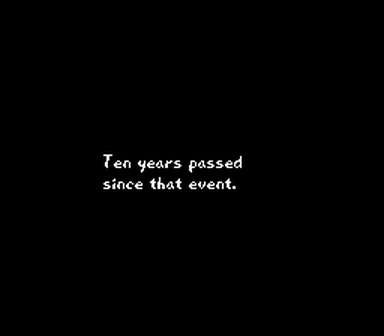 So we're picking up ten years after Galneon took over Lexford in a bloody coup. We're definitely meeting some princesses on this journey and we'll definitely end up in a battle with Galneon before the game is done.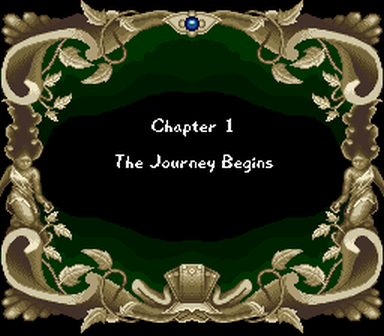 There are five chapters to this game. That much Nintendo Power warned me about.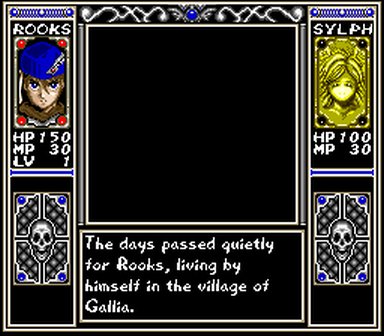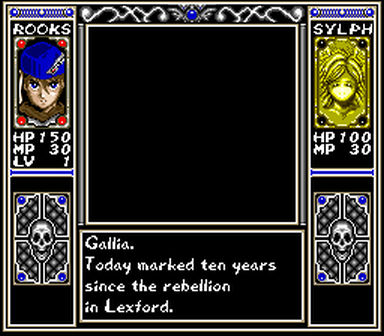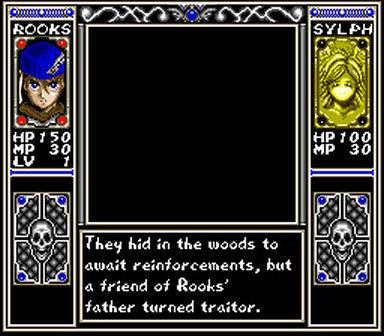 Rooks has a tragic backstory, getting the "doomed hometown" and "dead parents" tropes out of the way early.
That single magic card is Sylph, the wind spirit who's also in our party.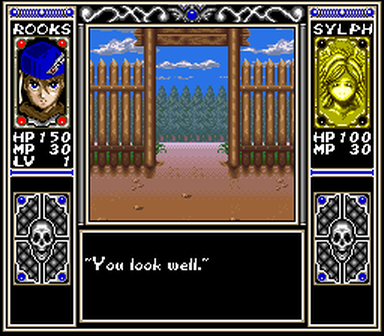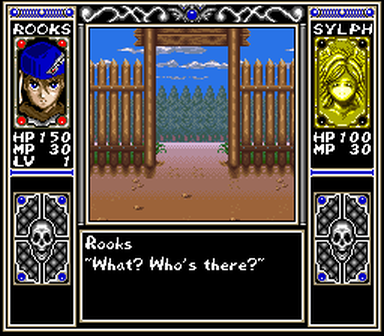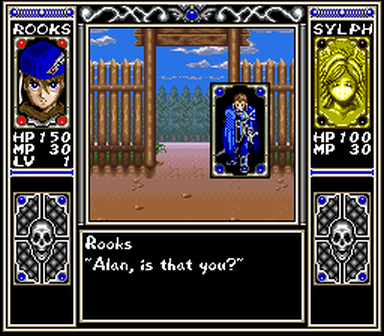 On this particular day, Rooks is visited by Alan, an old…not quite friend. (Alan's name is changed by the hack.)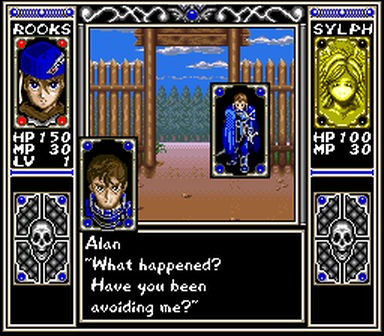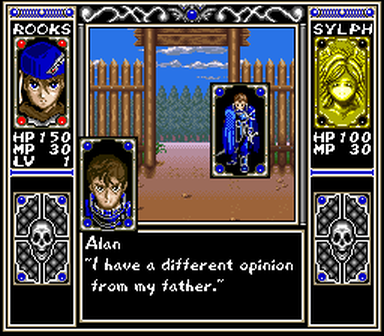 Alan is like that guy you went to high school with who you are Facebook friends with but haven't had a conversation with in ten years. Then he appears out of nowhere because he needs something. Also, his dad got your parents killed.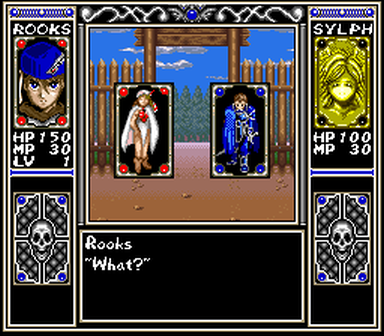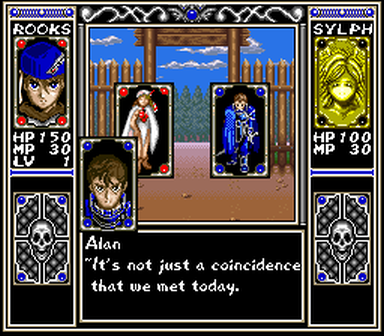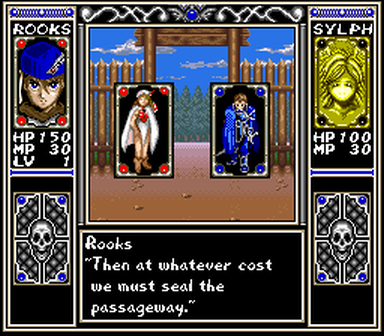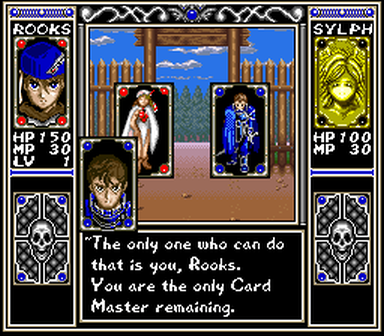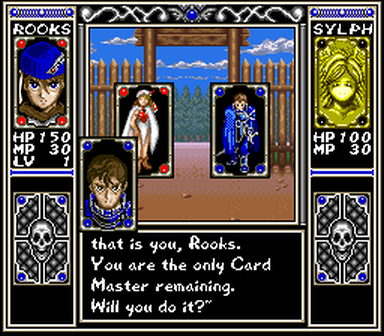 Rooks is either very duty-bound or just a sucker.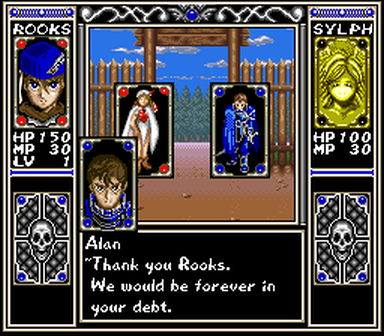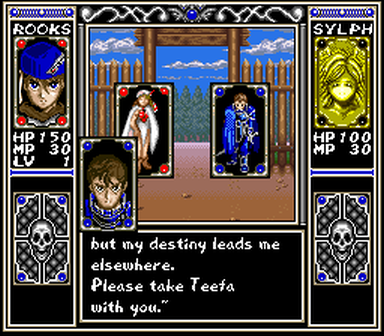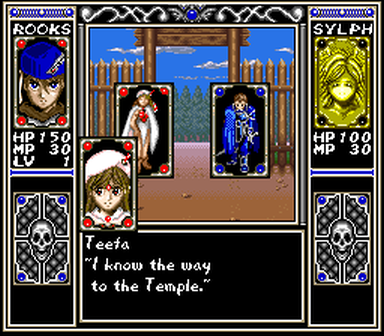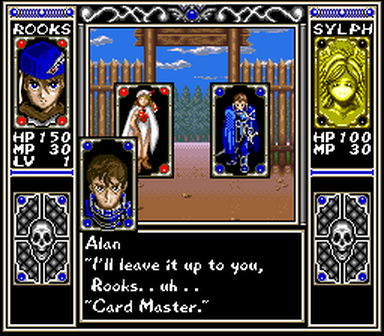 And my metaphor holds as Alan flits off to do something completely unrelated, leaving Rooks to handle this monster problem himself and also babysit this woman he's never met before.
Okay, so, we have Rooks, Teefa and the card spirit Sylph. Everybody's level one. We start with 500 GP, no equipment and no magic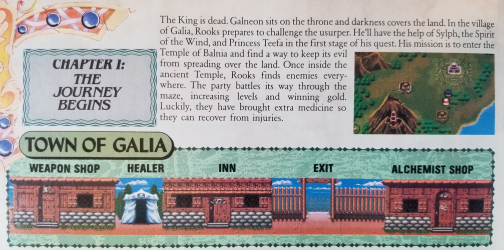 Nintendo Power gives the synopsis of what we just saw.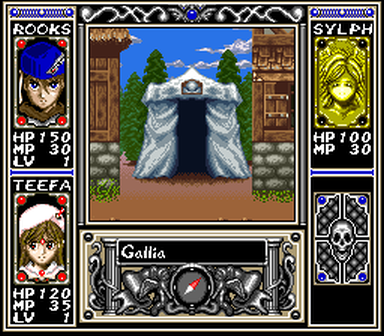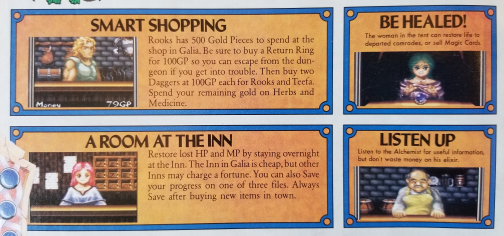 Around the town there's an inn where we can heal and save, a card shop that will sell elemental cards and heal our spirits (if Rooks is the last remaining Card Master, why is a card shop still in business?), an equipment shop, and a bar.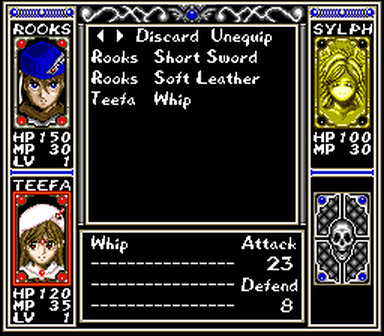 Per their advice, I opt to jump straight to a short sword for Rooks, leaving Teefa under-equipped. Then I buy a few healing herbs before heading out.
Next time: An actual dungeon!
Last edited: