Do you require aid.
(whatevs)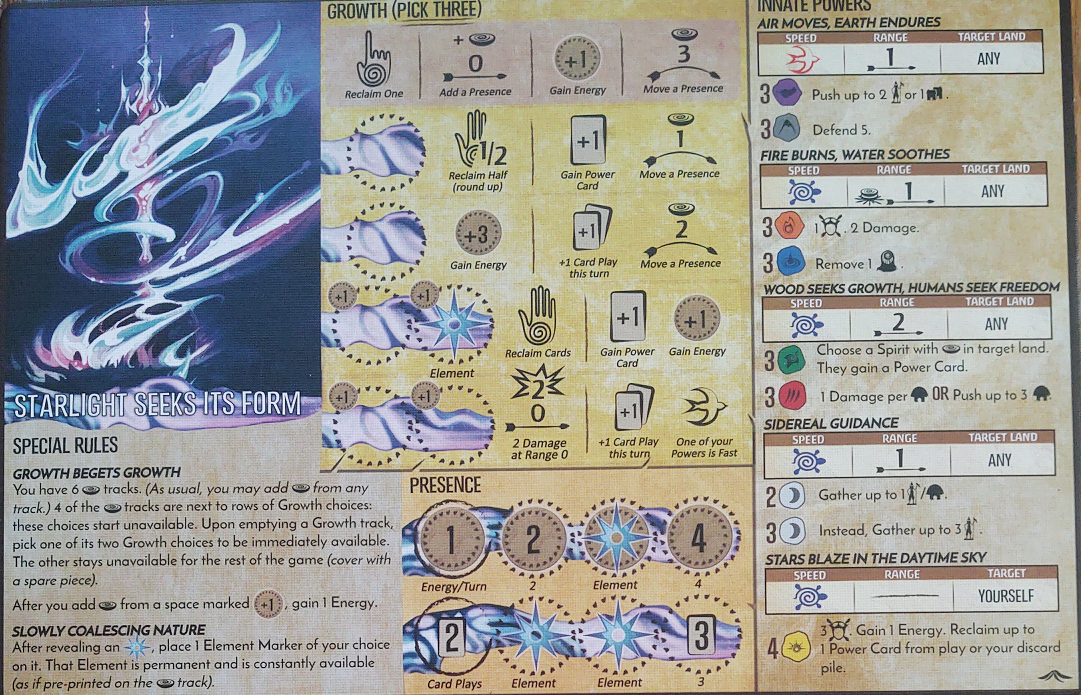 BE NOT AFRAID
Perhaps the most anticipated spirit to come out of Jagged Earth, Starlight Seeks Its Form is, bar none, the most customizable spirit in the game. It's a personal houserule that every time you finish a game playing as them, you need to come up with a new name for the spirit, after all of your choices in how it forms.
A big part of how this customization takes place is from the three Growth choices you get each turn, with each one being relatively minor. If you take all three choices you have as a lump sum, it makes it seem much more useful. For example: lots of spirits would be perfectly happy with a growth that adds presence at range 2, gains a power card and NRG, and gets an extra card play for the turn. Course, then the problem is that you've locked off other potentialities for Starlight for this game, namely spike NRG gain and a full reclaim option. While it is possible to screw yourself out of things other spirits would call essential this way, it's not impossible to play the spirit in that event if you use your unique powers wisely.
Additionally, your innate powers are not designed with the expectation that you'll hit the thresholds for each of them every game. Slowly Coalescing Nature forces you to build an elemental specialization, one which you should heavily contour to your early power card gains (and which in turn should be built to accommodate the other spirits in play). This is not a spirit you can expect to play the same way every game, which is part of the attraction!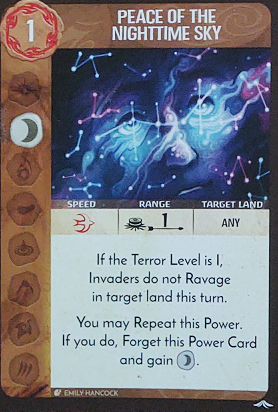 A big part of this is that your unique powers are built to be forgotten. Each of them only provides a single Moon, which means you can at least get Sidereal Guidance going, but the effects themselves are meant to be replaced as your spirit crystallizes. Peace of the Nighttime Sky is a nice stopgap early on, when you lack the capability to do a whole lot else with the island, but it simply does not punch hard enough to make it worth keeping, even without the Terror Level restriction.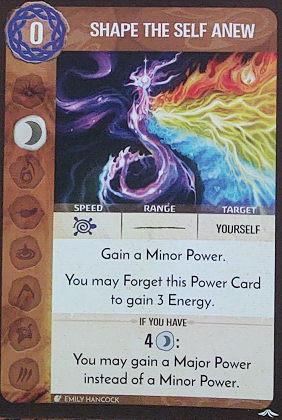 Speaking of Moon, it's a nice element to focus on for Starlight if you lack better choices, especially seeing as Shape the Self Anew has a really strong threshold and Sidereal Guidance is a nice one to aim for early. Don't feel beholden to it, though.
I was gonna say that Shape the Self Anew is also a card you might consider holding on to if you shyed away from the Growth options for gaining powers, but then I realized that nobody needs Reclaim Half AND Reclaim All.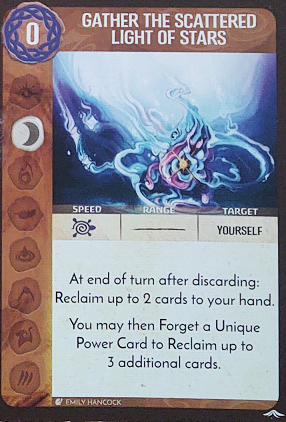 Speaking of, most spirits need Reclaim All in order to even come close to maintaining tempo. Starlight Seeks Its Form has no fewer than FIVE ways to reclaim cards available, three of which are Growth options that it gets to take three of each round. Do not ever feel like you're forced into that Reclaim All option, handy though it is. It is more than plausible to build Starlight without needing it, and Gather the Scattered Light of Stars is an instrumental part of that.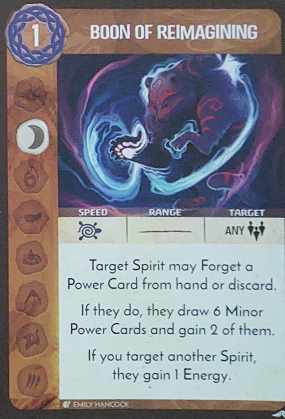 Here's the other card you might consider keeping all game. It's one of those "any, but use it on another spirit probably" cards that actually is completely understandable to use on yourself, given how Starlight Seeks Its Form works. It's also a great tool to have on hand if another spirit gets a dead draw, but feels more comfortable with minor powers over majors.