Mysterious Contraption
(He/Him)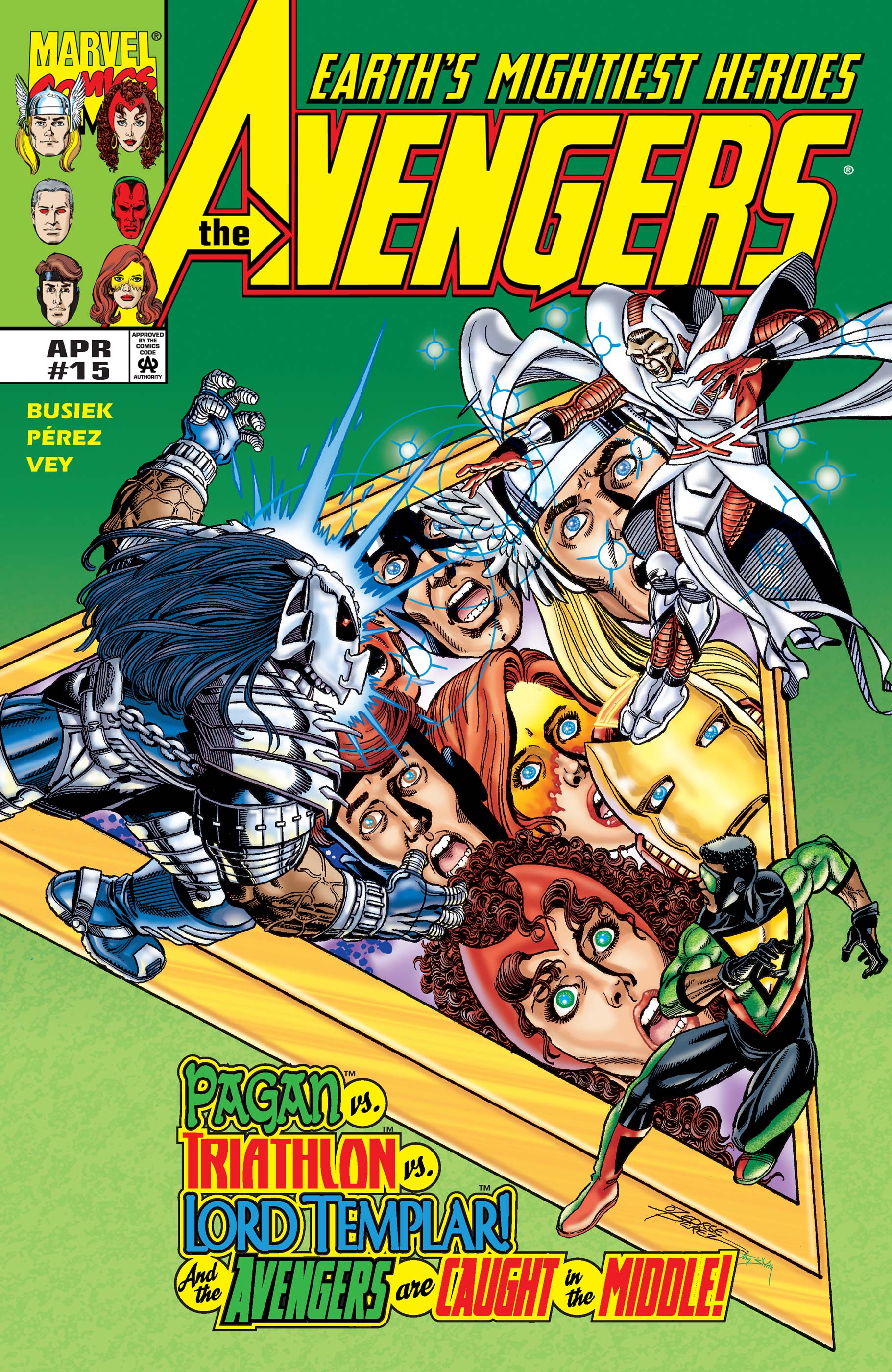 We've got some new-time religion, organizational changes, superheroic jurisdiction disputes, and
bigger fish to fry
in
The Three Fold Battle
And we're opening with Triathlon; remember him? The Olympic athlete who joined the Triune Collective, a cult that somehow gave him three times the peak level of strength and agility possible by the human body? That guy. Anyway, he's performing for a gathering of the Triune Collective to show off what their vague, never explained religious movement is capable of if you embrace it. Kind of like the Power Team, except there's one of him. And we also meet the Triunes leader, Jonathan Tremont. Who gets a dramatic pan up as he's introduced, so imagine my surprise that he's, y'know… just some regular guy and not, like… Thanos or something.
Now, he *does* change ethnicity several times through this issue, but I'm assuming that's a coloring error, not a super power thing.
Meanwhile, at the Avengers Mansion, Wanda and Cap have a meeting as they're aware that the team *really* hasn't yelled together like it should since the roster changed and Vance and Firestar joined; and with good cause; Caps been real busy dealing with his own stuff in his comic, Thors got a *lot* of difficulty maintaining a work/home life balance since he got a secret identity again, Visions busy trying to convince everyone he's still an emotionless robot, Simon feels conflicted about being a hero because the last time he was on the team he went crazy and killed some people, Iron Man had most of his skeleton broken, and everyone's just kind of tired of Vance's constant hero worship.
Firestars fine though; having the Avengers cure her health crisis really boosted her mood.
Anyway, Wanda takes it upon herself, as deputy leader of the team, to boost morale, and her first idea is to randomly appoint new Avengers Chairmen for each meeting, which means Firestar gets chosen to get the team (and new readers) up to speed on recent plot points and foreshadow future ones.
Given the way Marvel editorial worked in the 90s;
legit unsure
how much of this winds up being relevant.
Graviton is still *technically* at large after fighting the Thunderbolts (they tricked him into overloading himself and making him implode)
Nobody can find Apocalypse, after defeating Moses Magnum who was apparently one of his henchmen (Firestar phrases it like the Avengers were trying to get him on the phone and Apocalypse was screening his calls, which I find very funny)
The Wrecking Crew is at large *somewhere* but nobody really cares beyond, get, supervillains
And more relevant to this story, Templar has appeared all around the world trying to subjugate people "for universal peace" and insisting he's a government employee despite nobody in any government agency ever hearing of him before, and Pagan has popped up all over the place like the worlds rowdiest edgelord screaming for someone to *
just try
* to stop him from wrecking stuff.
Luckily there's some good news on that last point, as Iron Man flies in to the room saying that Tony Stark invented a way to track the weird energy signals that Templar and Pagan both seem to emit (this was before Iron Man and Tony being the same person was common knowledge and only half the people in the room know that); and so the Avengers, desperate for at least a partial victory in this arc, head off and track down that energy to its source…
The Triune Congregation just outside Lubbock Texas!
So the Avengers arrive, right in the middle of Triathalons display of how a healthy diet and dedicated belief in whatever it is that the Triune believe in can unlock *three times the maximum human body potential*, and ask if anyone's seen any weird supervillains with clear ulterior motives, or extremely clear regular motives busting the place up lately. And Triathlon reacts like Cap just accused him to punching his cat.
Luckily there isn't time for a Superhero Misunderstanding And Consequent Brawl, because Pagan punches his way out of the ground and proudly announces what is name is ("Pagan") and his primary goals ("destroy weaklings")
And as we're midway through a Kurt Busiek comic, that means the plots over and the punches begin.
This fight goes much better for the Avengers than the previous one, partly because we're closer to the end of this arc and mostly because they learned from the last match; Pagan is clearly physically superior but he needs time to adjust his defenses so the Avengers keep mixing things up to keep him off balance, and since Pagan keeps screaming about how he's the avatar of chaos and the like, Wanda figures that she can strip him of his power rather than just hitting him with Hex Blasts, which works much better.
Also Perez gets to draw pages like this, and you know he loves that.
Eventually, despite their better showing the Avengers can't make any headway against Pagan and the fight draws to a stalemate… when a giant light shines out of the sky and blasts Pagan into the dirt like a fence-post.
Templar drops out of the sky and starts smacking Pagan around like it's nothing, and while Templar is still *extremely sketchy* and literally every nation on earth denies ever hearing about him before despite his insistence to the contrary, Triathlon runs to his side to help because clearly the so-called established heroes are incapable of dealing with a threat like Pagan. And so, Templar beats Pagan like a drum for a while, and Pagan says "Ah! Ya got me!" And scurries off with his tail between his legs.
Which *certainly* caught Cap, Wanda and Vances attention; since Thor was able to knock the hell out of Templar when they fought, and Pagan was clearly much stronger than Thor when *they* fought, so how in the hell is Templar able to beat Pagan as easily as he did?
Well, luckily, there's an answer forcoming in the first of the issues epilogues, as we close in on John Tremonts house later that night, when Templar materializes in front of him, saying that their plan has had a bit of a rocky start but is proceeding well; Templar has sown enough distrust with *literally every single* nation by bluntly saying he's operating on the governments behalf, while being just obvious enough that he's a bad-guy that people are willing to look more seriously at the one single organization that Templar seemed generally ambivalent towards; the Triune Collective.
And while Tremont was using Pagan, the seemingly unstoppable murder-monster as a common foe for everyone to focus on, and be relieved when Templar beat him, the fact that the Avengers keep showing up to hassle Templar, who has successfully upstaged them by beating Pagan, works even better. Especially given that the AVengers have, twice now, needed to rely on Triathlon to save the day from a comparatively minor threat.
So yeah, that's a good cliffhanger epilogue; I assumed that Templar and Templar were working together, but Triathlon being a third ring to it was not something I anticipated. I'd call that a Good Last Page Twist.
But there's one page left...
And we see who, exactly, Hank Pym has been working with all this time. Who, exactly, wants him, in particular, inventing things and being too wrapped up in his work to start questioning what he's building or for whom...
Mother friggin'
ULTRON
, THAT'S WHO!
And next is a three-part story involving the wrecking crew, from a fill-in artist and writer, so we're probably just going to skip that.
NEXT TIME:
RISE OF THE MACHINES