So recently, I caught Covid-19. As a reward for not dying, I bought myself a RG350P, a pretty solid little emulation platform. Runs for about $100. Buyer beware – the RG351 just came out, and while it can handle N64 games respectably where the RG350P can't, word is that the screen might not be as good. The RG350P runs on OpenDingux (presumably so does the RG351), so it is the beneficiary of software development for a variety of similar handhelds, leading to some surprising ports available for the platform like Descent 1 and 2, the whole Marathon series, and Streets of Rage Remake.
The big thing that excites me about the RG350P, though, is that it happens to be able to run a Pico-8 emulator,
tac08
. The fact that the Pico-8 has an
emulator
is deeply funny to me, given what it is, but adds to the charming fantasy of the "device." For those not in the know, the Pico-8 is a non-existent conceptual console with a built-in, easy-to-use development toolkit and game browser. You can also distribute "cartridges" of games made with Pico-8 via these adorable .png files that have a game's code embedded in them.
I made that skin by the way. I didn't do the icons for the software, but I did do the the top and bottom bars, the icons on the bars, and the FF-style pointer. The wallpaper is a painfully cropped down version of
this very important piece of artwork
.
I spent a ton of time grabbing
so many
Pico-8 games (over 100), so I thought I'd periodically do reviews of the ones I play. The majority of Pico-8 games are free, and many can be played in a browser thanks to an embedded HTML5 client, so I'll provide links to the games online when they can be found. The first game in my list is a Pico-8 port of Virtua Racer because it's actually like 14 Pico-8 cartridges that work in tandem somehow and have to be in their own folder. But I'll leave that game for another time so I can talk about a game more representative of the platform instead of the equivalent of running Doom on a graphing calculator.
The second game in my list is
4 Giga Boss Fights
by
guerragames
. 4 Giga Boss Fights is a difficult title to review chiefly because the game appears to generate infinite boss fights, and I consequently cannot identify which four are the giga ones.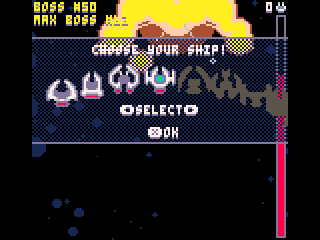 4 Giga Boss Fights reminds me a lot of Warning Forever – you take command of one of a selection of spaceships and fight a series of multi-piece boss ships, with each piece having its own attacks. The ship choices appear to be merely cosmetic, as the second and third ships that I unlocked after destroying my 52nd and 56th bosses respectively play exactly the same, and replaced my current ship immediately.
The bosses tend to have surprisingly low HP cores; fights with bosses that don't have more pieces in front of their cores can end in a matter of 10 or 15 seconds. The bosses uniformly are large blobs of neon color, but the way the pulsate and shrink when hit suggest an almost amoeba or slime-like quality to them. All of the bosses explode satisfyingly, and the little victory fanfare does a lot to break up what might otherwise become fairly repetitive music.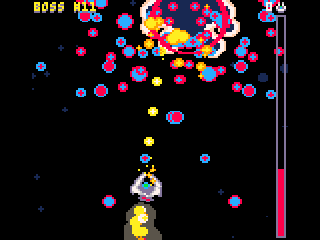 The ship has unusual mechanics for a scrolling shooter – as the ship moves left and right, it turns, dramatically altering the direction it is firing in. Additionally, the ship seems to have a bit of aim assist going on – instead of returning to firing straight forward when idling, it fires slightly towards the middle of the screen. The ship can move forwards and backwards, but much more slowly than left or right. The ship auto-fires a basic shot, but every time it lands a hit, it charges the bar on the right side of the screen. Pressing either button will cause the ship to fire an absolutely devastating spread shot that drains the bar rapidly. The power shot bar starts to flash if it's more than half full, and while I can't guarantee it, I think it's even more powerful when used in this state.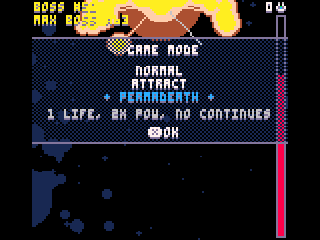 4 Giga Boss Fights features three modes: a mode where you get three lives and infinite continues; a mode where you get infinite lives; and a mode where you get one life and no continues, but deal double damage. I've played the infinite lives mode and the one life mode. In the one life mode, at least, you don't seem to be able to get any
more
lives, but I wonder if you might get a life from a full power shot bar in the three life mode.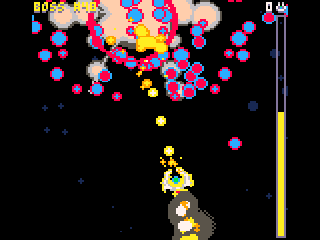 I found 4 Giga Boss Fights pretty addictive. You can try it out
here
and, I'm sure, discover the answers to some of my mechanical speculation. If you give it a shot, I recommend always saving some power shot bar for an emergency. Later on bosses will get lasers, and sometimes those lasers will box you in and start to track to your position immediately, so having power shot available may be necessary for survival.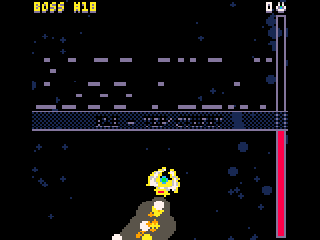 Unfortunately for me, 4 Giga Boss Fights has an emulation error when run with tac08, causing all the text to appear the same color as the background, rendering the title screen and boss names unreadable.
Last edited: