Let me rock you Chaugnar Faugn
The Warhammer 40,000 universe is near and dear to me, having grown up reading various issues of White Dwarf and other books from Games Workshop, though I haven't actually played the game a whole lot, and only did some half-hearted attempts at assembling and painting the miniatures back in the day. I guess I enjoy reading about its strange, detailed and sometimes contradictory universe more, so I'll start with a quick summary of all the major factions, for those who don't know about them:
The Imperium of Man
is the big, dystopic, fascistic theocracy in wich the humans of the 41st millennium live. It's supposedly ruled by a half-dead vegetable stuck on a Golden Throne, know only as The Emperor of Mankind, though the day-to-day ruling is done by an enormous bureaucracy and galaxy-spanning Emperor-worshipping church. They have several different armies, including the iconic
Space Marines
, genetically engineered and religiously fanatic supersoldiers in thick armour and with heavy weapons. There's also the more numerous
Imperial Guard
, which consists of regular human soldiers who are often depicted dying in droves, and only being able to beat their enemies by drowning them in bodies (or use their huge tanks to shoot them). Then there's the
Sisters of Battle
, fighting nuns armed with the same weapons and armor as Space Marines, but without genetic enhancements. They make up for this by being even more religiously fanatic, and by having some actual, immortal, angels fighting for them. Worth mentioning also are the
Adeptus Mechanicus
, which is a weird priesthood of cyborgs who worships The Machine God and sees all technology as holy, and the
Inquisition
, highly skilled agents travelling through the Imperium and fighting conspiracies and other threats that can't be defeated with huge armies (including, of course, people who aren't really on board with this whole fascist theocracy thing).
The main enemy (though they do have many) of the Imperium is probably
Chaos
, terrible demons from the horrifying Warp dimension (a dimension the Imperium reluctantly has to use to make space-travel between stars possible). The demons and other Chaos worshippers generally belong to one of four Chaos Gods:
Khorne
(the Blood God, who likes war),
Tzeentch
(who likes magic, and constructing complex conspiracies),
Nurgle
(god of diseases) and
Slaanesh
(god of hedonistic pleasure). Chief among its soldiers are the
Chaos Space Marines
, who are Imperial Space Marines corrupted by Chaos.
The
Orks
are green-skinned savage warriors who enjoys fighting wars above all else, no matter if it's against other species or among themselves. They're something of the "comic relief" of the Warhammer 40,000 universe, due to being humorously stupid with primitive technology that yet somehow is surprisingly effective.
The
Eldar
are basically space elves, with all that entails. Pointy ears, ancient history, dying species remembering their old glory days, highly advanced technology, and generally snooty disposition towards the "lesser" species, including humans. Fast, but fragile. Their evil cousins are the
Dark Eldar
, who are quite possibly the most evil species in the Warhammer 40,000 universe (and that's saying something!), since they are basically vampires who can only survive by torturing people and feeding on their suffering.
The
Tyranids
are your typical horde of animal bug-aliens with organic technology, who travels around the galaxy to consume all life on any planet they come across. Most notably, they have the sinister
Genestealers
, who can infiltrate planets ahead of the main swarm, and set up secret cults of human/genestealer hybrids that break down the planet's defenses from within.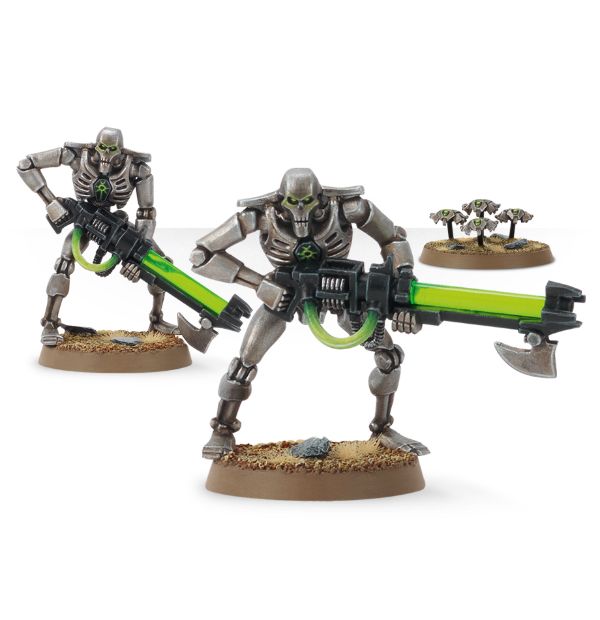 The
Necrons
are space-Egyptian robot skeletons who are even more ancient than the eldar. In the original fiction, they were mindless robots ruled over by Lovecraftian alien gods called the
C'Tan
, but later there was a big retcon, giving the robots actual personalities, and depicting them as having defeated the C'Tan and made them unwilling servants.
The
Tau
is the youngest species with any influence on the galaxy, with blue skin and modern technology. Unlike basically every other faction, they are actually somewhat idealistic and optimistic, and often try diplomacy instead of attacking everything in sight (with mixed results). When they do fight, their armies have several units that are obviously inspired by anime mechas (including a possible Char clone?).
Oh, and there's the
Squats
, who are space dwarfs in the same way the eldar are space elves. But they basically disappeared after the second edition of the game, and later it was retconned that they had been eaten by the Tyranids, with only a few survivors scattered across the galaxy.
Last edited: