#49 (tie) - Guess Who?
The mystery face game
Points: 89 Mentions: 4
# of players: 2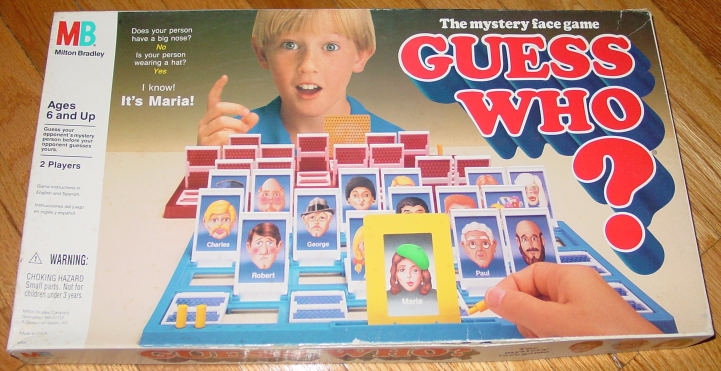 Can you Guess Who? It's a mystery! We're starting things off with a beloved childhood classic, and I couldn't be happier about it. This game involves two players, seated opposite one another in front of a grid of faces. Each player chooses or is assigned at random one of those faces, and the players take turns asking questions about the opposite player's card in hopes of narrowing down the search field and identifying their opponent's card. As possibilities are eliminated, players can flip the faces face-down onto the grid in a way that's very kinesthetically pleasing. That was always my favourite part as a kid, anyway!
So, as referenced in that photo set, the commercials for this game that aired when I was as a kid involved talking faces, but the ad was quick to point out that they don't
actually
talk. This is one of those legal disclaimers that people like to poke fun at, like warnings on airplane peanuts. I mean, what kid would be dumb enough to think that the game could talk to you, especially back in the 80s?
*sheepishly raises hand*
This kid, that's who. Yeah, I
absolutely
thought they could talk, despite the disclaimer. I don't know if my version of the ad didn't have it, or I just never noticed it, or what, but I was sure this was a game about talking heads. I never owned the game, but my cousin did, and I enjoyed playing it with him, but I was
very
disappointed to find that his version did not talk. I was not deterred, however! I remember asking my mother that Christmas to find me "the talky version". I have no idea how much time my mother spent looking for it that Christmas, but knowing my mother, probably quite a lot. /facepalm
As for its merits as a game, there's an argument to be made that maybe teaching kids to categorize people according to physical characteristics is perhaps not the best lesson, and there are definitely problems with representation, but on the flip-side, you're never too young to start learning how to optimize a half-interval search algorithm!
Of course, the whole thing falls apart the moment that questions start to get the slightest bit subjective. The example question printed right on the front of the box is "Does your person have a big nose?", which is just asking for trouble. My childhood games of this tended to end with accusations and fighting, but, y'know,
kids gonna kid
.
(Oh, and BTW, the ranking is not a mistake: we're starting things off with a tie, which means two games tied at #49; the other will be appearing tomorrow.)