Wily falls across the land
Jingle Bells are Close At Hand
Robots Stomp, Fly and Roll
To take over the North Pole
And Hiding there under his bed
Was the Toy Man, Full of Dread
He knew the Doc had broke some laws
So he could be the New Claus
The Air was Thick With Gingerbread
And Bots, who wanted Santa Dead
A hero came, made of steel and cog
A Little Metal Boy, and his Robot Dog
And so he fights, to end this disaster
Of every Robot and its Master

So fight, for Peace that will ever-last...
And Fight on for... MEGAMAS!
​
Ahh the middle of November, the last of the Jack o'Lanterns have tturned to seed for new Christmas Trees, the rivers run thick with Gingerbread Flavouring, Everything smells like Pine... AND DOCTOR WILY HAS TAKEN OVER THE NORTH POLE WITH AN ARMY OF EVIL ROBOT MASTERS!!!
That's right, it's
MEGAMAS
; The Most Secular Time of Year. The Festival of Fights. The one time of the year when all the good little Boys, Girls and non-binary peeps of Talking Time come together and BLOW! ROBOTS! APART!
How else with Santa Claus get over his crippling Robot-Terror that keeps him hiding under his bed from November 15th to December 24th? He wouldn't, that's how. And that means CHRISTMAS IS CANCELLED!!!
Let's go over the rules of MEGAMAS, shall we? All the most fun holidays have rules!
1
. Between November 15th and Midnight of December 24th (local time) play as many Mega Man games as possible
2
. Keep track of how many Evil Robot Masters (or their nearest equivalent) you destroy.
3
. If we can collectively destroy 800 Robot Masters; Santa will feel enough courage welling within his shaken soul to make his toy devliery, otherwise CHRISTMAS IS CANCELLED (and the kids were all so good this year...)
But those are cold hard facts; they don't answer the questions you might be asking. Let's elaborate, shall we?
Q: What is a Mega Man game?
A: Most biblical scholars, Benevolent Witches and General Practition Doctors will tell you; a Mega Man Game is any Game That Looks Like a Mega Man Game If You Squint. Shovel Knight, Gunvolt, One Step from Eden, 20XX, THEY ALL COUNT!
Q: What counts as a Robot Master? What if there ain't robots in the game?!?! WHAT THEN, SMART GUY!
A: Listen to your heart for what counts as a Robot Master fight; but generally Fortress Bosses and Dr. Wily Fights don't count; mainly looking for the more anthropomorphic boss monsters here.
Q: What about when you fight the same guy over and over again? It's Mega Man, that's GOING TO HAPPEN!
A: As long as it's a different fight, sure, count them repeatedly if you want. I generally say that Doc Robot only counts as ONE fight, as otherwise MEGAMAS would be over way too quickly.
Q: Santa Clause hates robots. But Mega Man is a robot. So despite saving Christmas every year does Santa deliver a present to Mega Man?
A: Santa hides under his bed for the entirety of MEGAMAS, and so is completely unaware of Mega Mans heroic actions. That being said, Mrs. Claus is the one who calls Dr. Light for help each year and allows Mega Man to take anything he wants from the Workshop as a reward. Mega Man doesn't save the day to be rewarded, but he takes a little wooden train each year, just to be polite.
Q: What is your response to the outlawing of so called "MEGAMAS" in 82 countries around the world?
A: Well those countries certainly aren't helping any kids get presents from Santa this year, tell you that much
Q: How long will he keep on fighting? How long will his pain last?
A: About 6 weeks
Q: Will Santa be less afraid of a given Robot Master if I defeat it in a friendly game of soccer rather than destroying it?
A: Robots are notoriously sore losers; defeating one at soccer would damage their ego so severely that you might as well have destroyed them
So that's basically everything. Nog yourself up until you can't walk straight and save that terrified Toymaker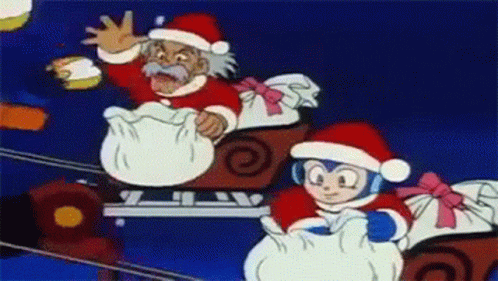 HAPPY MEGAMAS TO ALL, AND TO ALL, AN EVERLASTING FIGHT!​