Son of The Answer Man
(He/Him)
We can once again blame Ixo for making me inflict this thing on the rest of you. Apparently this came from a Goodwill Outlet before getting sent to me. (I feel like one of those Youtubers who get sent things to review. It's flattering and also mildly disturbing.)
Oh boy, it's a clamshell handheld with clear "we want to be a Game Boy but cooler" design elements. Ladies, gentlemen and those who know better: The
Pro 200 Gaming System
.
Developed by Pro Tech and published by International TV Concepts Limited and released in 1998. This monstrosity has an LCD screen that is only slightly fancier than a Game N Watch.
Curiously, it looks like the lower screen is supposed to be a built-in calculator, but I'm guessing it's either broken or runs exclusively off the button-cell battery. The original might have come with a manual, but that's long gone and honestly this doesn't need it—it has few enough buttons and actual functions that you can pretty much figure it out on your own.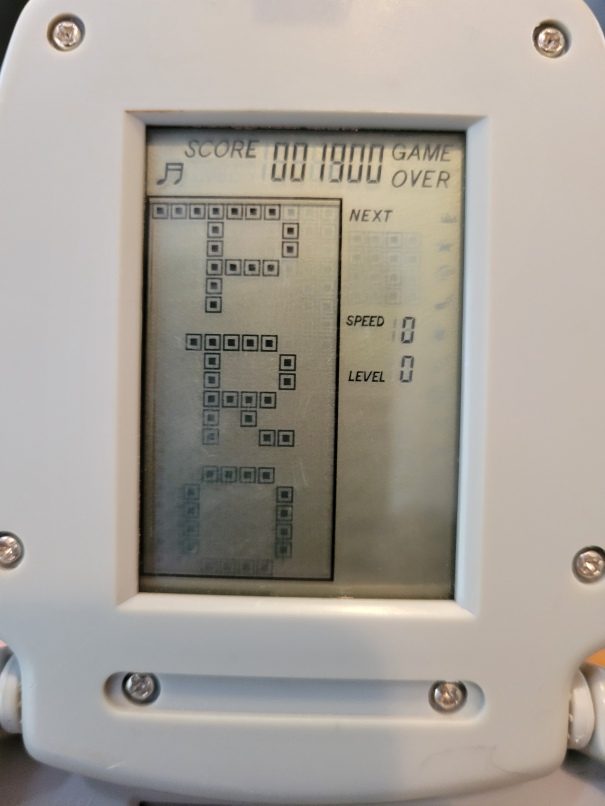 The title screen reminds you what you're playing.
The buttons are crappy and tend to stick (it's much easier to move left than right) which might be a function of age, bad engineering, or both.
A wonderfully bad TV commercial for it is available on YouTube
, and that tells us pretty much everything we need to know about it: The "over 200 games" claim is absolute horseshit, which you'd guess from the fact that they name four of them. At $20 plus likely exorbitant shipping and handling fees, this was aimed at know-nothing parents who had been buying NES, Game Boy and/or SNES cartridges for twice that and could be fooled into thinking this was a good deal. For reference, $20 is $37 in today's money in general inflation terms, but this is basically the equivalent of the My Arcade Go Gamer $20 Walmart handhelds, because electronics have gone drastically against inflationary trends. Actually, now that I think about it, it's the My Arcade Go Gamer handheld's exact market niche!
There's also a magazine ad captured on
this blog post
.