Dudley Do-Right
There are actually three intros to this one: one that appeared in the various Rocky and Bullwinkle series and two for when Dudley got his own show. I'm was a big fan of the Jay Ward cartoons of the 60s. The animation was crude but functional, the way many early Adult Swim cartoons were. But really, it was a radio comedy for the TV, most of the jokes being more verbal than visual, though there's still some fun to be had in the looking. First, lets look at the Rocky/Bullwinkle intro.
Stage curtains part as a member of the Royal Canadian Mounted Police mounts his horse backwards and a William Tell Overture-esque piece plays as they take off. It's a pretty simple "gag" that is greatly enhanced by the expressions of gritty determination on both characters' faces, with Dudley himself looking absolutely manic.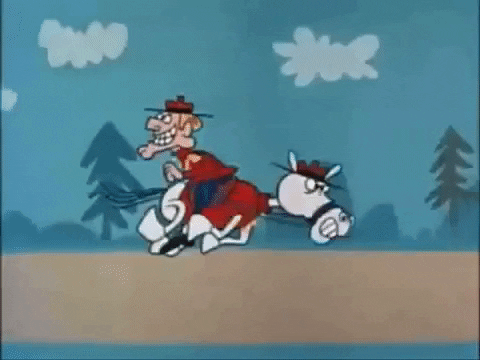 We then see them from far away in silhouette while the title fills in word by word under them.
Keeping with its old-timey routes, after blacking out, the next scene opens with an iris on the villain, Snidely Whiplash and as the scene opens up more we see that he's tying up the show's resident damsel in distress, Nell, to the railroad tracks. Nell struggles as Snidely ties her up in a scene more generally animated than I come to expect from a Jay Ward production.
Dudley then rides up, still backwards with a much more gormless expression on his face than before. Dudley tips his hat to Snidely as he passes, realizes what's going on and rushes off screen. When we catch up with everyone, we see Snidely tied up with Dudley placing a foot on him as Nell pets Dudley's horse. I feel like there's supposed to be a role reversal at play with the horse getting the girl and Dudley playing the "pet sidekick's" role of holding down the villain but I'm not sure.
It's a decent enough opening but it isn't the only one.
Next we have…
This one is a bit of a lesser intro, though it tries to end with an original gag, which I appreciate. Basically, it starts being a "clips from the show" intro which, unless they are very well edited, are usually not good.
Dudley is reading a book only to be disturbed by a wolf, who chases him into the city streets. Dudley is chased into the theater where, uh… "Hoy" is playing. Which is Spanish for "today". Anyway, at least this is a thematically appropriate use of a clip, being that Dudley Do-Right harkens back to the day of Republic serials, broad matinee films and, despite the lack of silence, silent era films.
The title appears with VO.
"The Dudley Do-Right Show. Starring our hero, Dudley Do-Right of the Mounties!"
We see Dudley in an iris and being credited as portrayed by "Sid Gould, Jr." Dudley looks, as best the character can, looks dashing, then begins waving demurely at the audience.
Iris out and iris in on Dudley's horse, Horse, who is played by "Sid Gould, Sr." "His faithful steed, Horse". Horse smiles and blinks at us. Not, I feel like he is not just smiling at us and blinking, his blinking is so pronounced, I feel like it is specifically AT us.
Iris in and iris out on Nell Fenwick, who is played by "Sid Gould's wife". Troublingly, this doesn't specify which Sid Gould. The lovely sweetheart, Nell Fenwick. She too makes a somewhat demure, shy expression.
"Her father, Inspector Fenwick." Iris out on her and iris in on Inspector Fenwick, who is played by "Sid Gould's mother-in-law", which is a joke that doesn't really work on two fronts now: "ha, a woman playing a man?!" is a joke that feels lightly aged (I say lightly because it is presented non-judgmentally but the implied joke and that an old woman would look like an old man and that's no good on at least a couple fronts) and also "mother-in-law" jokes? Ugh.
"And that arch-villain, Snidely Whiplash!" Iris out and iris in on Snidely Whiplash who raises his eyebrows and then covers up his face with a cape. He is "played by Sid Gould." This actually is a really good end to the "played by" bit, though it raises some questions, to be sure. I guess he's just a Sid Goud unrelated to Sid Gould Jr. Or Sid Gould Sr.'s brother is also named Sid. I guess this reveals in "real life", Nell is married to Snidely, which I like (sort of like how in real life "Basil Fawlty" was married not to his screen wife by his often-mistreated employee. No, not that one, the other one.
But if he is Sid Gould Sr.'s brother, that's adding some weird psycho-sexual (or at least weird psycho-"romantically chaste") stuff into the mix.
Hey, that wasn't a bad opening. Nice homage to the days of classic film.
Here's one more for "Dudley Do-Right and Friends".
It's the wolf opening from the last one, but this time in color. However, this time we se what is happening in the theatre. The wolf catches up with Dudley, who is enamored by what he sees on the screen. The wolf is snarling and about to bite Dudley, but Dudley stands up and points at the screen.
"Oh my, look! The greatest Mountie of them all!"
I'm going to give this moment credit, the expression on the face of the wolf is perfectly full of awe and wonder as he searches the screen for this mythic figure.
We then see a few clips from the show:
Dudley laughing.
A fox throwing dynamite and a detective dog jumping on it to muffle the blow and exploding (RIP Detective Dog).
Dudley in a crowd pointing up in shock.
A king lion being harassed by a gangster rodent and a sickly looking lion and being thrown out the window from his thrown.
Firemen about to catch him maybe?
Detective Dog walking off a cliff and accidentally firing a gun, sending a tree with Dynamite Fox in it down as well.
The skunk painting the king's back. The fact that the skunk takes a second to maybe literally brownnose is worrying.
The king doesn't seem happy with it either. I will say, the show actually has the wherewithal to turn a clips package opening into something else as the cartoon wackies from the previous scene fall on the wackies from the current one with a spelled out "Crash" and "Clonk".
Again, Dudley points and I can't tell if the re-used footage is to intentionally punctuate the cheesiness of the editing or not but I kind of liking. We then see the rat-man and the sickly lion riding in a small plane, guns ablazin' and all four characters scattering.
The Dudley pointing again. Did they not want to pay for new Dudley animation? Anyway, Dudley dashes off the scene.
Meanwhile, Colonel MacBrag, a character I actually remember, is one a sheet of ice, carried by birds, because contextless madness is great. He then lands on and slides down a rainbow, probably not an intended metaphor for his support of LGBT+ plus rights but lets go with that because it makes a character born from an archetype with imperialist (and therefore xenophobic) connotations more likable.
MacBragg then knocks out two rhinos and then we cut to Dudley at his horse's wedding, hidden behind a wall of the show's title.
Did It Make You Want To Watch It?
I tended to like the Jay Ward cartoons as a kid, so probably, though man, they really had a lot of jokes about Native Americans.
What Did You Find on Wikipedia?
The "Friends" of "Dudley Do-Right and Friends" all appeared on other programs. Dudley and MacBrag were Rocky and Bullwinkle fixtures and "The Hunter" (the dog) and "The King and Odie" (the Lion) were on a show called "King Leonardo and his Short Subjects" (solid title), which I'm sure to discuss later.
Fan Art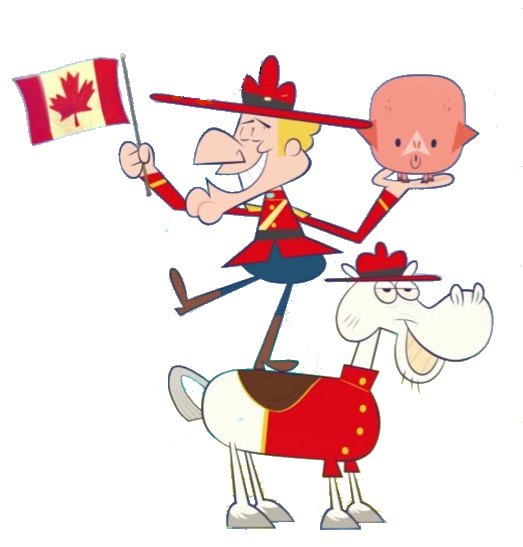 I like this but… what is he holding?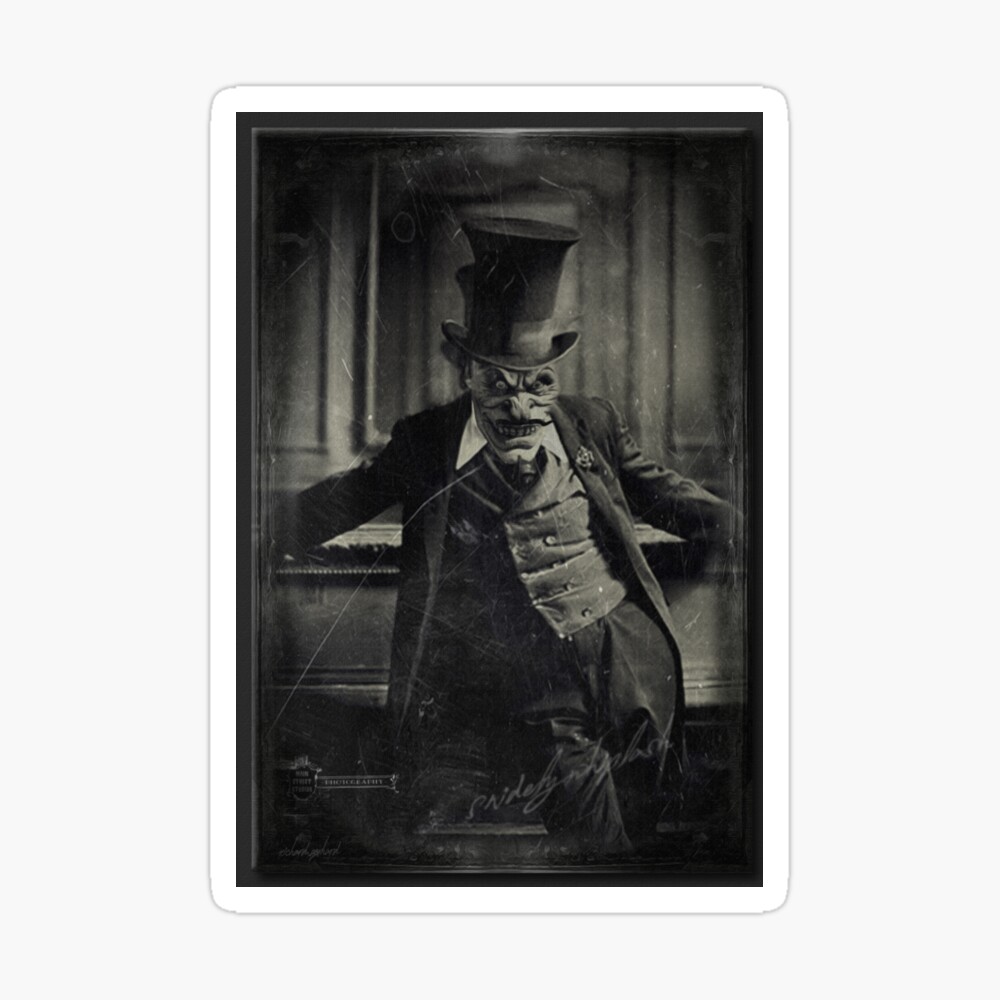 This Snidely is freaky and impressive.
Great Nell, too.