A Bard Named SPOONY
(He/Him)
World 1 Demo now available!
Instead of disjointed and disconnected level testing, try out the for real first world of STTB3, and some extras. Get cheevos! Eight of them even! But most importantly, give feedback of the whole experience.
Download Demo
here
.
Add to the worlds folder of SMBX2.0, which you can download
here
.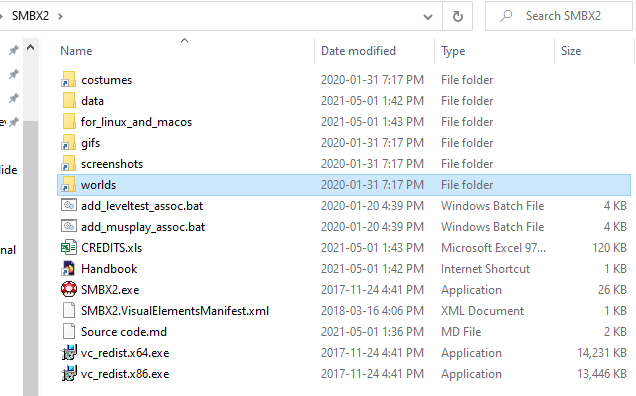 Then run SMBX2.exe and select the Super Talking Time Bros 3 episode from the episode menu on the left, it should be there if the demo folder was extracted to the correct location.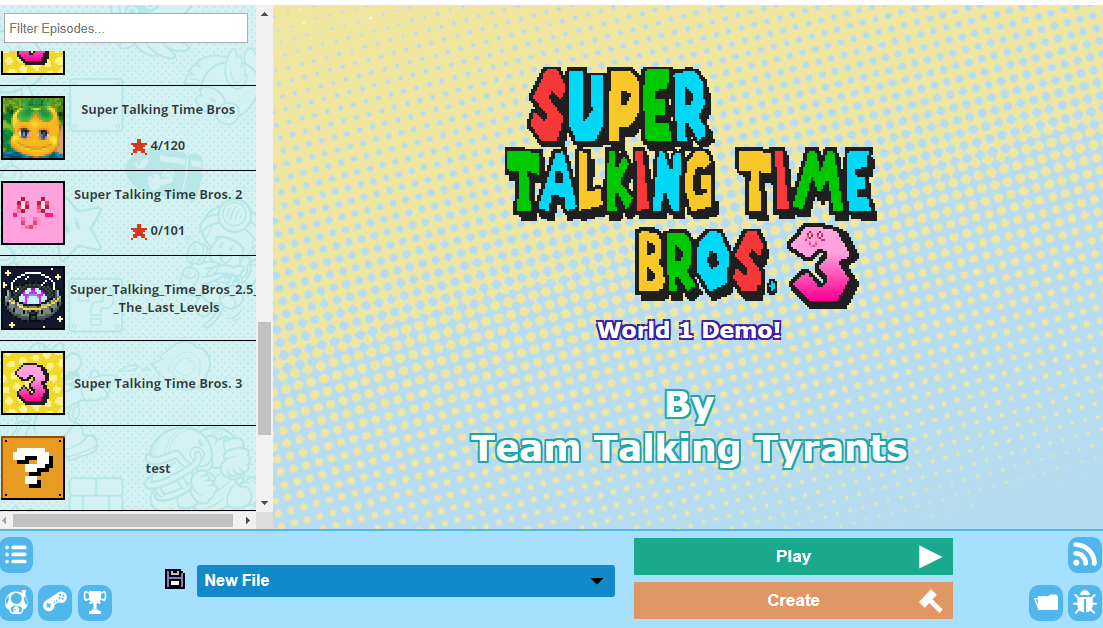 If you are unfamiliar with the SMBX2.0 launcher, hit 'Play' to play the episode. 'Create' launches the level editor.
You can hit the trophy button in the bottom left to view achievements.
Original post below.
So while the project has been a bit idle the past two-ish months (my bad, I got sucked into FFXIV again) the birth of the new forums is the perfect time to rekindle interest and hopefully get more people helping out! So, where do we stand, and how can you help?
First and foremost, make sure you have the latest version of SMBX 2.0 which you can
download here
. Make sure to select
'
Full Download (includes all patches and hotfixes)'. Install it to whichever folder you please.

Next,
download our Devkit
(Latest update: January 27th 2020) and extract its contents to the worlds folder in your SMBX2 location (which is in the data folder, so it would look something like SMBX2/data/worlds). If you want to make episodes, use this devkit to do so (be sure to first save any new levels to the devkit folder so that the editor will acknowledge our little custom additions).

If you want to test our levels, you can either download them individually from
the STTB3 Wiki page
or you can download the latest
Level Pack
which has all levels created up to the time of posting (December 23 2020). While you can test in the editor (and this does help to see how things work) I do recommend any serious testing be done by launching the actual episode, which will bring you to a functional beta map (not at all indicative of how the final map will look). When you launch the SMBX2.exe you will see a splash screen with a list on the left showing all the currently available games in the worlds folder, you should see STTB3 there if you have already downloaded and extracted the devkit. The level pack is not strictly necessary to launch the game this way, but if you do not have it none of level nodes on the beta map will work, but they shouldn't give an error either.
Speaking of errors if you do ever encounter anyway, please try to screenshot the error and post it here so I can suss out what's wrong. I'm, like, 90% confident the latest devkit and level pack should work without errors but SMBX is still weird and so is the lua scripting language and they're both especially weird together. Don't let that intimidate you, though. If you're only familiar with the old SMBX from the STTB1/2/2.5 days the new editor is so much easier to use it's laughable. And I'm happy to answer any questions about it, either here in the thread or in the #smbx channel in the Discord. Any and all discussion happens in the Discord channel, but we want to keep level reviews/feedback in this thread.
So even if you don't feel you can make levels, we would highly appreciate any feedback on the levels themselves. The more varied views we get the better.
If you do want to try making levels, then please don't hesitate to do so. If you want some direction we do have
a spreadsheet
of the current levels as well as some suggestions to what we need.
The most notable are bosses, which are the most complicated things to create, but no worries if you don't feel capable. There's still plenty of room for more stages.

General rules to keep in mind:
Our main playable characters are Mario, Luigi, Toad(ette), and Peach. Link and all of the other newly added 2.0 characters will not be used in non-special world levels. This means they CAN be used, but they have to be isolated to a specific level, and character filter blocks or lua code will be used to keep them in those levels. So if you really want to make a Mega Man or Samus level then by all means do so, but those levels will not appear on the main level progression path.

Normal levels should have three star coins in them, don't forget to set each coin's ID (from 1-3) so that they'll be tracked properly.
Challenge levels only have one star coin, and tend to be bite-sized challenges with specific gimmicks, or expansions of gimmicks from other levels.
We aren't using SMB3 or SMW power stars this time around, except as boss rewards.
Levels can have multiple checkpoints now, so don't be shy about using them.
Standard levels end with a SMW goal tape, and usually an SMB1 castle, look at existing levels to see how they're put together. Bonus points (not actually points) if you can pull off an amusing gag with the castle.
Levels should have no more than one 3-up Moon. They should be rare as-is, but if you really want one in your stage don't place any more than one. Once a 3-up Moon is collected it turns into a 'Blue Moon' when the player returns to the level.
I think that covers it for the main intro post. A little later I'll add a post about resources and tips and other info, but I wanted to get this one finished first.
Last edited: